For 1989 Yamaha packed a host of updates into their 5-valve FZR-1000, making it a very performance-oriented liter.  This San Diego owner had a custom design done by a notable painter, and then parked it for a generation.  Looks to be ready for a new rider !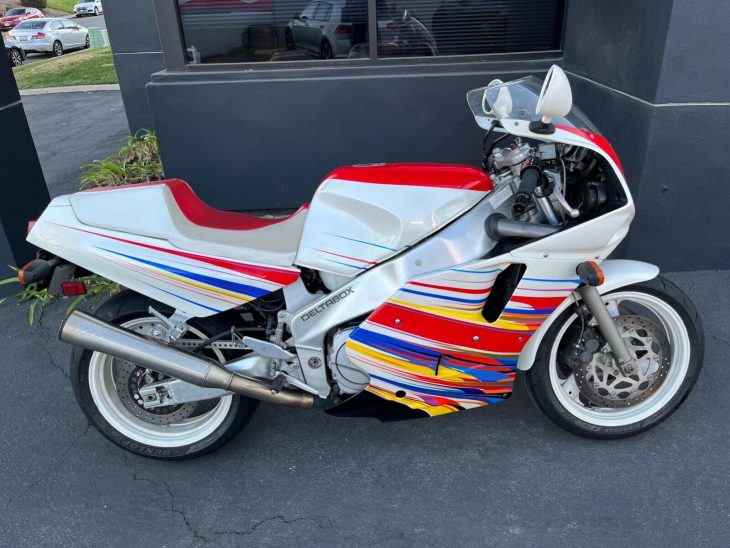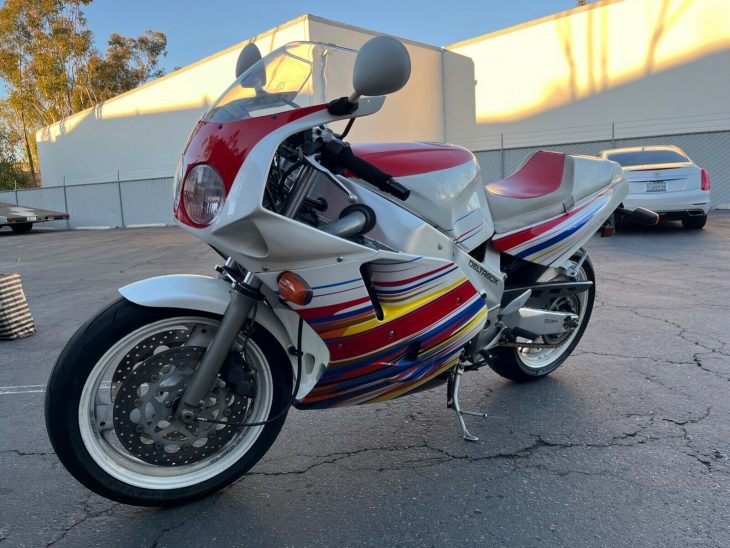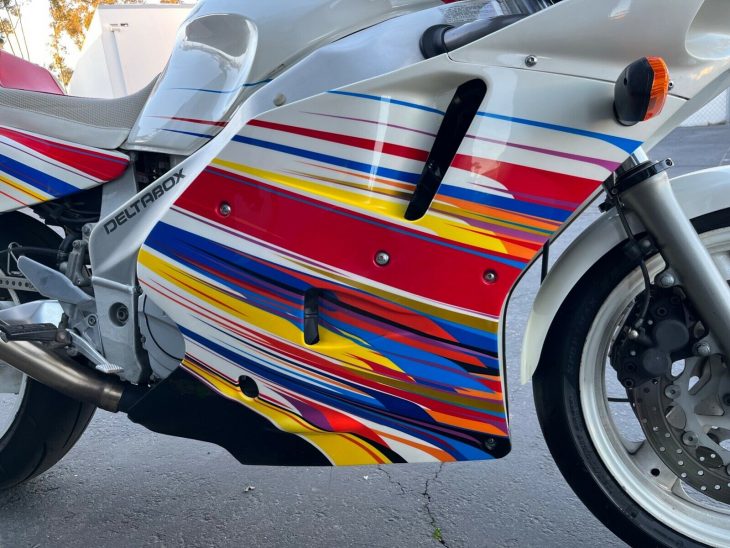 Yamaha added the EXUP power valve for 1989, stretching an already prodigious powerband.  145 hp are on tap, making even its 520 lbs. ride-away weight disappear.  The engine was rotated back 10 degrees to "sporten" the wheelbase, and multiple changes to the engine made it more compact, lighter, and more powerful.  The engine bolts into the Deltabox chassis, strengthening both.  43mm forks are single adjustable, while the Monocross rear has a remote reservoir and rebound adjustment.  Ports in the full fairing send fresh air though the spars to the airbox.  Mirror are big and wide enough that you might be able to see what's quickly receding.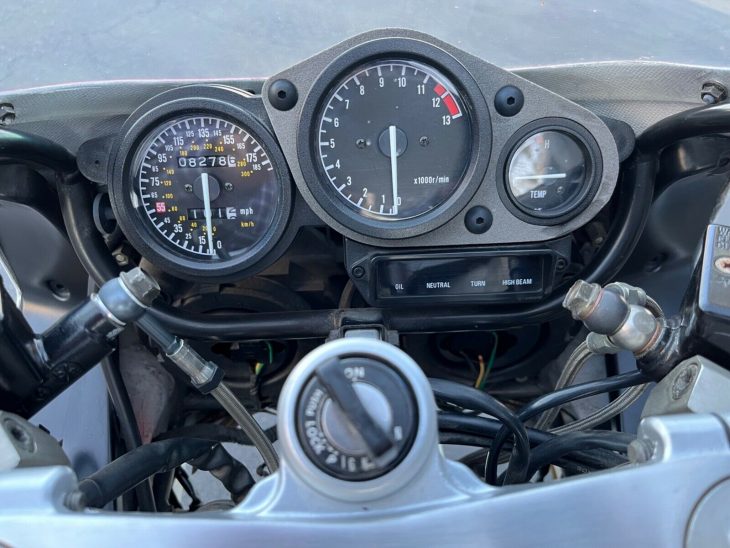 This original owner FZR was professionally repainted early on, and more recently renewed in every way.  The period Telefix fork brace and Supertrapp muffler are the mechanical mods, while a solo-look Corbin makes the rider more comfortable.  Just 8,280 miles over 33 years, and the seller has made it ready for the next contestant.  Comments from the eBay auction:
Painted by Dennis Wells in San Diego in 1991, the paint is in excellent condition

Bike has been recently gone through after having sat in my garage for 25 years.

 

Following work and parts have been installed –

All new fluids, including fork oil, brake fluid, engine oil, & coolant.

Front and Rear brake master cylinder and calipers completely rebuilt

with new seals and EBC brake pads.

Stainless Steel brake lines on front wheel

Clutch Master Cylinder rebuilt

with new Yamaha clutch slave cylinder & new stainless steel clutch hose installed

Fork Rebuilt with new seals

Brand new Dunlop Q3's front and rear

New DID 530 VX3 Chain 

Rebuilt petcock, new fuel filter, new fuel lines, and new fuel pump installed

Carbs rebuilt

Caswell Tank Sealer installed

New NGK Spark Plugs 

New Yuasa Battery

K&N Air Filter 

SuperTrapp Slip-On Exhaust which retains EXUP valve 

Wrapped Headers

Telefix Fork Brace

Custom Corbin Matching Solo Seat

Original Seat Included
Bimota was taken with the Genesis engine(s) and commissioned 400, 750 and 1000cc YB's in the late -80's.  Yamaha's own models were a little longer, a little heavier, and about 1/4 of the MSRP.  Quite a bit less rare it's true, but this FZR1000 seems to be one of a kind.  No bids yet but it's early in the week.
-donn