Location: Evanston, Wyoming
Mileage: 1,500
Price: Auction, BIN $6,500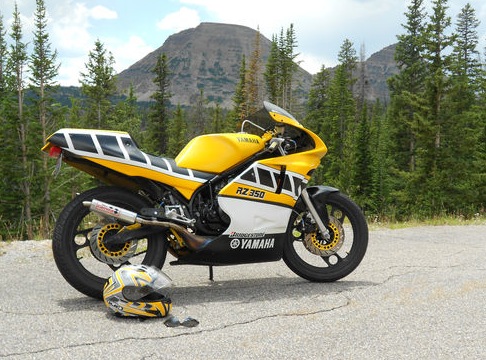 The Yamaha RZ350 Kenny Roberts edition is featured a lot here on RSBFS. The bike only made it to the U.S. for a few years and was a rare two stroke you could ride on the street in the U.S. They are awesome bikes and offer riders the stellar combo of low weight and great power.
You'll notice this machine has the awesome Yamaha/Kenny Roberts yellow and black paint. But this is a full faring bike and I dig it. It's a look you don't see on all that many RZ's here in the States. Here's what the seller has to say-
Yamaha RZ 350

The build of this RZ 350 was completed of September 2010.

living in Wyoming the winters being seven months out of the year,

the bike has very minimal miles on it. The motor was completly overhauled which included.

Scott Clough stage III porting and polish with ported ProCross pistons

Milled Head, cleaned and polished YPVS w / new seals also new servo cables

Complete rebuild Crank, new bearings, rods, seals and V blocked and welded

Flywheel lightened and balanced

New Barnnet Clutch plates, Friction plates and Springs

New lower seals on intire lower case

New intake manifolds w / V Force 3 carbon fiber reeds and Moose Racing crossover boost bottle

New Mikuni 30mm round slide carburetors w / pod filters

Rebuilt front suspension with Progressive springs, new seals, Paolo Tarozzi front fork brace,

 NK front fork dampner (stabilizer) and Vortex clip-ons w / Motion Pro quick throttle, custom cable and Nissin front master cylinder, reservoir and adjustable brake lever.

New Battlax BF45 tires F/R, rebuilt brake calipers F/R, new brake pads F/R

Custom maid Braided lines F/R

Showa variable dampner (adjustable) rear shock

Airtech RZ350 YZR GP Conversion body kit w / smoke color shield

Colorite Factory replica paint

custom billet aluminum gas cap w / beather tube

New clutch cable, new O-ring chain

Custom Moto Carrera GP Millenium chambers

Paolo Tarozzi rear sets

This is all making me sad to do, I dig this bike and it rides like a dream. The concept of this build was to upgrade and modify just enough to keep within the era that it was made, in other words I still wanted the build to reflect the time it is from without not being able to tell what it was that just blured past you. : )

When I remember more of what I did to the bike I will post. 
And the few available pics-
This bike looks to have had some major work done to it so hopefully you'll be getting a bike in good running order. Plus, it looks like a lot of the work is in upgraded performance parts. So you'll get a good running bike that also kicks some ass. While some folks want all stock rides, solid performance upgrades isn't a bad thing either. It's really comes down to what you want out of the bike.
The seller is asking a pretty penny for this bike, so you'll have to decide how much it's worth to you. But if a fun two stroke ride is where you want to be, you should give this RZ a look!
-RN