For Sale: 1984 Kawasaki Ninja – original owner!
Back in 1984, Kawasaki shocked the rest of the sportbike world with the introduction of the Ninja. This revolutionary model introduced many firsts to the sportbike community, pairing up a liquid-cooled 900cc inline four with a 16-valve head to produce a reported 115 bhp. It's introduction immediately sent the air-cooled, 2-valve competition from Honda, Kawasaki and Yamaha back to the stone age. The Ninja had arrived, and with it followed a whole new era of performance.
The Ninja chassis was a revolutionary as the powerplant, and used the new motor as a stressed member. All of the latest technology was made available for this bike, including Uni-Track single shock rear suspension, Kawasaki Automatic Variable Damping System (AVDS) anti-dive fork, and a GP-inspired 16-inch front wheel. The critics praised the handling and the power of the Ninja, noting that it was smaller than contemporary 750s of the day, yet faster than the literbikes.
The Ninja was so cool, it was even played a starring role next to Tom Cruise in the movie Top Gun: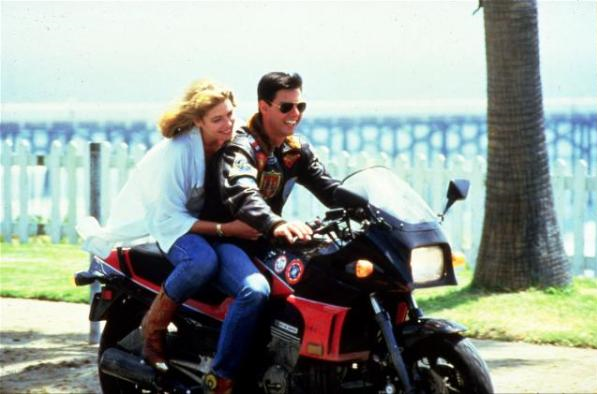 From the seller:
Here's your chance to own a piece of history and Hollywood . The 1984 Ninja was the bike that started the sport bike revolution as it was the first of Kawasaki 's legendary Ninjas to be sold in the United States. I bought this bike NEW 26 years ago and have enjoyed it, but i have not riden it in 17 years and now it is time for someone else to enjoy her. this bike has 24,300 miles and was never ridden hard (no hole shots, no wheelies) but have done 155 mph two times. she crusies nicely at 80 and only turns 5,000 rpm. the tank was perfect until Vince the rip off from Heyser Cycle got ahold of it to get it running again and he put a small dent/scratch in it. while it sat for 16 years under cover the front brake resivor leaked and bubbled the paint on the upper fairing and put a small crack next to the screw as seen in the photo. it also leaked on the inside of the mid fairing and cracked it in three places. i have a mid fairing that goes with the bike that is not cracked and has all the tabs, however the paint is not as nice as mine. on a scale of 1-10 it is a 7. also a extra rear shock goes with the bike and extra side panels(not as nice as mine but a 7 on the scale). any white seen on the cases is dried wax. bike never leaked oil until i changed the oil this year and i did not drain the sump, consequently i overfilled it with one quart too much oil and ran it for about 10 minutes and noticed a leak coming from under bike. it will be hard to find a cleaner bike. owners, workshop manual, and dealers brochure included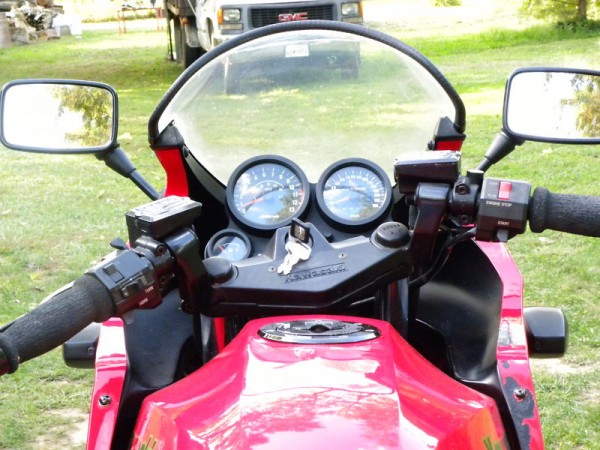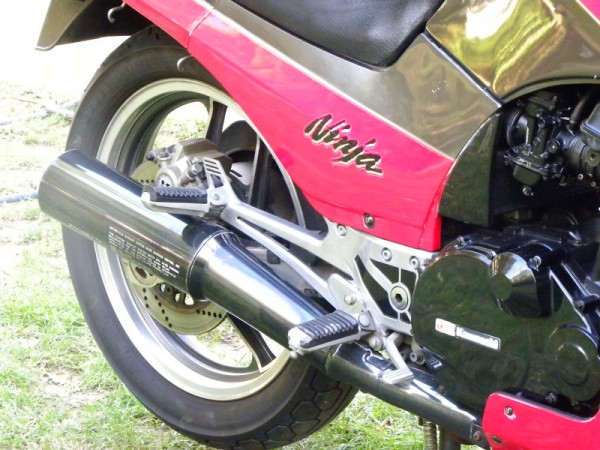 While the 1984 900cc Ninja was not exactly a limited edition motorcycle, it is a significant model from a historical perspective. And finding an unmolested, original owner machine some 25+ years later is almost unheard of. This bike, while not perfect, does represent a great opportunity to own one of the milestone bikes of the ages. The current bidding is just over $1000, making this a very affordable classic. Think of it: For the price of some insignificant rat bike, you could own a classic, milestone motorcycle that will be sure to turn heads for another 25 years to come. Feel the need for speed and grab yourself a classic superbike by
MI