Warning!
This post is in our archives. Links in this post have been updated to point to similar bikes available to bid on eBay.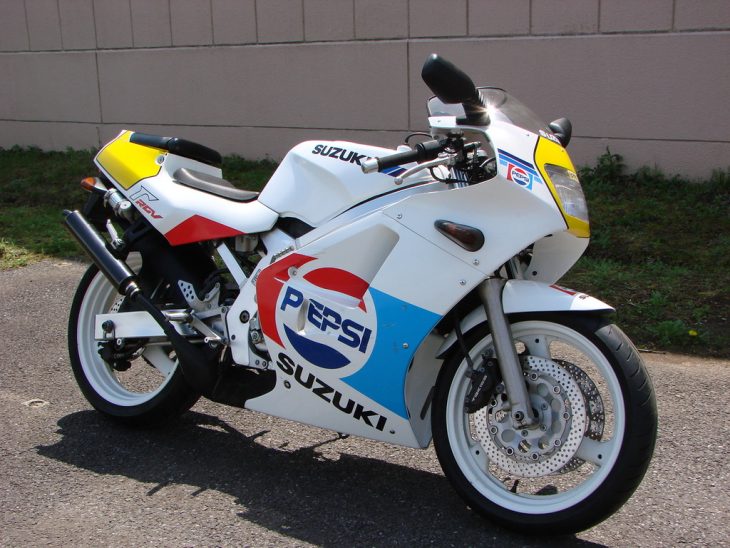 One of the shining stars of the two-stroke GP era, the hugely popular Kevin Schwantz and fellow American Wayne Rainey made headlines for their epic rivalry and "winner-take-all" on-track brawls. Although he actually raced an RGV500, a number of Suzuki's road-going RGV250s were created with replica paintjobs to capitalize on Schwantz' racing success riding with Lucky Strike and Pepsi colors.
RGV250 Γ "Gamma" followed Honda's lead with a switch from a parallel-twin to a 90° v-twin engine, although the later VJ23 version switched to an unusual 70° v-twin in 1997, likely for packaging reasons. Aprilia also used a modified version of the little v-twin in their RS250 in strict adherence to the "if it ain't broke" philosophy, although they did make a few minor performance tweaks…
That engine was suspended in a lightweight aluminum frame, with triple disc brakes, a 17" front and an 18" rear wheel. The SP version of the bike also used adjustable suspension front and rear, a step up from the more basic models. Overall, the RGV250 matched the on-paper specifications of competing bikes from Honda and Kawasaki, with approximately 60hp on tap and 300lb dry weight.
From the original eBay listing: 1989 Suzuki RGV250SP for Sale
Pepsi Edition located in Santa Ana, California. This bike is in very good condition for its age. Engine runs good, but could use a light carb clean. There are a few minor scratches on the fairing and two small dents on the front of the fuel tank. There are no cracks in the plastic. Bike has only 5910 KM = 3546 Miles on the clock. Pepsi RGV250SP are very hard to find in Japan now in this condition. Bike is sold with a bill of sale only. I don't have a title for the bike. Look at the pictures carefully and ask questions before you bid. This is a USA only auction. Again, this bike is sold with a bill of sale only, no title. More info on this bike is available on our website.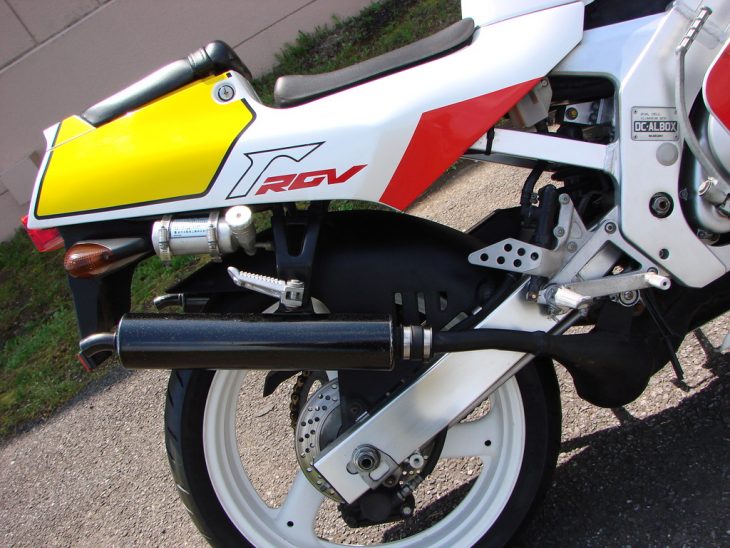 This is obviously a very cool motorcycle, but presents a couple problems for a potential buyer. For street riders, the lack of a title is a very real issue. Sure, in some very permissive states, registration may be possible. But for the rest of us, a fat sack of cash delivered to a morally-flexible DMV employee might be the only route to road-legal status. And for collectors, the physical imperfections might be an issue. I mean, if you're buying an RGV to sit on display, you probably want it to be pretty pristine, unless it's a famous racebike or something. So what's left? Track-day riders? Hoarders? I'm sure there are plenty of folks who'd love one of these to thrash, but with an $8,200.00 starting bid, I think this particular bike will prove to be a tough sell.
-tad