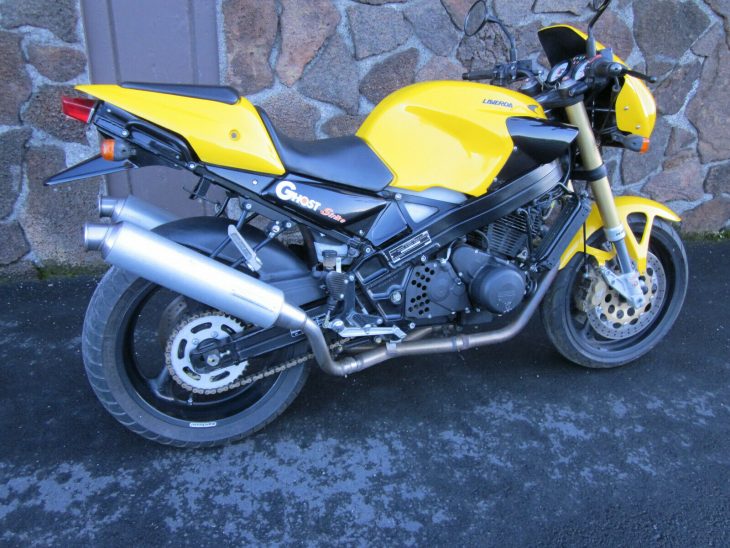 I'm a huge Laverda fan, so it's disappointing their attempted resurrection in the 1990s didn't work out. It wasn't that bikes like this Ghost Strike weren't any good: the beam frames were designed by the famed Nico Bakker and handling was generally considered excellent, even superior to Ducatis competing in the same segments. The standard Ghost used a trellis frame similar to the ones that underpinned the Ducati Monster, although the Strike featured a beam frame using identical geometry that was shared with the fully-faired 750S and Formula models. Suspension was fully-adjustable, with a set of beefy Paioli forks at the front. There was some very forward-thinking in the layout as well, as you'll notice that the "gas tank" is actually an airbox, with the actual filler-cap hiding under the lockable pillion pad. The fuel cell was centrally-located for better balance, a feature seen on many modern motorcycles.
The biggest weak point of the design was the engine. Based on the positively ancient 500 that had been around since the Alpino of the late 1970s, it was fairly sophisticated when it was introduced, with dual overhead cams, a balance shaft to smooth the parallel twin's vibration, and a six-speed gearbox. Of course, that wasn't much to brag about by the time the mid-1990s rolled around. For the Ghost and Sport, Laverda punched the twin out to 650 and then 668cc, then later added water-cooling for the fully-faired 750S and Formula models. It made decent-enough power and liked to rev, but was considered a bit agricultural, and not as strong as options from Ducati, as the 904cc v-twin in the Monster had much more torque and the four-valve Ducatis were just more refined.
It's doubtful the Laverda Ghost will ever be worth very much, at least not in the near future. It's appeal is primarily one of novelty, since it's not an especially noteworthy motorcycle and the brand has ceased production. But the low market values, quirky design, and good performance make it very appealing for budget-minded enthusiasts. Power is modest, but the handling is excellent, and you certainly won't see another at your local bike hangout.
From the original eBay listing: 1998 Laverda Ghost Strike 668 for Sale
1998 Laverda Ghost Strike. Very stock and clean "no stories" survivor bike with low 11,000 km (~7000 miles). This has a clean California title and it is currently running fabulously. The previous adult owner used it sparingly. Tires, battery and fluids are all good. There is no crash damage.

The Ghost is the probably most approachable of the Zane Laverdas- its simplified air cooled engine is more dependable than the water cooled Formula 750s. It has a modern twin spar frame and top shelf suspension, brakes and other components. It's easy to ride, service and enjoy. These bikes will only increase in value over time.

I also have a small of collection of spares for Zane Laverdas as we have parted a few of them out… including one other another clean Ghost Strike. Message us for details.

You can pickup in San Francisco Bay area. I can also transport this to the Los Angeles area inexpensively. I can also ship this with Forward Air in teh US for $780  to most major airports with a Forward Air Terminal. Message me for details.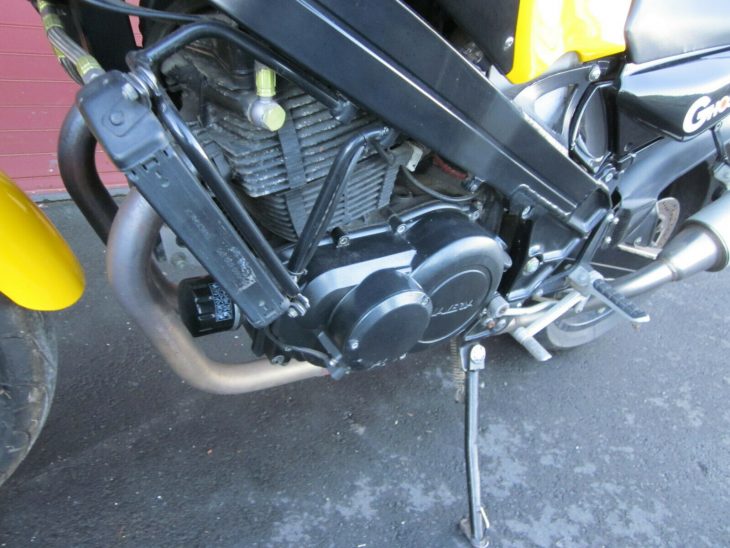 This example looks very complete and the mileage is low, although it's hard to really tell from the washed-out pictures just how nice it is. It's important that the bike appears to be very complete, and the spares he mentions are especially nice since, since finding parts for a relatively low-volume Italian sportbike that had little-to-no presence here in the US could prove problematic. There appears to be some oxidation on the engine and some wear on the top triple-clamp, but otherwise looks pretty nice. If the Reserve is anywhere near the $3,399.99 starting bid, this could be a fun little choice for a collector with a love for weird Italian exotica, or someone looking for a characterful bike on a limited budget.
-tad