Warning!
This post is in our archives. Links in this post have been updated to point to similar bikes available to bid on eBay.

Update 12.12.2018: The seller has notified us that this bike has SOLD! Congratulations to buyer and seller! -dc
Sort of an homologation special for a company that wasn't planning to actually go racing, the Laverda 750S Formula used premium components to upgrade the company's existing fully-faired sportbike. After falling on hard times in the 1980s, Laverda was resurrected in the 1990s, with production centered in the town of Zanè, so you'll sometimes see these referred to as "Zane-era Laverdas" to differentiate them from the 1970s classics. The revitalized company managed to make very nice sports motorcycles with limited resources, and the Formula took their  750S and added some of the very best components available at the time to create something they hoped would give them the kind of reputation and attention Ducati enjoyed with their Tamburini-designed superbikes.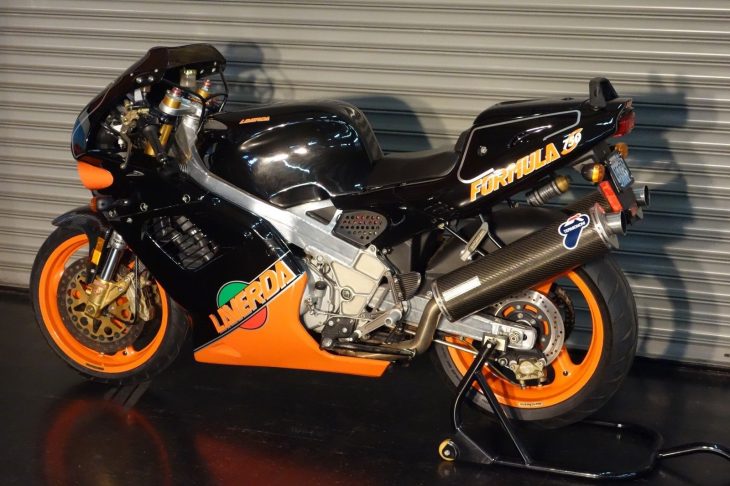 Laverdas of the period used either a steel trellis or an aluminum beam frame that apparently shared the same geometry, which was a very good thing. The Nico Bakker-designed beam frame, polished as seen here on the Formula, gave the 750S an excellent foundation, and Paioli suspension kit at both ends just sweetened the deal: every period review I've seen raved about the bike's handling. Unfortunately, they also noted the bike's performance deficit, compared to the Ducati 748.
These days, parallel twins can be made to be very smooth and refined with balance shafts and other trickery, but at the time, the only real reason Laverda chose that configuration was practicality: they already had one. Dating back to the 1970s Alpino, the existing air-cooled 500cc unit had its carburetors replaced with Weber-Marelli fuel injection for more modern performance, and was enlarged to 668cc, then again to 747cc. Along the way, it gained liquid cooling, although you can still see the cooling fins once the fairings are off.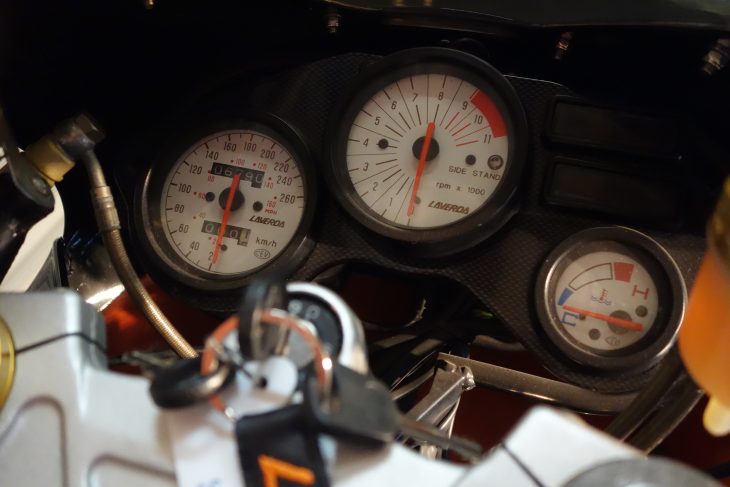 Claimed peak power was on par with the competing Ducati 748, but the reality was that, although handling was possibly even superior to the Ducati, the engine was not. It was peaky, a bit thrashy, and it loved to rev, although you really had to work the six-speed gearbox to keep up with a 748. That shouldn't bother prospective buyers today: either bike would get murdered by a modern 600. And while the 748 is a design classic, it's almost too familiar, a cliché. The Formula, on the other hand, is a very exclusive machine, with around 600 examples built. It's also more comfortable, if you care about that, and while the Formula is not as pretty as the 748, it is very striking in these black-and-orange colors.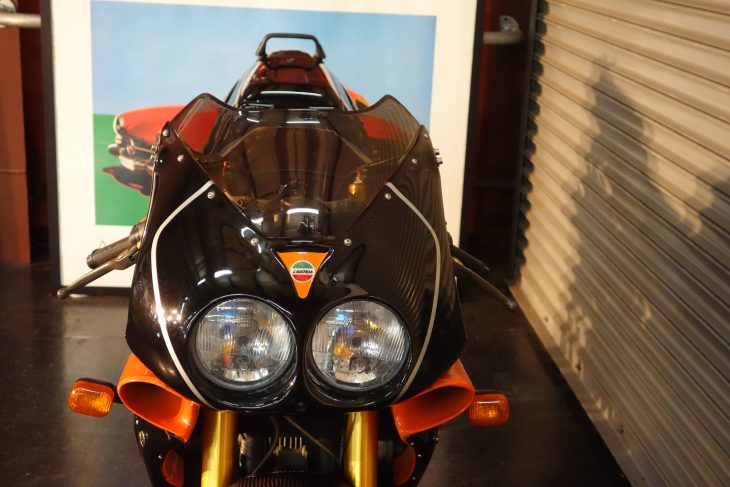 From the original eBay listing: 1999 Laverda 750S Formula for Sale
1999 Laverda 750 Formula S. 750CC  (6790 ORIGINAL MILES)  $12,500

This is a 2 owner bike, part of a very rare large collection now being offered for the first time via the web. Current owner is an avid collector of pure, rare Automotive and motorcycles. This concourse conditioned bike has all the correct lightweight carbon parts and pieces. Never been on a track, abused or laid down. In a private heated collection, never seen rain. This investment will only increase over time and you will be very hard pressed to ever see another one, clearly not like this with these miles.

Laverda's Formula S is essentially a factory built special edition of the basic Formula, with extensive engine tuning and even more special chassis componentry. The original Formula was a 650, built in 1996, with the Formula 750 following a year later in 1997.

The engine work was more extensive than most factory specials, and took the Formula almost to a race tune straight from the showroom. Updated cams, revised fuel injection settings and carbon fiber Termignoni mufflers all boost top end power to an impressive claimed figure of (92BHP)- almost as much as the Ducati 748. The chassis also compares to the Ducati being considerably lighter and with suspension and braking components every bit as impressive.

Fully adjustable Paioli Upside Down forks and monoshock. Fully floating Brembo racing brakes and lightweight Marchesini wheels all play their part in giving the Formula impeccable manners for the street or track. The polished aluminum beam frame looks much more impressive than the Ducati's thin steel tube!! A single seat race style fairing incorporates stylish cooling louvers and twin endurance style headlights, and is finished in Laverda Orange, the firm's racing colors.

This is your chance to stand out and be different with a stunning example of Italian heritage.
I've lusted after these for a while now, and this appears to be a very clean, low-mileage example that should appeal to collectors with a taste for the exotic. The mirrors appear to have been removed and the standard exhausts were carbon fiber, but these Termignoni parts are a desirable extra. Certainly, the name "Laverda" has a great deal of cachet with collectors and this bike represents a missed opportunity for the brand: it's a good, if flawed bike, and really did offer an interesting alternative to the Ducati. Parts for Zane-era Laverdas can be tricky to source, depending on what you need, but I expect this one will end up leading a pampered life in a collection somewhere and won't rack up enough miles to matter very much.
-tad