Update 2.10.23: This bike has SOLD! Congratulations to buyer and seller! -dc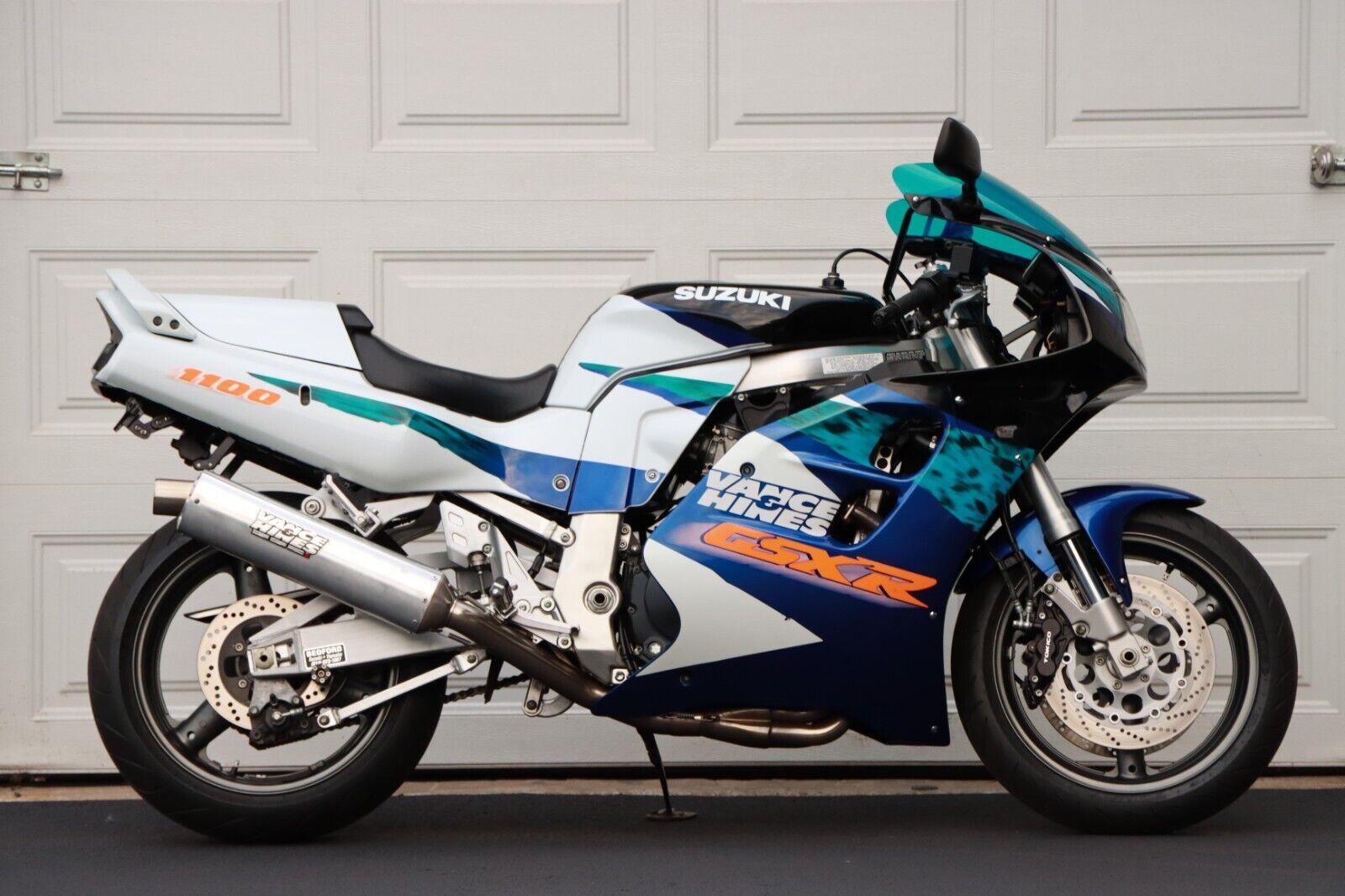 The legend that is the Suzuki GSX-R began stateside in 1986. The original air/oil cooled slab sided model was followed by the Slingshot era, denoting rounder flanks and tweaks to the engine tuning. And when the air/oil cooling had reached its maximum efficiency, traditional water cooling was finally introduced in a quest for more power. From the mid 1980s through the late 1990s the big Gixxer went through many iterations and changes, gaining some weight along the way and evolving into a different machine altogether. And with the collection world crying out for original Slabbies, and the rise in valuation of the Slingshot models, the latter year water pumpers will not be far behind. Today's Featured Listing is just that: A beautiful 1996 GSX-R1100. The seller (a long time RSBFS reader) has included a lot of information and pictures on this bike, so I'll let him take it away:
From the seller:
1996 Suzuki GSX-R1100W
VIN: JS1GU75A4T2101204
NUMBER OF PREVIOUS OWNERS: 3
CURRENT MILEAGE: 9303 (May very slightly due to us test riding the bikes, generally less than 200 miles)

This particular example is one of the last years of the GSXR1100W (Water Cooled) models and is arguably one of the best color schemes of the 90's only offered one year. The water cooled version of the GSXR 1100 was made from 93-98 and the last 4 years of its model run came with an upgraded racing inspired over braced aluminum swingarm and a reduction in weight that made this the most powerful of all the 1100s as well the lightest and fastest of the W generation. These bikes are fast becoming as collectible as their predecessors the original 1986 "Slab side" and subsequent 1988 "Slingshot" oil cooled models with values now reaching over $10000 for any fully restored or clean original survivor. This one is wearing its factory original paint and plastic and is as clean as any that would be sitting in a museum or private collection. Aside from a few VERY minor chips on the right side fairing and the leading edge of the silencer and an extremely minor scratch in the clearcoat of the fuel tank on the right side where your leg rests against this bike is flawless and would still be clean enough for any avid Suzuki collector to leave in their living room or personal museum.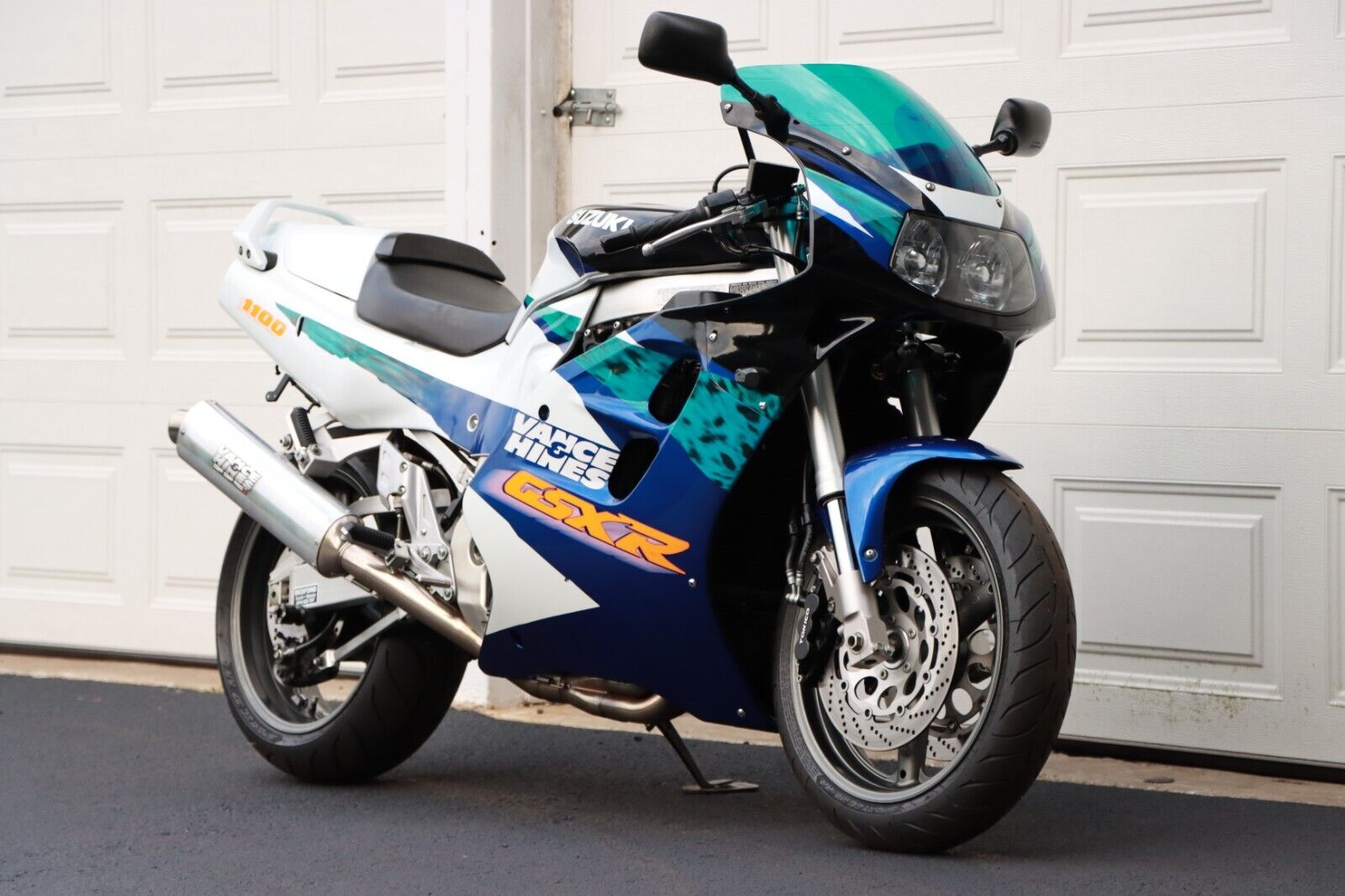 More from the seller:
UPGRAGES:
Vance and Hines full SSR exhaust $1000
Dynojet stage 1 jet kit $125
K&N air filter $75
Zero gravity blue tinted windscreen $75
Clear alternatives integrated tail light $125
Flush mount LED front signals $25
Rear fender eliminator kit $50
OEM factory solo seat cowl $400
Factory rear shock upgraded to a 2007 Suzuki GSX-R 1000 OEM shock $200

Total Upgrade Parts Cost (Without labor or shipping) $1675!!!

NOTE: FACTORY PASSENGER SEAT IN LIKE NEW CONDITION AS WELL AS FACTORY SHOCK, TURN SIGNALS, TAIL LIGHT, AND REAR FENDER WILL BE INCLUDED – WE DO NOT HAVE THE FACTORY EXHAUST OR WINDSCREEN BUT THOSE CAN BE SOURCED IF A COLLECTOR IS LOOKING TO PUT IT BACK TO FACTORY ORIGINAL CONDITION!
More from the seller:
If you look under the plastic you will see the paint on the engine looks factory fresh and is not discolored or faded in the least. There is NO rust or oxidation anywhere on this bike and its still wearing its factory chain as the OEM blue master link shows. This is a great bike to take to your cars and coffee as these were common enough any superbike nut over 30 remembers them from their childhood but they are so uncommon to see in this condition nowadays it always draws a crowd with its lively paint scheme and graphics that exude typical 90's Suzuki style. Everything on this one is period correct from the Zero Gravity windscreen to the full Vance and Hines exhaust and smoked clear alternatives tail light and lockhart phillips mini signals.

This bike could very easily be put back to factory original if someone so desired that was adding it to a museum but as a gorgeous fair weather weekend rider it has the perfect blend of performance upgrades that would have been appropriate at the time back in the late 90's which makes for a much nicer look, sound, and ride. The rear shock was replaced with a newer unit off a 2007 GSXR 1000 for improved ride quality but we do have the original stock shock as well to go with it. We do not have the stock exhaust or windscreen but those items are still readily available on ebay used if a collector wanted to source them. The bike does have a GENUINE OEM CORRECT COLOR OPTIONAL SEAT COWL as shown which cost $400 NOS from Europe as they haven't been available in the US for many years and is a VERY rare piece. The original passenger seat in excellent condition is included as well. This is a very rare opportunity to own a piece of supersport history and one of the rarest members of the GSX-R family of racebikes.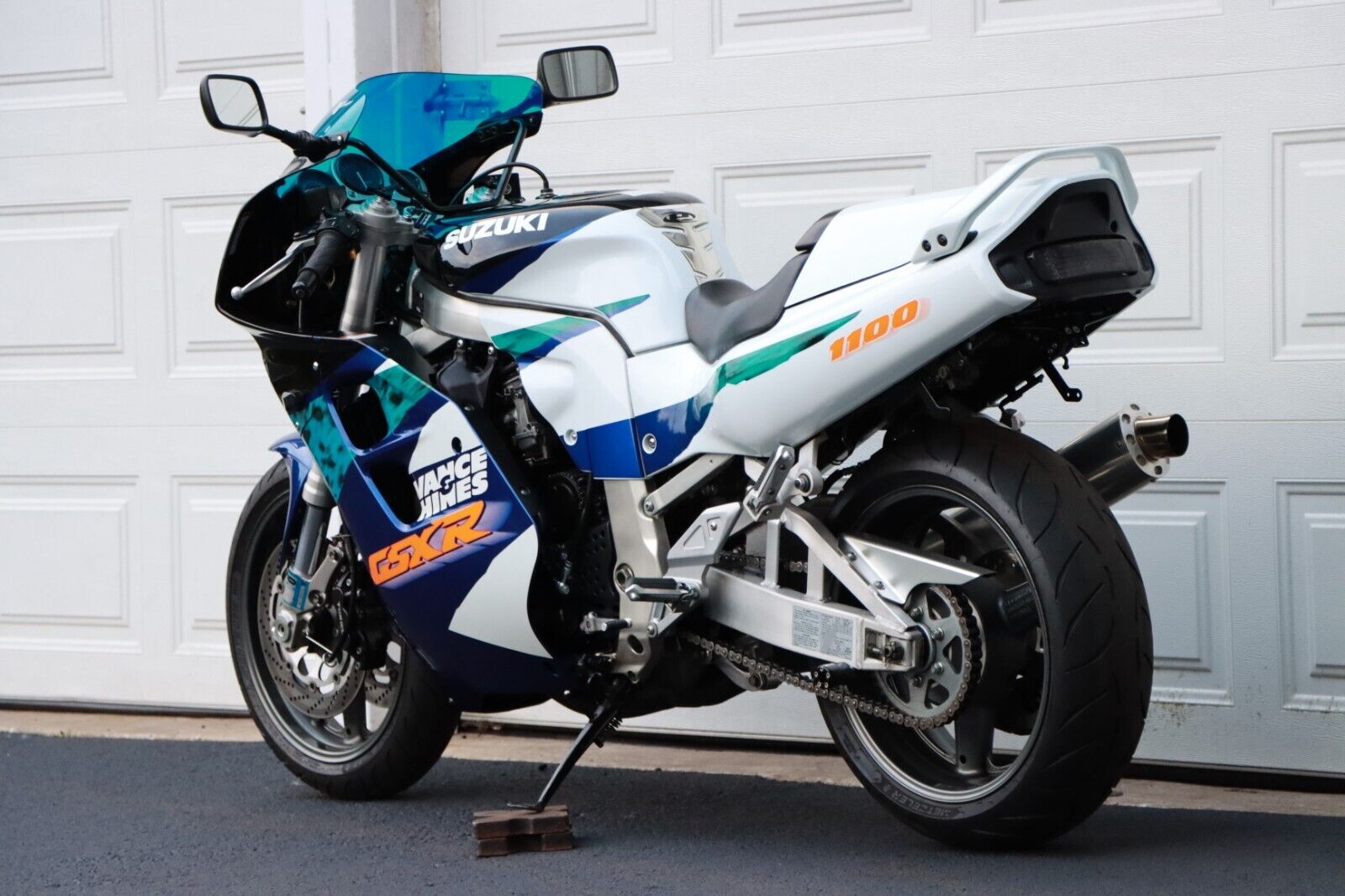 It is rare to find such a clean and well preserved example of the latter years of the GSX-R1100 line. As the seller correctly states, many of these fell into the hands of riders who used them as stunter bikes and overpowered street hooligan antics. As is common with more mass produced models, values fell as time went on. But we see time and again, well cared for examples begin to rise in valuation as the supply of clean bikes dwindles. This is no thrashed and abused example, and it shows. And the fact that it can all be put back to stock with the included parts – save exhaust and windscreen – shows it.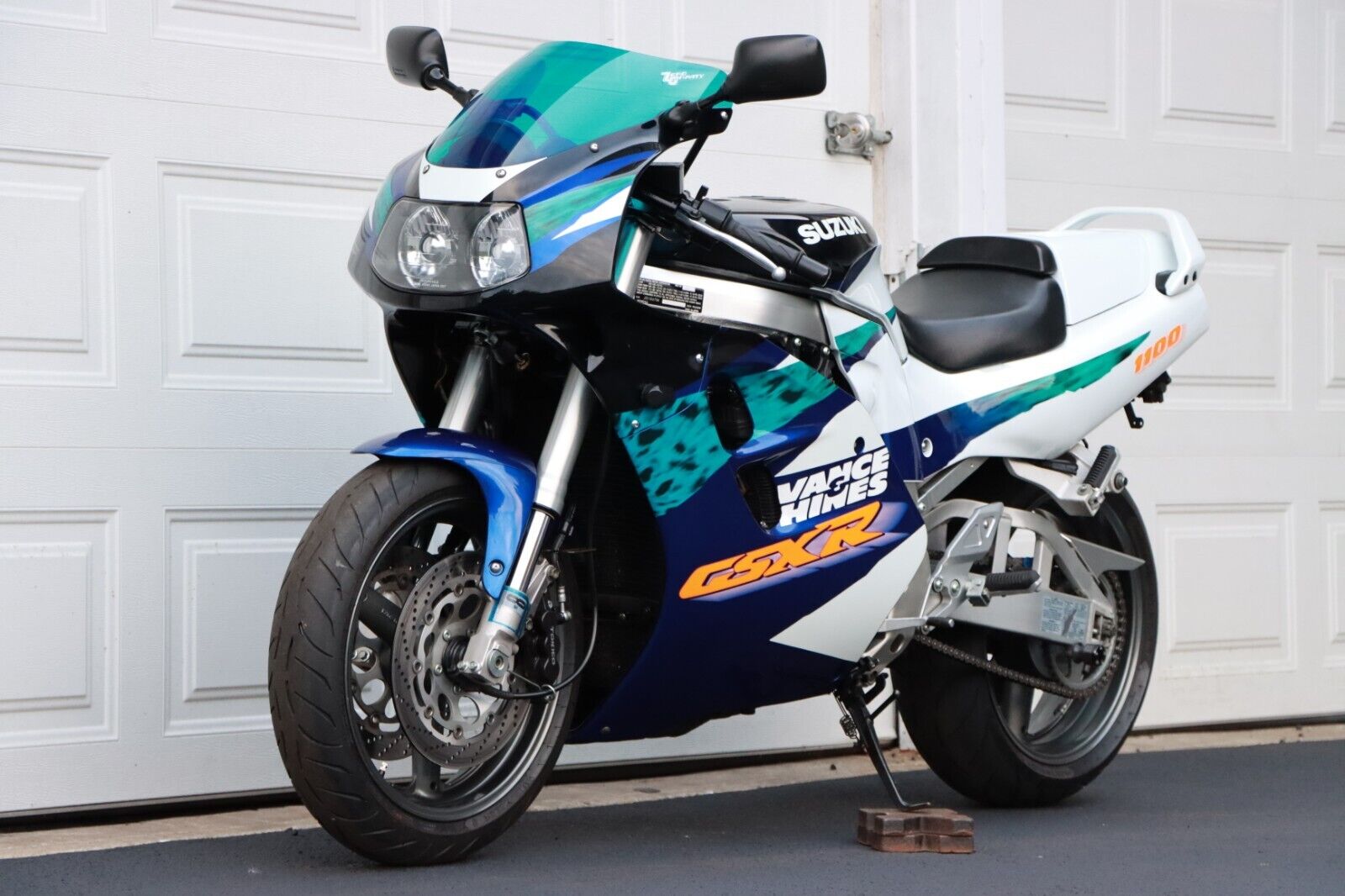 This auction is going on now, with a Buy It Now of $8,950 – or best offer. You can also jump to the seller's website (www.blackmarketbikez.com) for more information. Look through the pictures, do your own research, and you will likely come to the same conclusion: these late generation water cooled Gixxers are the next in line for collector status. Get in while you can, because the slab-sided ship has already sailed and the Slingshot boat is leaving the dock. Arguably the best of the last-gen models, this 1996 Suzuki GSX-R1100 is beautifully sorted and perfectly suited for the collector / rider set. Check out all of the details here, and Good Luck!!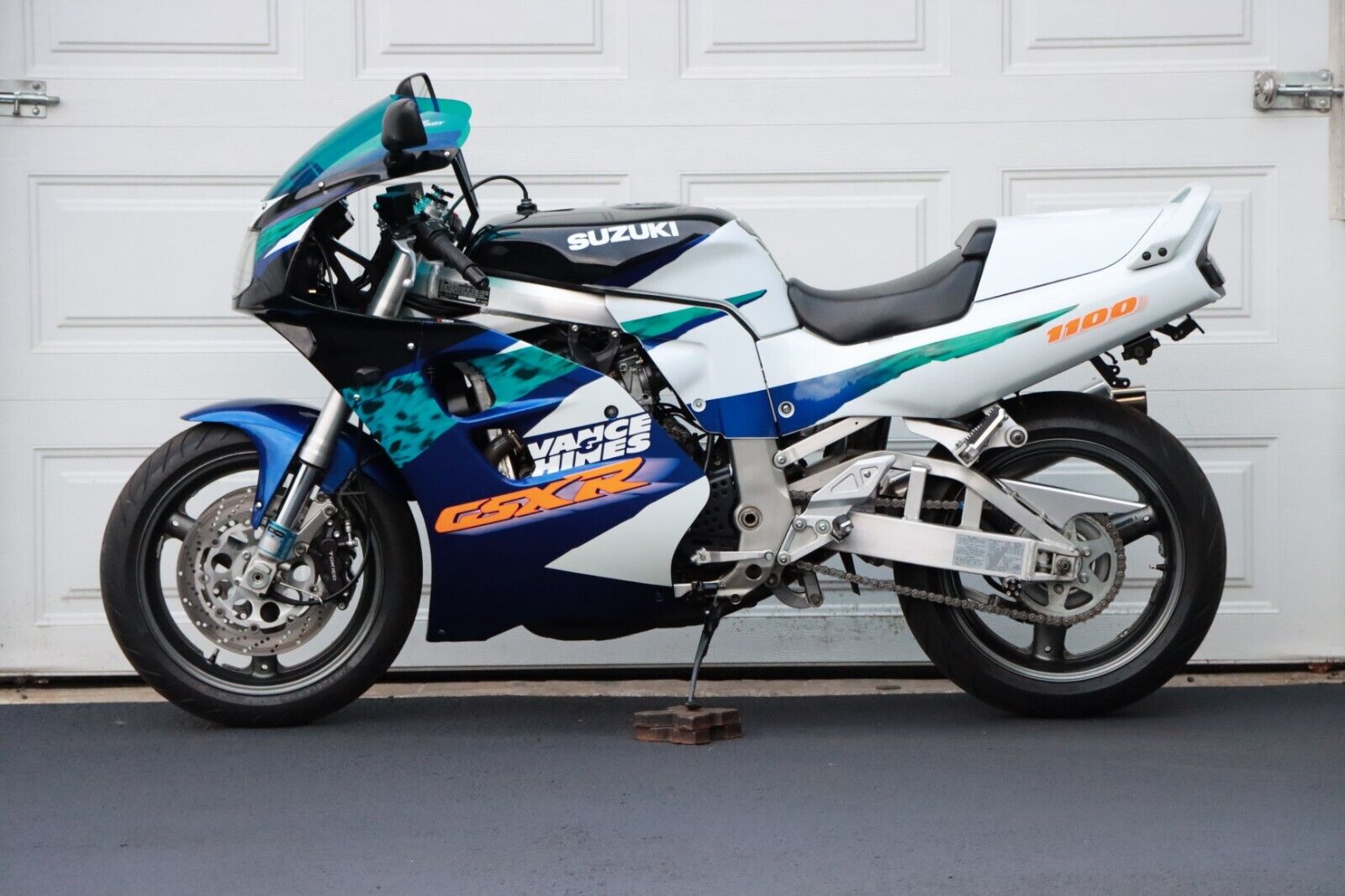 MI