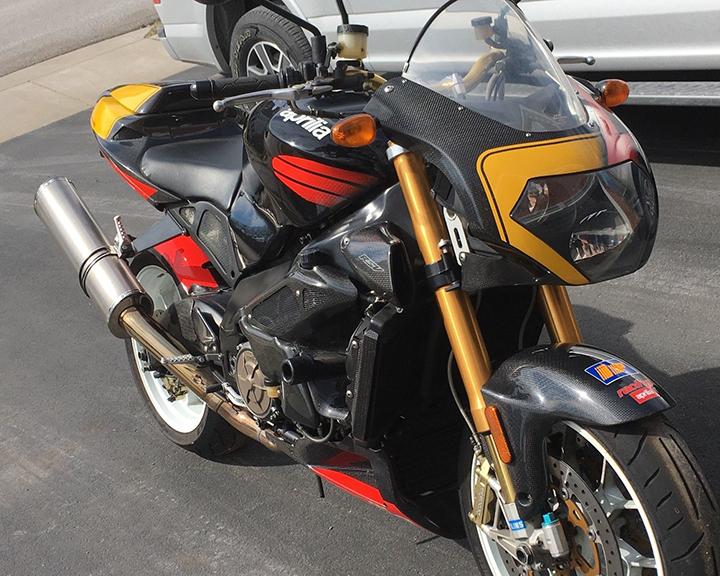 After the introduction of their RSV Mille, Aprilia knew they needed something a little less extreme, at least in terms of riding position. But while Ducati's original approach to the naked bike was to put a lower-spec engine into a frame from an older sportbike, Aprilia was forced by necessity to go a different route: they didn't have a less powerful engine, or a different frame. The resulting Aprilia Tuono and especially this Tuono Racing was never gonna be great for cruising or posing or generally blatting around, at which the Monster excels.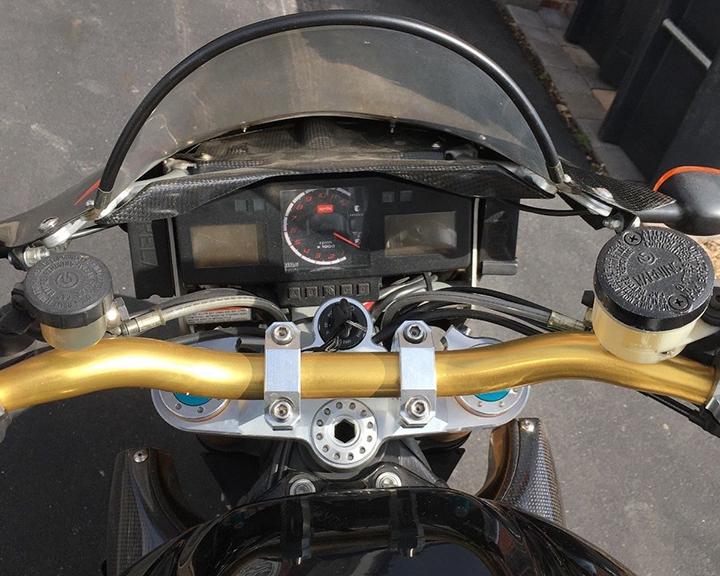 Perhaps most significantly, unlike every other naked sportbike, the Tuono wasn't detuned at all: the 998cc Rotax-developed v-twin still made 126 hp and 74 lb-ft. torque, while balance shafts meant it was surprisingly smooth, considering the 60° configuration. The frame looks similar to the beautiful aluminum beam design seen on the RS250. I can't imagine it's the exact same part, considering the different engines, but I'm sure Aprilia tried that before designing a new one… And the Tuono was actually lighter than the RSV, owing to the lack of a fairing and some additional carbon bits. Throw in some high bars and you're looking at the original "supernaked."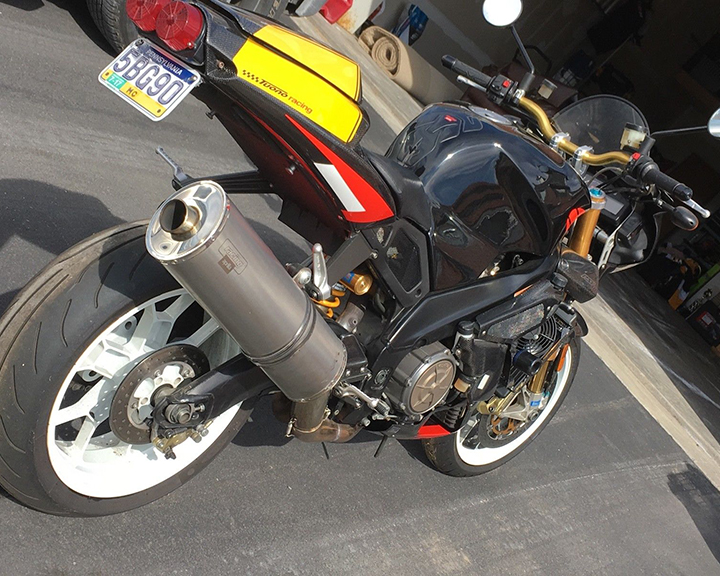 The Tuono may not be quite as sexy as something like a Ducati 998 or a Monster, but it's way more comfortable than the 998, faster than a Monster, more reliable than either of them, and likely more fun as well. It's a bike to ride, not to look at, and that Rotax twin is famous for being virtually trouble-free and has reasonable servicing costs.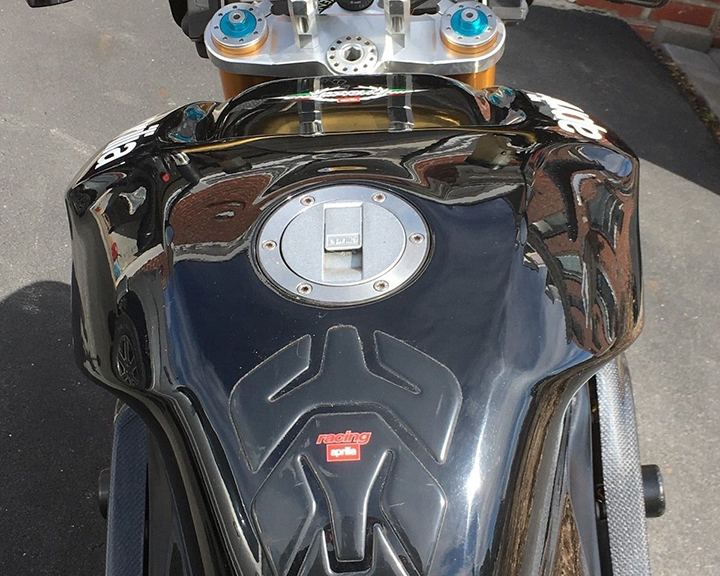 The Racing was the top-spec Tuono and Aprilia wasn't kidding with the name: it was designed to compete in an Italian series against rival Ducati's S4R. And they weren't kidding with the components: suspension was by Swedish specialists Öhlins, a fully-adjustable shock out back and a 43mm fork up front, with a matching steering damper. Instead of a slipper clutch, Aprilia used their Pneumatic Power Clutch that used engine vacuum to disengage the clutch during downshifts to prevent the rear wheel from locking. Top-of-the-line radial Brembo calipers meant you could have stoppies to go with your wheelies.
From the original eBay listing: 2003 Aprilia Tuono Racing for Sale
Up for sale is my 2003 Aprilia Tuono Racing #002

This a very rare bike only 200 produced worldwide and 50 examples imported to the United States. This bike is #2 from the production run worldwide. This bike was sold to the public specifically so Aprilia could qualify to race it against and beat Ducati in the Italian Naked Race Series.

I have owned this bike since the summer of 2011 and I know I'm going to miss it, but I have a new kid and we are getting a bigger house so this has to go. I'll be hanging on to my two other Aprilias.

I have every original extra part that you received with the 2003 Racing, plus I have an extra Front Race Fairing and Track Belly Pan (most people don't have any of these parts and I have 2 sets, see below for additional price):

Carbon Fiber Front Racing Fairing x2
Carbon Fiber Track Belly Pan x2
Aprilia Racing Exhaust and Race Chip (both currently installed)
Original Stock Exhaust and Chip (in factory original box)
Passenger Seat
Carbon Fiber Solo Seat Cowl 
Passenger Pegs (currently installed)
Track Counter Shaft Sprocket
Aprilia Racing GP Shift Kit (currently installed)
Standard OEM Shift Linkage
Brake Light Delete Panel
Factory Drilled Bolts for Race Wire
Factory Manuals (Racing & Operator)

Non-Factory Parts:

Integrated Rear Turn Signals (I have the stock turn signals)
Rhino Frame Sliders (they are black and look nicer, I'm pretty sure I have the stock white ones)
Rear Fender/License plate Kit (I have the stock rear fender) 

The extra Front Race Fairing and Track Belly Pan would bring a pretty high price all by themselves, but I want to keep it all together.

Its in very good condition with about 10000-ish miles (I'll have to charge the battery and check). I've had it for a long time but put very little few miles on it. The bike is 15 years old and has been ridden so there are a few minor imperfections.

The extra set of carbon fiber race fairings I'll include for an additional $750.  

None of the parts are for sale separately please do not ask. 

I am willing to assist in shipping the bike, but it is 100% at the buyer's expense

Thanks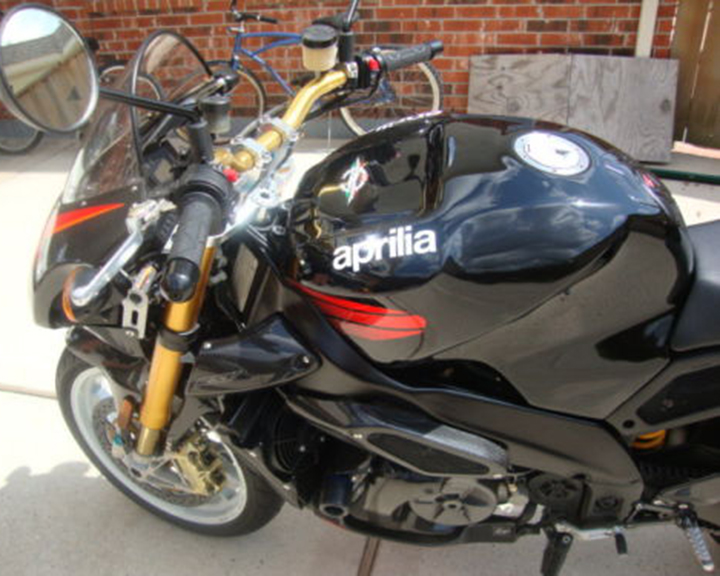 Okay, none of the Tuonos are really beautiful, but I think the first-generation is the best-looking of the bunch. It didn't even bother trying to be subtle, and the styling is just a bonkers mess of in-your-face. I mean that as a compliment. The seller's $8,000 is high for an early v-twin Aprilia in general, but first-generation Tuonos are pretty hard to find and seem to get snapped up pretty quickly. Given all of the available, often very hard to find extras and the overall condition, I wouldn't be surprised if he gets what he's asking.
-tad