Look, I need to get this out of the way  up front: this Aprilia Tuono 1000R Factory is a very ugly bike. The proportions are strange, the details are overwrought, there are creases and angles everywhere… Honestly, the only really positive thing you can say about the bodywork on the Aprilia Tuono 1000R is that there is less of it than on the RSV, but that's definitely damning with faint praise. But before you legions of Aprilia fans whip out your pitchforks and head to Southern California, there are two things you should know. One, it's been raining here a lot and not only are the canyon roads a mess, the drivers here really don't know what to do with this kind of weather, so you should wait a month. And two: I genuinely like the Tuono.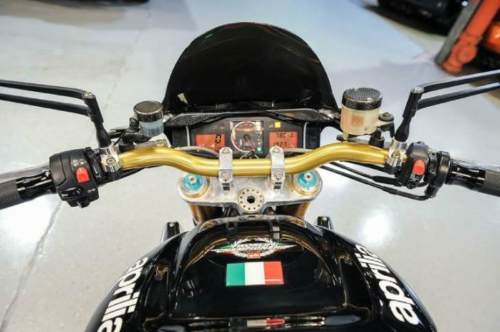 When introduced, the RSV had the monumental task of being the other Italian v-twin superbike. Ducati had the heritage and sexy looks, so Aprilia desperately needed to differentiate themselves, and went with hypermodern styling that wasn't a big hit then, and hasn't aged all that well. But there was surely nothing at all wrong with the mechanical parts, and both the RSV and the Tuono have long been, along with the "touring" Falco, the affordable, reliable choice for fans of Italian handling and sound.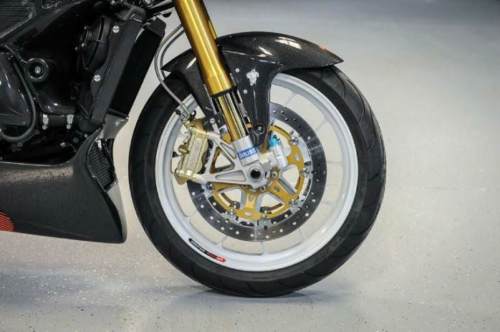 The aluminum alloy beam frame is gorgeous, with clear links to the RS250 and the compact, 60° Rotax v-twin is a bit more coarse than Ducati's famous L-twin, but also a little happier to rev, with a distinctive character. Packing 998cc and 127hp, up from 123 in the regular Tuono, the Factory makes plenty of power and the right kind of noises, but the biggest advantage is the twin's reliability. Low prices and low maintenance make it the budget Italophile's dream, and the odd looks just mean owners can pretend that they're much more interested in performance than in something as shallow as appearance…
Handling is impressive as well, with lightweight forged wheels, Öhlins forks and shock, an Öhlins steering damper, radial Brembos, and the usual bits of carbon that will inevitably fade after a few years of occasional exposure to sunlight, be expensive as hell to replace, and probably saves half a pound compared to the stock machine. Interestingly, the RSV didn't feature a steering damper, but the Tuono had less weight over the front, owing to the lack of a fairing and the raised bars so the result was a more wayward front end.
From the original eBay listing: 2004 Aprilia Tuono 1000R Factory for Sale
Number 63 of 200 
Bike comes with track kit. 2 factory Aprilia pipes. One in box. Full carbon body work for track use.
Never tracked bike, 19,500 miles. Never down, never dropped. New tires. Just serviced. 
Do not ride this anymore. Have title. Tags just paid. No issues with bike. All Carbon perfect, no scratches, no dents, no nothing. Owned with pride. All stickers removed from street carbon body work. Carbon track kit is hard to find. Some people sell separate. I'm selling as package.

Ohlins Suspension
Extensive Carbon Fiber Body Parts
Carbon Fiber Belly Pan Track – Never Installed
Carbon Fiber Headlight Track Shroud – Never Installed
Ti Mufflers 2
OZ Wheels
Brembo Monobloc Brakes
Ohlins Steering Damper
Sargent Seat
CRG Levers
139hp
472lbs wet
408lbs dry
Holds 4.7 gallons of fuel
So the Tuono offered up superbike power, great, but slightly hairy handling, in-your-face styling, and reasonable comfort. Top speed was lower than the RSV, but for 95% of riders 95% of the time, the Tuono was a better choice. Tuonos may not be pretty, but they are pretty impressive machines in every other regard, and those low prices make them a great bang for the buck. Of course, "affordable" is relative and the first generation Tuonos have been more valuable than the RSV for a while. I'm guessing that's because, at least here in the US, they are much less common and it's been a while since I saw a really nice one up for sale. Miles aren't collector-bike-low but the bike is in very nice condition, with some desirable extras.
-tad