Warning!
This post is in our archives. Links in this post have been updated to point to similar bikes available to bid on eBay.
Every post will be sent right to your inbox every morning when new posts are made. We will never sell our list or spam you. Plus you can click links to bid or buy right from the email and skip the site entirely. Subscribe to Rare SportBikes For Sale today!
Although the American motorcycling community seems divided along impractical bikes at either end of the spectrum, journalists and riding enthusiasts long bemoaned the lack of real performance nakeds like this second-generation Aprilia Tuono: bikes that had the performance of a sportbike with all-day ergonomics. A bike you could ride to the twisties and then in the twisties.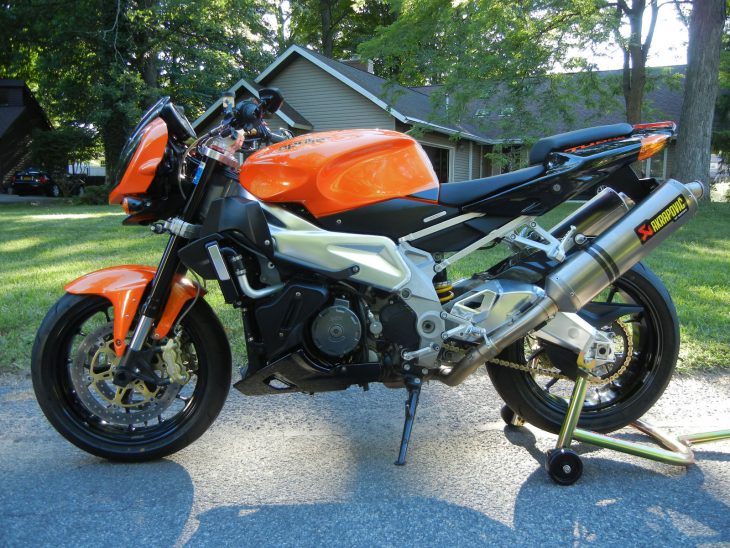 Triumph and Ducati got it right, mainly owing to a lack of budget I think: take an actual sportbike in your lineup, rip off the fairings, and tack on some risers and a set of handlebars. The Japanese manufacturers all built their own performance nakeds, but inevitably overthought things, crafting new, heavier frames, bodywork, and instruments for what should have been minimalist exercises, and reviews [if not sales] suffered as a result. When Aprilia threw their hat into the ring with the original Tuono they created what may have been the best package of the bunch, if not the best-looking machine.
The v-twin RSV's relative lack of straight-line performance compared to Japanese rivals mattered very little in a more road-focused package like the Tuono, and all three generations of the bike received positive reviews from the motorcycle press. And that funky mini fairing, while a bit aesthetically-challenged, at least does provide some functional benefit and certainly is very distinctive. The odd, 60° v-twin developed by Rotax is compact, powerful, and sounds like an Italian v-twin should while being reliable in ways Italian twins often aren't. Prices have remained relatively low for these, possibly owing to the unfortunate looks, or maybe just because they're too new to be classics, and made by a company with less name-check cachet than Ducati.
This Tuono R is one of the nicest, lowest-mile examples I've seen. Probably, because Tuono riders ride the hell out of their motorcycles. They carve canyons, tour on them, and everything in between. Wind protection is pretty minimal, but is better than nothing, and the bike is otherwise the "real-world sportbike" Aprilia advertised. These currently offer up a pretty killer bargain for riders who want v-twin character and performance, without the Ducati headaches. This one is priced way outside the realm of most Tuonos, although we're still talking about just a couple grand over what you might normally expect to pay.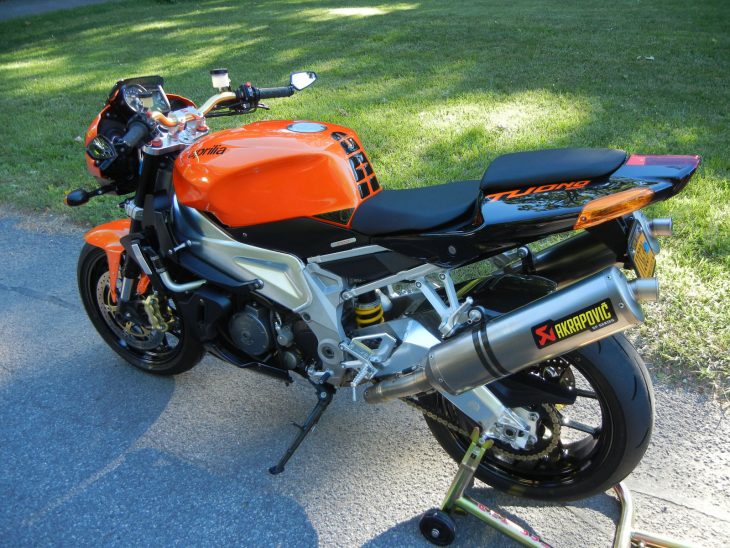 From the original eBay listing: 2009 Tuono 1000R for Sale
MINT condition – only 1,735 miles!!! Price posted ($6,745) is for the bike WITHOUT the upgrades (see below). With the upgrades, as seen in the pics., the price is $7,745. Buyer MUST specify which way they want the bike. If you pay the $6,745, you will get an OEM bike without any of the upgrades. If you purchase the bike with the upgrades, you will get that + all of the OEM parts (I have all of them in new condition).

You will not find a nicer, documented very low mileage Aprilia Tuono 1000 R, anywhere! ~ a must see! Everything works GREAT (needs nothing). It looks and drives perfect. 2009 was the final, and best year, of the great Aprilia Tuono V-twin. In 2010, they switched to the V-four, which to many (including myself) lost much of the character the V-twins had in abundance.

Up for sale is my 2009 Tuono R. It is in mint condition and only has 1,735 original (and documented) miles. Always garage kept, appropriately maintained, and babied. The only reason for the sale is that I very rarely get a chance to ride it. I do 99% of my riding two up with my girl on the back of my other bike (2011 Kawasaki Ninja 1000) and I work about 50 hours a week. So, very unfortunately, my Tuono lives under the cover with a trickle charger attached. Thus, the ultra-low 1,735 miles.

I can't overstate just how much fun this bike is to ride. It induces more smiles per mile than any bike I've ever ridden. Also, this bike gets lots of attention. Almost every time I've ridden it, people will walk over and compliment me on what a nice and unique bike it is (often adding "I've never seen one before"). I have had some tasteful high quality aftermarket items installed as listed below. No internals have been touched or altered in any way. If you prefer an OEM Tuono R experience, all of these parts are very easily removed for easy conversion back to the original from the factory, state. I have all of the original OEM parts, in new condition, to convert it back if you wish. I have priced the bike two ways – in its current state with the upgrades – and in its original OEM state without the upgrades. If you prefer it without the upgrades, I would be happy to convert it back for you.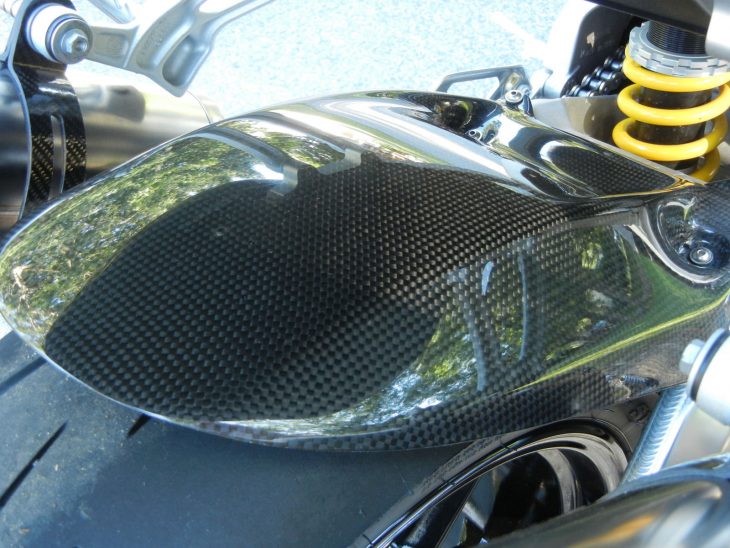 Okay, it goes without saying, but offering up two alternate prices on an eBay listing seems… problematic at best: the platform is set up as an auction site, so I can see a whole lot of back-and-forth emails in the seller's future. And he's making the usual eBay mistake of believing the aftermarket bits in some way retain their value after they've been installed. Really? You're going to include the cost of consumables like a chain and sprockets? Frankly, that'd be like including the labor costs of valve adjustments and belt changes in the selling price of your Ducati. Other than the fact that it indicates no expense was spared maintaining it, no one's likely to be impressed.

Either way, the price is pretty stiff for a Tuono, but the seller is correct about this being a very nice and very low-mileage bike. If you're looking for a v-twin Tuono, you probably won't find one nicer and the initial outlay might pay dividends in the long run.

-tad