Performance is a moving target. In the 1970s, the Norton Commando was a "beast" with 750cc, around 60hp, and a 115mph top speed. These days, many entry-level machines can match those performance targets, and you can pick up bikes with engines as large as 2500cc and power north of 200hp. But at the time, Honda's CBR900RR "Fireblade" was a revelation. With 111hp on tap, power wasn't eye-opening on its own, but the new CBR packed big-bike power into a compact, light package that weighed just a couple pounds more than the company's own CBR600.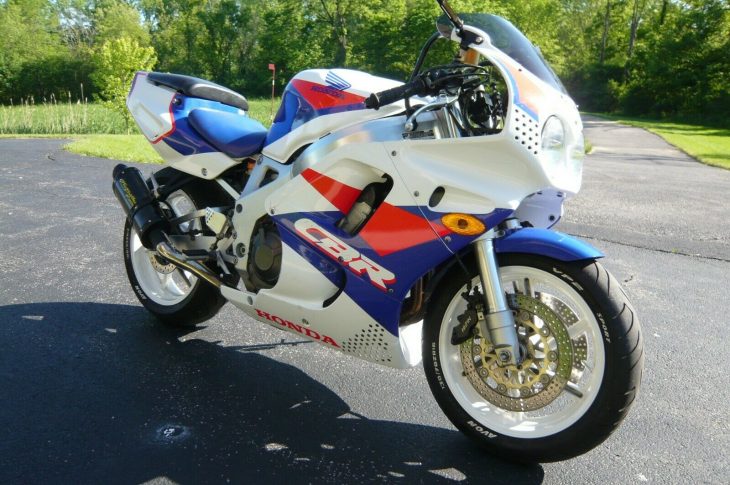 Many sportbikes are built with racing in mind, and those compromises sometimes make for sacrifices for street riders. But the CBR900RR was envisioned as a pure sporting streetbike, and some of the odd choices were made to improve subjective feel, instead of lap times. The right-way-up fork? Lighter than an upside-down unit at the time. The odd displacement kept the bike as narrow as possible, and gave the flexible response and torque desirable for a streetbike. The only real misstep was the 16″ front wheel intended to speed up the steering, something it did only too well. It also means limited tire choice then and now.
At 893cc, the Fireblade was obviously too big for superbike racing and it gave up a significant displacement advantage to bikes like the GSX-R1100 and FZR1000. Bore and stroke were uncharacteristically long-stroke for a pure sportbike at 70x58mm, compared to the 78x59mm of a GSX-R1100K. That makes sense since the CBR engine was basically a stroked 750. It still could rev, obviously, but the long-stroke motor was more compact than something with bigger bores would be and also gave the motor a big spread of torque that was perfect on the road, both priorities for the new sportbike.
The result of this unconventional thinking was one of the all time great sportbikes of all time, and was loved by street racers and hooligans then, and remembered fondly by the ones that managed to survive into middle age. Like many Japanese sportbikes, they were thrashed and crashed, but the CBR900RR was always a little bit special, and many solid examples can still be found if you look. This particular example isn't pristine, but it looks like a solid survivor. However, the seller's suggestion that you "Hop on and RIP!" doesn't inspire much confidence that the bike hasn't been abused just a little over the years…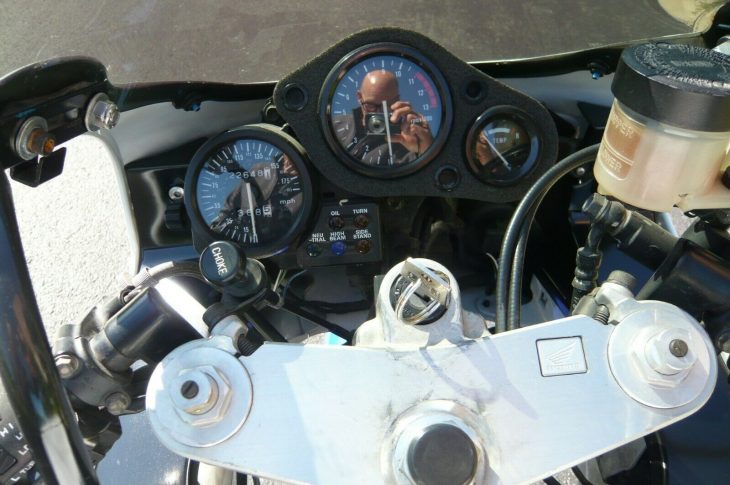 From the original eBay listing: 1993 Honda CBR900RR for Sale
1993 Honda CBR900RR Fireblade SC28, Honda's Original Superbike. Chain-Driven MONSTER! Red White Blue Edition! Independent Dual Headlights. Excellent condition – starts instantly. Oil changed this season. New Tires. What a ride. This bike has been lovingly maintained for 19 years. Regularly ridden – not sitting in a corner, being polished and stared at… Hop on and RIP! Pulls like a CBR Fireblade should. RARE FIND! PRIVATE PARTY TRANSACTION. Personal, Private Collector. Actual miles are 32K. I have over 50 hi-res photos of the bike. If you're interested – call me and I'll forward via email – 847-971-8487. Two Brothers Exhaust. LOOK Seat. Brand New – Original-Style Side Mirrors (not installed). Meticulously maintained.

PRIVATE SALE – NOT A DEALER TRANSACTION

Mileage discrepancy – 22K on ODO, Actual mileage is 32K.

Two Brothers exhaust
LOOK Seat
Brand new, original-style side mirrors (not installed)
Meticulously maintained
Excellent condition – starts instantly
Oil changed this season
New tiresAsking $5,500, OBO.

I can arrange shipping, should you require. You can also fly in and drive it home! I'm located 12 miles north of O'Hare Intl. Airport (ORD).

Specs:
CBR900RR (893cc) SC28
The first generation CBR900RR was introduced in 1992 with an 893 cc (54.5 cu in) inline-four engine. It set a precedent for light weight in the super bike class, being much lighter than other large-displacement bikes of the time. The CBR900RR was based on an advanced research stage model known within Honda as the "CBR750RR". 

With the objective of equaling the acceleration of competitors' flagship sport bikes, Honda increased the stroke of its inline 4-cylinder engine, raising the displacement to 893cc. Complementing its power performance were the bike's dry weight of just 185 kg, wheelbase of 1,405 mm and a body almost identical to that of the advanced research stage model. 
Let's start with the bad: there's a small ding in the tank, a few cracks in the fairings, the brake light lens is aftermarket, the blue aftermarket seat doesn't really match the paint, the mirrors are tomahawk-y, the rear fender and signals have been, ahem, eliminated… The less said about the lazer-cut chain guard the better. And the Two Brothers exhaust has been chopped significantly. That being said, the $5,500 price isn't horrible, considering the demand for really clean examples. Maybe a rolling restoration project? Assuming it's been as carefully maintained as the seller claims, you can start trolling eBay for clean OEM fairings, or have a set painted to match. Track down a nice period-correct end-can… In the meantime, you can just hop on and RIP!
-tad