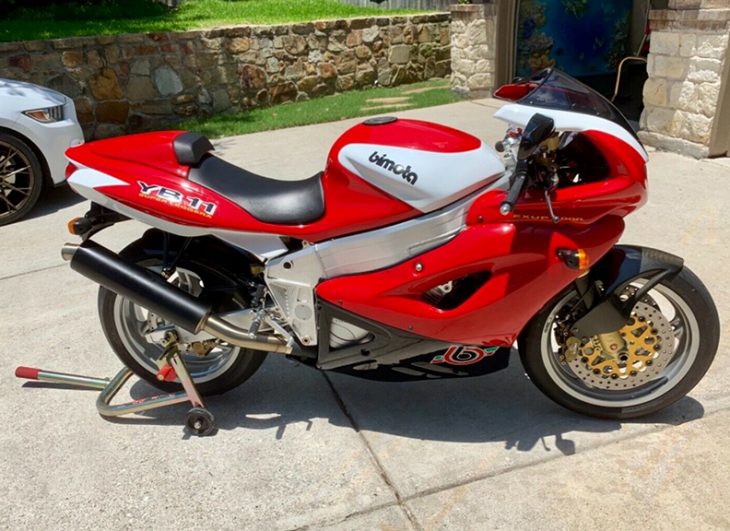 Superleggera means "super light" in Italian, and has been applied to everything from aluminum-bodied Ferraris to modern Ducatis. For the time, the Bimota YB11 offered pretty outrageous performance, compared to mass-produced open-class superbikes. In the YB11's case, the claimed 403lbs dry is on par with something like a modern superbike, with a bit less power. Actually, performance should be right in line with something like a Yamaha MT10, which means it's no slouch even by modern standards and shockingly fast for a bike that's now 22 years old.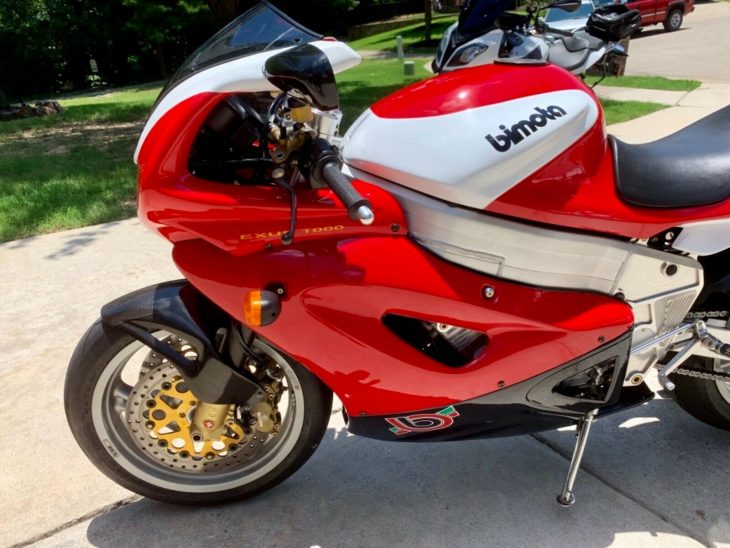 Like nearly all Bimotas, the YB11 was powered by an existing engine from an outside supplier. In this case, the 1002cc five-valve Yamaha Genesis inline four from the YZF1000, with airbox and exhaust tweaks to up the power just a bit from 145 to 150 claimed horses. The bike uses right-way-up forks, but they're massive 51mm Paioli units with carbon-fiber lowers, and Bimota's signature aluminum beam frame features gorgeous machined details.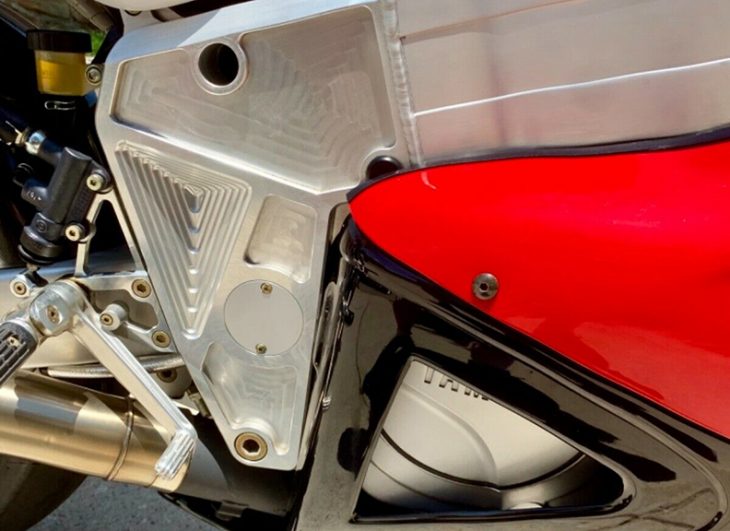 As mentioned in our previous post, it appears that the six-speed gear cluster of a YZF750R does fit within the YZF1000's cases, making it a pretty straightforward upgrade. As fast as it was, plenty of reviews bemoan the lack of a top cog: it doesn't really need one, the bike just seems to want one. Since Bimotas use relatively ordinary engines and transmissions for motivation, it seems like that kind of modification would be well within the spirit of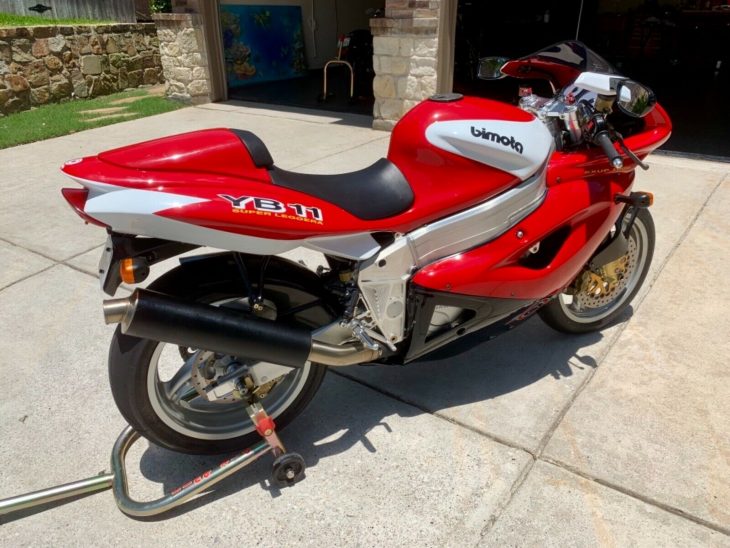 As with other Bimotas the bodywork is lightweight and consists of just a few panels. The entire tail section and tank shroud is a single piece, which is obviously great when you need to strip one for maintenance, not so great if you have a minor crash. The riding position is pretty weird, with a long, stretched out reach to the bars, and pegs set uncomfortably high. I'd imagine there's room for improvement in both areas if you plan to use one on the street and want to play around with adjustable bars and rearsets, although finding parts to fit could be a hassle.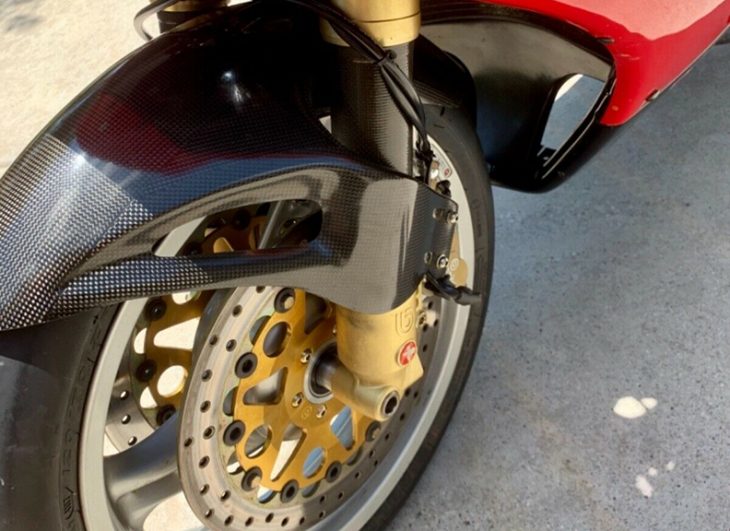 Interestingly, many YB11s came fitted with a passenger pad and footrests, making it one of just a handful of Bimotas that can handle date-night duties. Of course, "superleggera" construction would suggest an aluminum subframe instead of steel to support the weight of an additional person, but apparently the super-light setup was strong enough. For better or for worse, this one lacks those pillion accommodations. That's probably academic, since almost nobody actually uses passenger seats on uncomfortable exotic Italian superbikes, but it's always nice to have the option.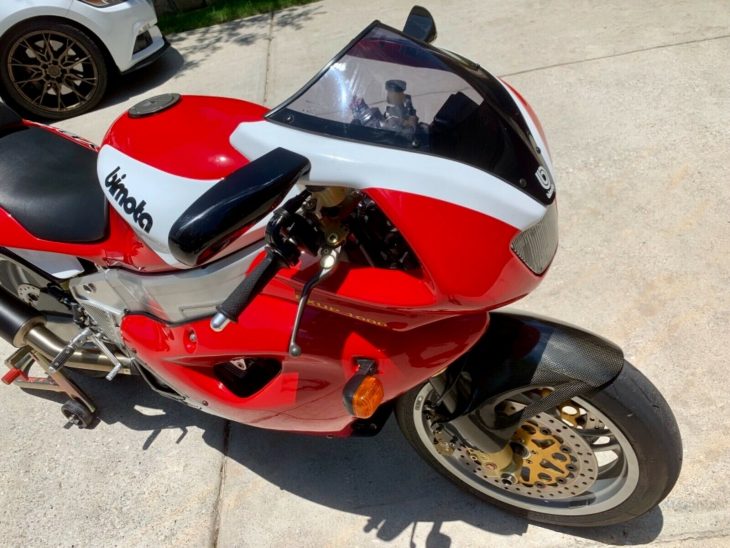 From the original eBay listing: 1997 Bimota YB11 for Sale
Up for sale is my 1997 Bimota YB11 from my collection and it is in pristine condition and is listed with an astonishing 2850 miles (yes you read that right). The bike has always stored indoors for 22 years but that a full refresh has already been completed (details below).

Bimota produced only 600 example of this fabulous creation. Named the 'Superleggera, or Super-light, the YB11 was a tiny 183kg, a full 15kg lighter than the Yamaha YZF1000R from whence came the 11's engine. 

The Superleggera was spoilt in many way; a sophisticated Paioli rear shock developed specifically to suit Bimota's new swing-arm design. Paioli also supplied the lightweight carbon-fibre front forks. Although the Thunderace Yamaha engine was unchanged internally, Bimota incorporated a larger ram-air box that together with their four-into-on exhaust and reworked carbys did increase horsepower to up around 150. The Superleggera achieved a power to weight ratio that no mass-produced bike could match.

Bimota
407 lbs
150 HP at 10,200 rpm
20 Valve 1000 cc inline 4 from a Yamaha YZF1000R
Larger airbag and exhaust system from Bimota
High performance suspension
600 Units produced world wide
87 in the Unites States
$30,000 MSRP in 1996
Key included

Refresh details

Flushed brakes, add stainless steel braided brake lines, rebuilt rear master cylinders
Lubed and adjusted throttle and clutch cables
Flushed cooling system
Torqued and checked all chassis fittings and fasteners,  check/tighten steering head bearings,
Replaced shock chain
Replaced battery, NGK spark plugs, 
Performed compression check and full tune, including clean and synch carbs, flush fuel tank and add 1 gallon bath metal rust remover, replace petcock assembly (leaking).  

Added engine top-end oiling kit from Daughtry Motorsports (early VF1000's were reported to suffer top end oiling deficiency and this kit addresses that fully).  Includes oil filter with adapter for top-end oiling kit.

Replaced original tires (old and cracked) with brand new Bridgestone Battlax BT45's.  Went to 150/70/17 rear (stock was 140) and 120/80/16 front (stock size).
Not sure where the customer got those tire sizes, since the YB11 wore very ordinary 180/55-17 and 120/70-17 tires at the rear and front, respectively. Considering he also mentions "early VF1000s" I'm assuming he's mixed up the text from a couple different bikes he's posting on eBay. Regardless, this looks to be in very good, original condition, with low miles. I'm still shocked that there's virtually no interest in these bikes, but that can't last forever, so grab one now!
-tad