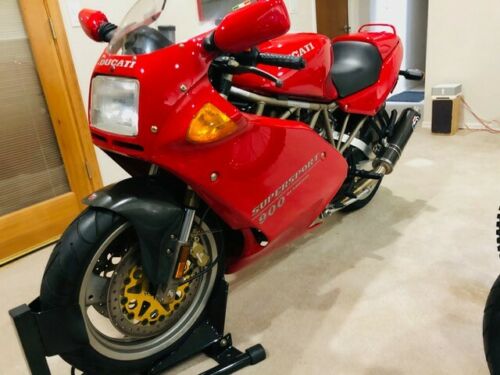 An affordable way into collecting exotics that you can ride, the Ducati Supersport line is an approachable (and enjoyable) platform on which to begin your journey. Long known for being robust, reliable and a heck of a lot of fun, the Pantah-powered SS models are fairly basic motorcycles that deliver decent performance, great looks and a fantastic soundtrack – without breaking the bank. Today's example is a 1996 Ducati 900SS SP – the higher spec (and more collectable) of the two seat Supersport models.
All Supersports of this era were very, very similar. While introduced with a white frame in 1991, by '93-'94 all two seater models had a bronze-colored trellis frame, the same 900cc air-cooled, 2-valve Desmo engine with carburetion, a dry clutch and a six speed gearbox. There were a few variations in the line, including full or half fairing, factory carbon bits such as mudguard, adjustable front suspension, aluminum swing arm and wider rear tire. The bikes that had all the options were known as 900SS SP – or Sport Production models – and were affixed with a special headstock plaque indicating such. Think of these as a biposto 900 Superlight, so close are many of the specifications.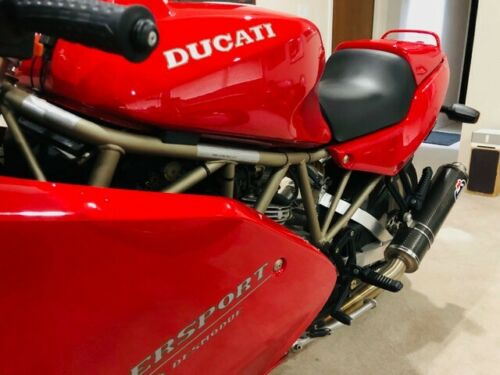 From the seller:
Make: Ducati
Model: 900 SS/ SP
Milage: 3562
VIN: ZDM1LC4N4TB021577

For sale is Ducati 900 SS/SP with 3562 miles!!

If not familiar with the SS/SP, some history.
The 1991 Supersports were produced with white chrome molybdenum steel frames and white wheels. The swingarms used needle bearings instead of bushings as in the past. Brakes from the Ducati 851 were used on the Supersport vastly improving braking performance. All new bodywork and a pivoting fuel tank were elegantly shaped.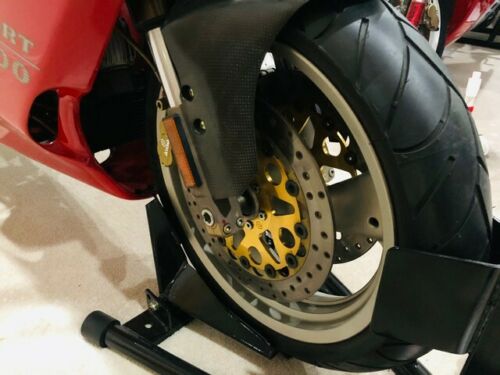 More from the seller:
The 900 SS/SP (Sport Production) was offered to the North American market only. This model had carbon fiber fenders and clutch cover, sound damping material, adjustable Showa suspension, and an aluminum swingarm.

Displacement: 904.0 ccm
Engine type: V2, Four stroke
Power: 80.0 @ 7000 RPM
Torque: 85.0 Nm @ 6400 RPM
Top Speed 130.5 MPH
Valves per cylinder: 2
Cooling system: Air
Gearbox: 6 Speed
Transmission type final drive: Chain
Dry weight: 410.1 pounds

The bike listed has 3562 miles. Other than a few small issues is in excellent condition (touch up on left mirror, small chip in front fender, paint flaking on left side engine case). bike has been store in a heated room in my collection since purchased. All bodywork and paint is original. No accidents!

Bike will be sold with:
Both sport and regular seat,
Supersport 900 owners manual
(2) keys
Tool kit
Ducati VHS tape
There are few negatives to owning a Supersport. They offer a fair amount of mechanical noise, they vibrate and throb a bit, and the final gearing is very tall making for some interesting clutch work when in traffic. Clutch slave cylinders are usually the first components to fail; replacement is easy and aftermarket options are plentiful. Belt replacement and valve adjustment are probably the biggest deal – the belt change is not difficult on these air cooled motors but the need for shims might make finding a decent Ducati mechanic worthwhile. If you wish to do the work yourself, you will find these are relatively easy bikes to work on. There have been reports of the aluminum swing arm being prone to cracks; this is an area that should be carefully checked.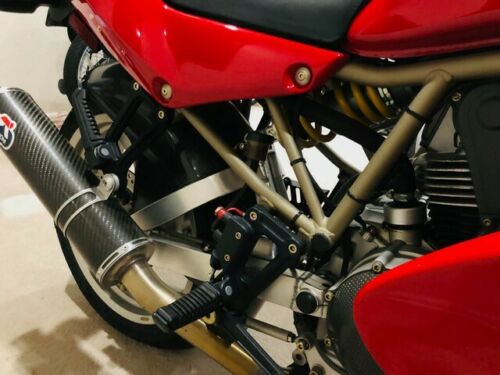 This very pretty 900SS SP has been housetrained and is looking for a new home. It has some minor mods (Termi cans, the solo tail section, and possibly the brake/clutch lines) but otherwise looks to be stock. It's nice to see the complete list of what is being offered with the sale, including the original seat. The only real concern I would have is where to find a VHS player to view that Ducati tape! Check out all of the details here, as this is one the Ducati models that will be going up in value in the future. These have been on the cheap side of the market for a long time, but as the well-cared for examples are snapped up, the dwindling stock of good quality bikes will help drive the price curve. Good Luck!!
MI