Update 6.3.2020: This bike has SOLD on eBay for $9,800. Congratulations to buyer and seller! -dc
Unless owned by a retired racer, the liter-plus sportbikes generally find themselves on longer, more relaxed Sunday rides.  As some of the original owners are sunsetting, RSBFS reader Billy found his old flame GSX-R1100 and restored it with only the best intentions, but spare riding time did not materialize.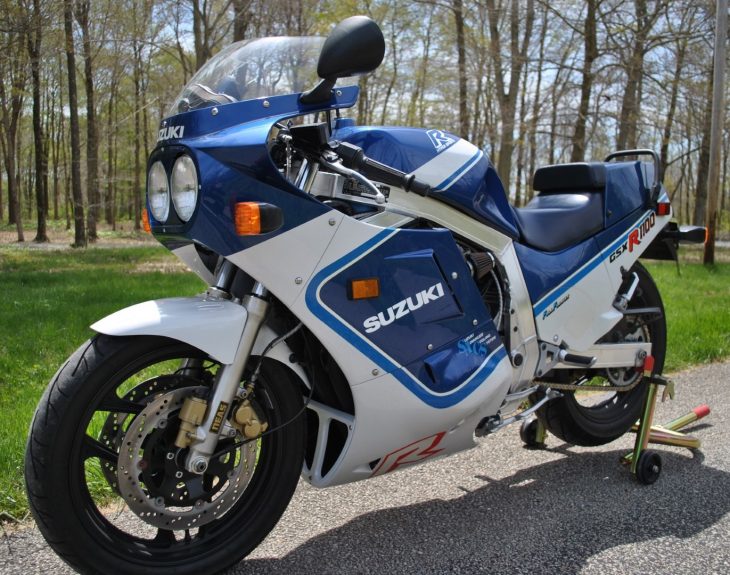 About all the engine you could imagine air/oil cooled and snuggled into a full fairing, with 125 hp and 76 ft.-lbs. torque.  The chassis is very light for the segment, all alloy with some very nifty production welding.  The swingarm is fabricated from similar extrusions, carried by the Full-Floater monoshock.  41mm forks are adjustable and equipped with Suzuki's NEAS adjustable electric anti-dive system.  18-inch wheels slow the handling a bit, as does the lengthened swingarm and steering stabilizer.  The seat and fairing design nestle the rider in, not that they'll be there long with a 4 gallon tank and 155 mph top speed.
Billy's GSXR came to him as a rider, and he's done a comprehensive mechanical resto, sourced some new fairing lowers and had all the bodywork professionally painted.  It has a very factory appearance and a correct Vance & Hines slip-on, with modern concessions like braided brake lines and individual K&N air filters.  A little of the previous owner's patina remains, giving the bike great survivor cred and relieving the new rider of too much guilt.  Billy's comments about the work he did –
I bought this bike in 2013 from a fellow sportbike enthusiast "of a certain age", who, like me, wanted one back in the day but was too young/poor/busy/etc to have one. I had been looking for a few years at that point for a nice example and this fit what I was looking for:

Essentially stock, except some period-correct mods

Vance&Hines full exhaust
Pod filters (mainly because servicing carbs with the stock airbox is a pain in the butt)
Steel brake lines

Low miles – just over 6000 when I bought it, which I believe to be accurate but the title does have a "not actual" brand on the miles. The previous owner didn't know why. I can't say for sure the mileage is correct but I did replace the stock chain since I bought it, and it wasn't worn/stretched out, just getting grungy looking. The rest of the bike, in general, seems like it hasn't had much use.
Original paint
Nothing polished or otherwise butchered, thankfully
Ran/rode fine

Since I've owned it, its done a lot more sitting than riding. I have way too many projects and am trying to thin the herd a bit. COVID gave me some time to finally get this one ready to move to the next care taker. While I've had it, a lot of freshening has been done, because if I'm going to sit and stare at something in my workshop, I want it to look nice! Here's the highlights:

A LOT of cleaning – the bike was stripped down and any non-stock or corroded fasteners were replaced with the correct new OEM items, that sort of thing.
When I got it the PO didn't have the lower fairings. Like him, I actually like the look of these bikes without the lowers, it 'lightens' up the look, but I wanted to put it back to as nice of condition as possible, and that meant adding lowers. There was also some clear coat peeling on the decals on the tank, pretty common from what I've seen. Add in some light scratches on the upper from a driveway-type incident and I decided to go ahead and paint the upper, mids, lowers, front fender and tank, otherwise I'd never be completely happy with it. Everything from the seat back is original paint and in great shape. My painter let me down in a couple spots but it wasn't enough to ask him to re-paint it. I took close-ups of the flaws – fairly minor and nothing that jumps out at you but I wanted the buyer to be aware of these. It's a quality paint job from a professional auto body shop, 3 stage PPG paint, using repro decals from RDdecals.com – great products. Decals are under the clear, as stock.
New consumables: battery/tires/brake pads/oil/filters/fuel lines/fork oil & seals/chain/brake fluid/etc., etc.
New petcock
Repacked all swingarm/head/etc bearing
Rebuilt brake calipers, master cylinders and clutch master cylinder
New windscreen (minor scratches from handling – see pic)
Rebuilt carbs and installed Factory Pro jet kit, bike runs really well here in Ohio near sea level
Adjusted valves
Powdercoated side stand
More cleaning…

The bike runs and rides fine, no leaks/smoke, and gets a lot of attention from those 'in the know'.

I'm an hour east of Cincinnati in southern Ohio.
The GSXR-1100 was developed alongside the 750cc model, and seemed to a lot of reviewers a perfectly scaled-up supersport or trimmed down GT, either way winning a lot of flagship shoot-outs.  With an endurance racer's good looks, the cockpit reviewed as comfortable and got the rider out of the wind, and handled acknowledging the pre-nanny 125 ponies on tap.  Billy's GSXR is a good year, pre-dating the 1989 chassis change and the water-cooled era.  With low miles and fresh restoration, it should be a trouble-free classic – just in time for some good weather !
-donn