Ducati celebrated 20 years of Monstrous success with a classic combination of air cooling, 100 hp EVO engine design, 21st century electronics, and of all things a wet clutch.  This one is number 8 of 200 built, and looks appropriately excellent for its 2,000-and-change miles.
A sea change from the middle displacement jack-of-all-trades 1993 model, the M1100 Evo had some of the best stuff the air-cooled generation could offer.  A lighter crankcase and crankshaft, revised valve timing, and 11.3-to-1 compression added up to beaucoup power but torque that every reviewer noticed.  The classy gold trellis looks beefier than in years past, as do the Marzocchi forks and cast single-sided swingarm.  With what had been superbike power, safety got electronic enhancement with Bosch ABS for the Brembo brakes, and 4-level traction control.  Slipper functionality was built into the wet clutch, and made for a lighter lever.  Air intakes are incorporated into the tank cover, leaving room for only 3.4 gallons of distilled dinosaurs.
Presented by a Tempe specialty ( mostly car ) dealer, number 8 of 200 almost answers to magnificent, hardly used and carefully stored.  Just a couple of mods, with the binnacle fairing and rear fender removed, plus round aftermarket mirrors and seat cover.  As with so many Ducati museum pieces, the tires and cam belts aren't mentioned but likely will be ready for retirement.   Notes from the eBay auction are mostly a borrowed ad:

Monster M1100 EVO 20th Anniversary #08 of 200. The Monster 1100EVO underlines the Monster family's defining concepts of functionality, style and sport with an evolution of the flagship model. Taking its name from the Desmodue Evoluzione engine, which delivers a Monster milestone 100hp, the 1100EVO sports the latest generation exhaust system, Marzocchi front suspension, refined tail-end, bold sport-style graphics and the Ducati Safety Pack (DSP) consisting of ABS and 4-level Ducati Traction Control (DTC). The 20th Anniversary editions of the Monster 1100 EVO are dressed in special celebratory colour schemes and revised colour finishes for frames, brake calipers, master-cylinders and key chassis components in addition to a many other details including design refinements applied to rearview mirrors and seat covering. Only 2,000 miles. Super clean bike. Must see in person.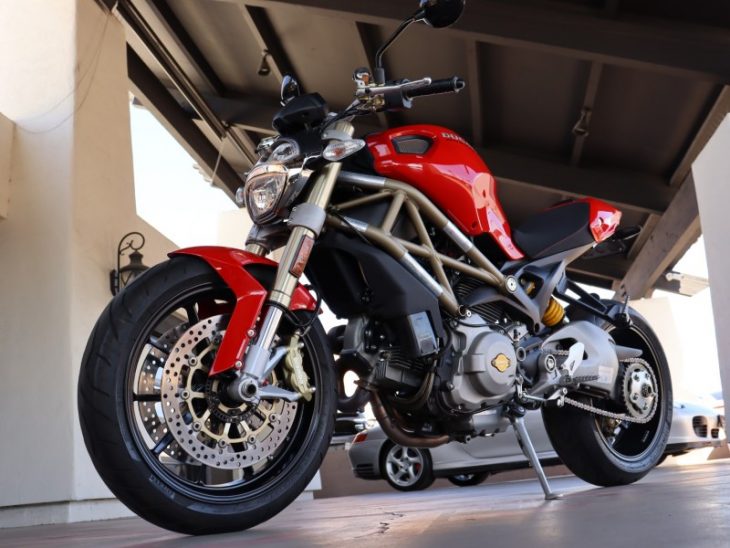 Though we're just a lap or so away from the 30th anniversary Monster, some fans might rather a trellis frame and desmodue than the current monocoque chassis and Euro-5 compliant testastretta.  Or at least have a more classic period item in the stable.  With special dealer pricing, the ask for this special edition is right up there with a brand new one – but the make offer button is available.
-donn