After the success of the 916, Ducati presented the top of the batting order for the 996, with base, S, and SPS models for 1999.  Today's -S is substantially stock with 12,475 miles – hard to argue with a first year home run.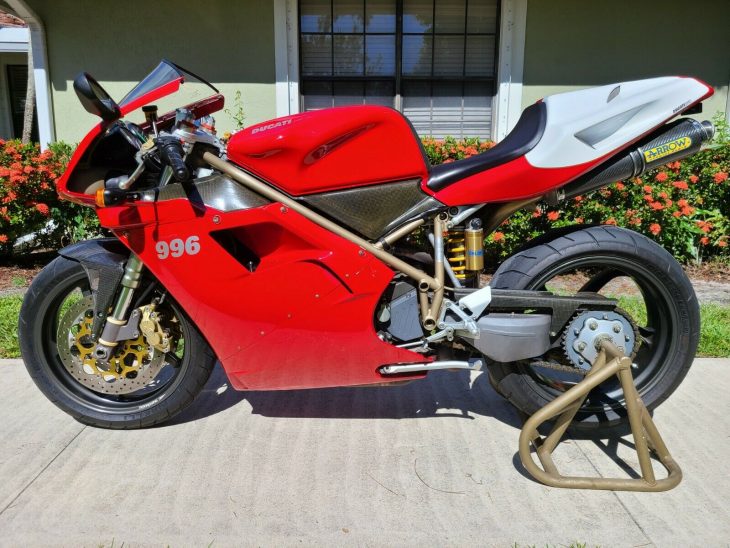 As an incremental improvement, design engineers went for a number of big steps – more displacement, revised ECU with two fuel injectors for each cylinder, and of course a new airbox.  123 hp was the result, all helmet controlled with electronic nannies still a ways over the horizon.  Chassis changes were harder to see but the package became slightly more compact, with the S sporting Öhlins dampers all around.  Not much in the way of upgrades for the cooling and charging systems so a fan override switch ( and some running room ) were helpful in keeping temps in the green.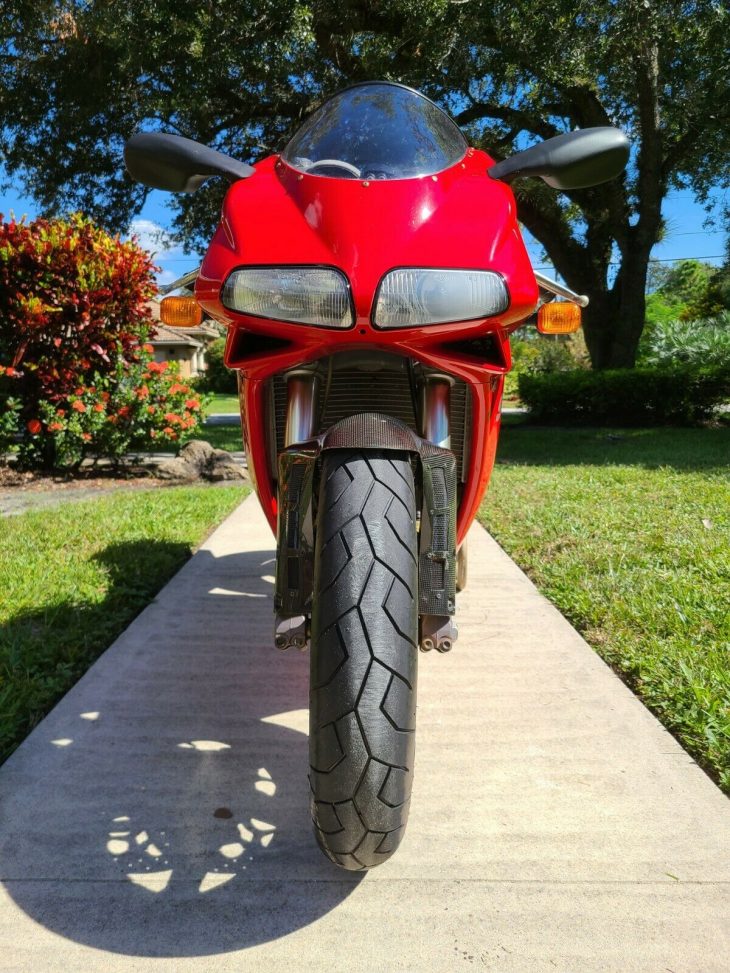 Soaked in the Florida sun, this 996S looks excellent with the mandated tail tidy and vented front fender.  FarkleBay awaits with more carbon goodies if the new owner wants.  Quality Arrow exhaust is paired with an ECU update.  Q&A style comments suggest a period of inactivity, no deal breaker but might inquire about the age of the cam belts before bidding.  Notes from the eBay auction:
1999 996S #27, one owner, only 12,500 miles, professionally maintained, responsibly ridden, never dropped, never raced.  Full Arrow exhaust, matching ECU, carbon fiber extras, Ohlins suspension, Marchesini wheels, Pirelli Corsa Diablo tires, etc.  Recent fuel tank liner and ethanol proof lines.
Robust as it was, the 996 had a relatively short run, with a more modern testastretta engine being readied for later 996R's and the 2003 998.  Edition number 027 is quite low for an inaugural machine, with only around 200 S-variants ( all red ! ) made each year.  The starting bid doesn't seem out of line but the seller's tight schedule might be helped by a local buyer.
-donn