Who Shrunk The 916?  2000 Cagiva Mito 125cc EVO II (CA Title!)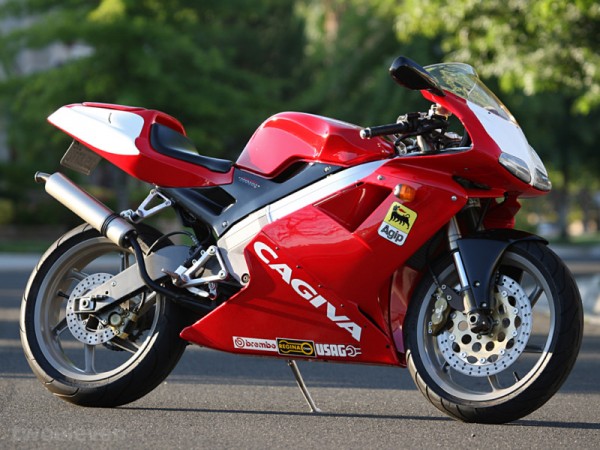 You have to give it to Massimo Tamburini, the man's designs are classics.  It takes skill to make people appreciate a 125cc bike designed for teenagers.  Yeah, it might not have come from a fresh sheet of paper but it has some sexy lines for any size of bike.  Of course we American's lust after them like  teenagers because of the stroker factor as well.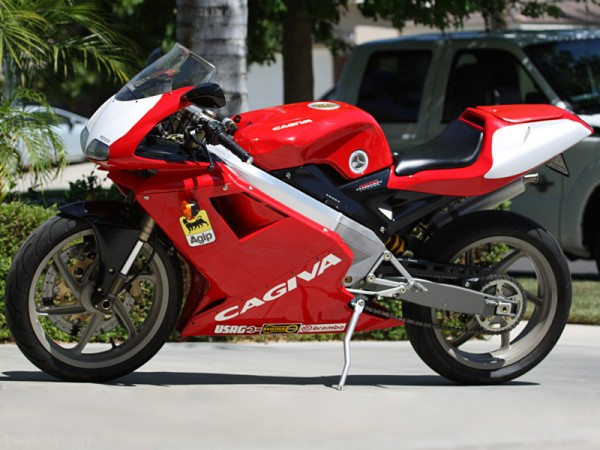 The Evo II is differs from the Evo with a 6 speed gearbox (Evo is 7), 6 spoke wheels and solid color lowers and white number plates on the tail.
The seller included a lot of info on the bike so I'm going to let him take it away:
This is an extremely unique motorcycle here in the US.  Designed by legendary Ducati/MV/Husqvarna designer Massimo Tamburini, this little Italian two-stroke single delivers Ducati looks and 125cc GP performance in a complete 7/8-ths sized motorcycle.  This California clear-titled and currently licensed and registered example shows only 4,527 km on the clock (2,813 miles), and only 350 km (217 miles) since a fresh top-end and service was done.  De-restricted and capable of 11,500 RPM, this light and very flickable ride is a true blast in the twisties, and will be one-of-a-kind wherever you go.  These were only imported briefly in 2000, and they are incredibly rare.  The good news is that there are parts all over the world if you need something, as this is a far more common bike in Europe and Australia. Also, many parts on this bike are common to other models that Cagiva produced, again helpful when in search of a part.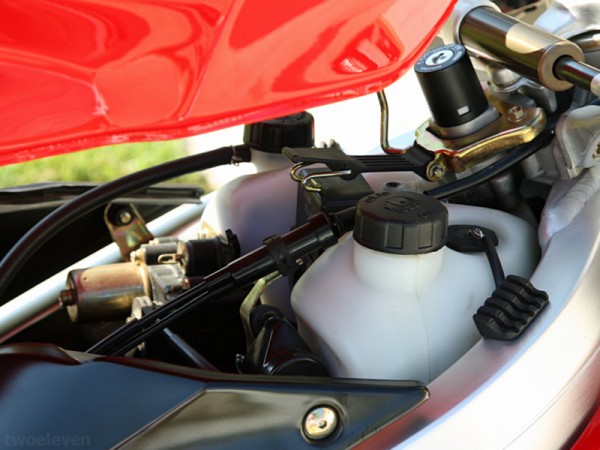 The GOOD thing is that this bike is close to stock, including those 'sponsor' stickers.  It is about a "9" cosmetically, and about a "9" mechanically. It has brand new tires and a freshly serviced carb and top-end, and comes with a handy box of spares (including an extra cylinder to ready your next top-end job "on the bench").  There is nothing that NEEDS to be done right this second, turn the key and ride away. Auction includes the bike, the spares including the tool-kit, and the original owner's manual (not pictured). EVERYTHING WORKS, and nothing leaks.  This bike starts on the first push of the button, warms right up and is ready to ride.  The Michelin Pilot Powers have only 217 miles on them, the carb was completely cleaned with the new top-end, oil injection system works fine, and it is pre-pig tailed with a hidden plug for a standard Battery Tender.  The rear passenger pegs are not currently installed, but are in excellent condition and are included in the sale (see spares photo)
The BAD is that there are a few items that will need attention soon:  A new chain and sprockets will be a good idea for next season maybe, although these have some life left in them.  The brake pads will be up soon, but new sets from GALFER (front and rear) are INCLUDED with my spares (see spares photo).  The bike originally had large "MITO" stickers on the rear number plates, they were ugly anyway, but the prior owner removed them.  New ones could be ordered to get the stock look back easily.

The UGLY is really not that bad:  Previous owner has cut the rear-fender to flush with the tail, and moved the rear signals inside the tail, viewable through the rear-tail vent holes.  To go back to stock, a new stock undertail fender would be needed, as well as the rear-signals, these items can be ordered.  Also, the front R turn signal and front L turn signal don't exactly match, they are slighlty different, I believe the R side was replaced, but the stock ones are easy to find anyway.  The previous owner let the kickstand wiggle loose, and it looks like it struck the swingarm a few times on the L side.  I immediately tightened the stand and it no longer can make contact, but a small paint repair here would be ideal…I just never bothered with it, please see swingarm photo to see the scratch.  There are only a few chips in the original paint, the chips were filled with matching red but you can still see them from closer than 5 feet away.  It is missing ONE lower fairing rivet, lowest rivet on the R side (see R side photo) you will see is slighlty larger, it is currently just a plastic screw being used as a placeholder.  These are like the metal rivets on the Ducati 916, I am sure they can be ordered, I just didn't get to it.  There are some small chips on the underside edge of the R rear side of the swingarm, just in front of the rear caliper.  Lastly, I believe this bike may have fallen over on the previous owner.  There is a tiny scuff on the lowest corner of the (right-side mounted) pipe, it is TINY.  There is a tiny scuff on the stock R side bar-end (not currently installed, but included in the spares), and then there is that non-matching R side front signal.  The good news is that there is no damage to the tail or the mirror, so it must not have been more than a tip-over IMO.  I have tried to photograph each of these issues, look carefully at the shots but please understand that overall, this is a beautiful machine with great paint and only a few minor blems.  Besides, if the small scratch in the swingarm gets you down, swing around the back and just look at that California License plate and current registration, that should cheer you up (I didn't install the month upside down, previous owner did that…)

I have taken very good care of this machine, always garaged, never rain-ridden, and it has not been crashed as far as I can tell…I know I didn't crash it.  I had designs on doing the few things it still needs to make it absolutely perfect, but I found riding it required none of these things. 

This is a beautiful bike, a blast to ride, and it is hysterically rare in the US, but easy to find parts for…What a dream.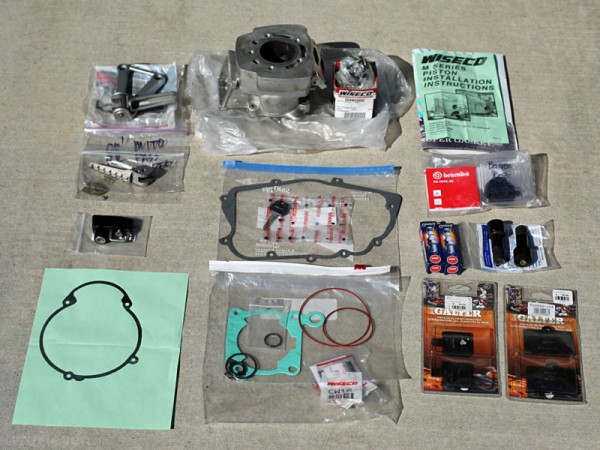 I've never owned one or talked with an owner but I just get a sense you would end up neglecting other bikes if this became part of your collection.  By the way, if it even crossed your mind that some parts might interchange with the 916; forget about it.  There was actually a forum thread discussing that exact topic.
Ian