Italian Teens Commuter Or U.S. Exotica? Titled 1995 Cagiva Mito
It is kind of funny how something can be very ordinary in one place an exotic in another.  These little Mitos, in my opinion, are classic bikes.  Their design/look is timeless much like, say a Ducati 916.  Could it be because the same pen designed them?  Maybe but park this next to an Aprilia RS125 and tell me which is the newer bike.  What makes this impressive is that the Mito is considered a beginners bike and they usually look like, well:  beginners bikes.  Only the tiny exhaust and single disc give away its' lack of cc's.
You may recognize this garage, as it has been producing some extremely nice grey bikes for sale lately.  Lucky for us the seller has decided to thin out his herd.  Lets go down the checklist for the bike.  Title: check.  Low miles: check.  Extremely clean: check.  There really isn't a whole lot to say.  If you've been waiting for a Mito to come up for sale here it is.  It has everything you could ask for.
Can you see the 916 now?  This one is just smaller and smokes.  I'd love to see some comments from owners about these bikes.  Do they motivate pretty good?  I think back to my RM125 dirt bike and remember that thing was pretty damn strong.  Did Cagiva plug it up with restrictions and if so, are they easy to remove?  What is the fit and finish like on a Cagiva as I've never seen one in person.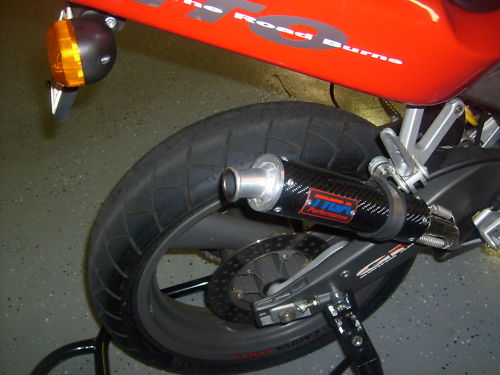 I think this is one of those bikes that if you got it in your garage you'd find yourself riding more than you thought you would.  I'd take in a heart beat if my wallet would only cooperate.  This one is another Ebay bike and it looks like it has attracted a few bidders although the price is still well below what I think the seller would let it go for.  .
Since I compared the two, here are the RS125 and the Mito together. In all honesty, they are both sharp looking bikes.

IK