These days, when someone says "BMW sportbike," two things happen. First, the squinty, asymmetrical S1000RR immediately springs to mind. Second, you don't immediately burst into a fit of laughing: not long ago, "BMW sportbike" would have been something of an oxymoron. But people forget that, sandwiched in between the sporty-toury R1100S and the game-changing S1000RR, BMW introduced the very trick, limited-production HP2 Sport.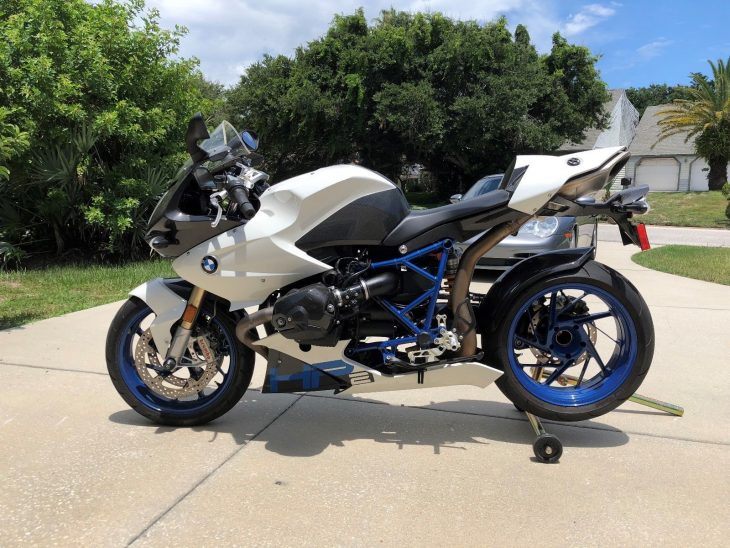 It was really intended to set the stage for the S1000RR, to show that BMW could be taken seriously as a sportbike manufacturer, that they had the technological chops to make a world-class machine. Of course, in the case of the HP2 Sport, they were applying that technology to a platform that would seem to be the anti-sportbike at first. It uses the same basic layout as the R1100S: horizontally-opposed twin with a longitudinal crankshaft, shaft drive, and BMW's Telelever front end that used a traditional shock and A-arm set up, along with some fork tubes that aren't actually fork tubes.
That setup has some advantages over a conventional fork, but is generally heavier and more complicated. It also makes the location of a radiator difficult, something that's not such an issue here, since the flat-twin is oil and air-cooled. Speaking of that classic BMW engine: in the HP2, a whole catalog of exotic parts have been thrown at it to increase performance. New dual overhead cam heads, radial valves, and titanium connecting rods all add up to a claimed 128hp, and a 9,500rpm redline you could chase with the very first-ever, factory-equipped quickshifter.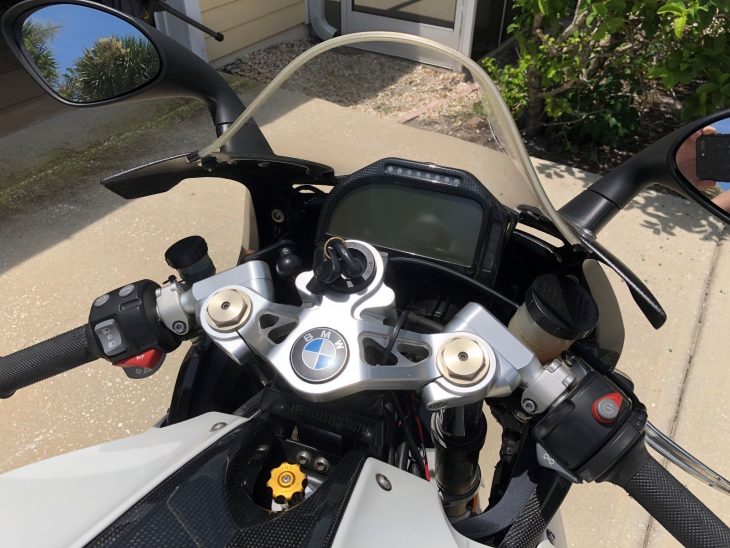 In an R1100S, that power might not be much to shout about, but the HP2 has added lightness: carbon-fiber panels, a self-supporting carbon-fiber subframe, and a generally Lotus-like attention to detail meant a claimed dry weight of 392lbs. Not especially impressive in the sportbike world, but the package was sufficiently light to legitimately compete in terms of handling. And that was another surprise: the BMW Telelever system doesn't always "feel like it should" and is sometimes criticized for offering vague front-end feedback, but a sportier front shock from Öhlins seems to have cured that. Unlikely layout aside, the HP2 was an excellent handler, and the Brembo monoblock calipers provide ferocious retardation for the lightweight machine.
From the original eBay listing: 2009 BMW HP2 Sport for Sale
For auction is my 2009 BMW HP2 Sport. It is in very good condition with 20,532 miles on the clock. It is a great running machine and has been maintained well. It has no known mechanical defects and needs nothing. It has been ridden as it was meant to be, but never abused or track ridden, but has not been stored in a living room. If you want a museum piece with zero mileage then this particular bike isn't likely for you. If you do however wish to own and ride the ultimate BMW boxer sport bike then this bike is for you and at about half the price of new or some recently posted here on eBay. This machine is serial number 79 as seen in the photos. No one really seems to know for sure how many HP2 sports were produced for the world market, much less the USA market, but it seems about 250 or so. This is the last of my collection of seven BMW motorcycles that I have decided to sell. I have accepted a new job in another state and so all but one of my bikes and cars are going to be sold in the next two months. I work a lot of hours and weekends as well so I don't have time to ride any of them. These bikes need to be ridden, as opposed to sitting here on a trickle charger gathering dust. I have been on eBay for many years and have great feedback and represent things as they are. Thanks for the interest and I will try to respond to questions as quickly as possible.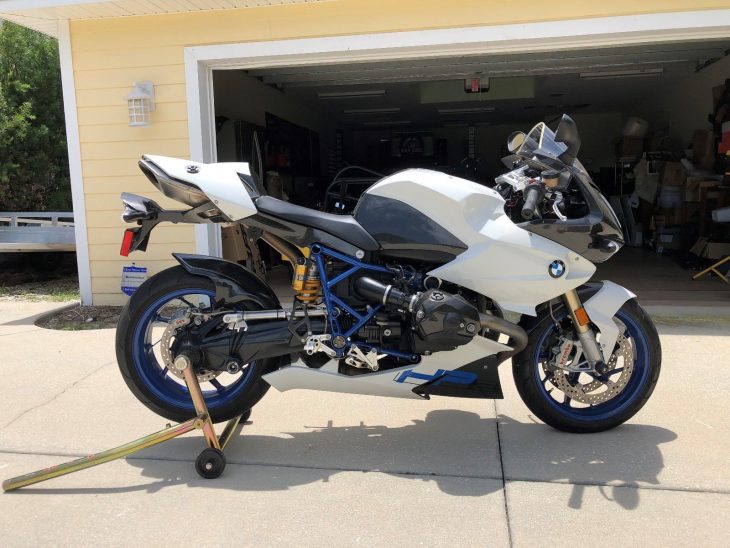 There are actually several HP2s up for sale at the moment, but while most are treated like museum pieces, this one has been ridden extensively, although mileage is still low for a BMW twin. Keep in mind that the service schedule calls for those titanium connecting rods to be replaced at 30,000 miles, but at least engine access is easy and you're only looking at a pair of them… There isn't much time left on the auction, and bidding is up to about half what HP2s usually go for. It looks like it's in excellent condition and would be a great choice for a BMW fan looking to ride the ultimate twin in the way it was really intended.
-tad