Living as we do somewhere between the bike and  the post, your editors at RSBFS always appreciate the effort to photograph a bike well.  Though they can try to hide mishaps, a good photograph is better at highlighting the lack of history, illustrating careful ownership.  So much the better if a special bike is shown well.  The pinnacle of BMW boxer development, the HP2 Sport is such a bike, here with a neat short focal-length treatment.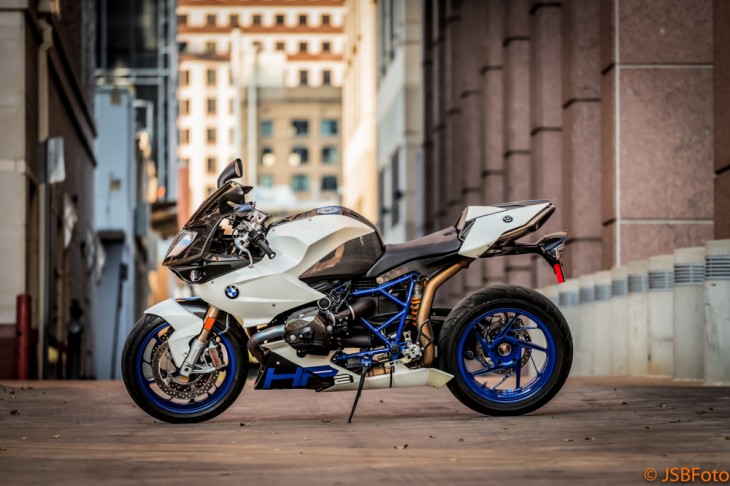 Holding down BMW's sport corner from 2008-12 ( at least as a figurehead after the S1000RR arrived ), the HP2's air/oil cooled engine brings home 128 hp and 80 ft-lbs. torque.  The HP2 has a chrome-moly trellis frame which uses the engine as a stressed member, and self-supporting seat subframe and fairing.  BMW's Telelever front and Paralever rear each use fully adjustable Ohlins dampers.  With the optional ABS, the rider can depend on the 330mm front disks and 265mm rear.  The design studio squandered their budget on the HP2, the fairing and appointments, like the full-featured LCD dash, are top notch.
Professionally photographed with under 4,000 miles,  it's a dreamboat.  Never tracked, a shame for the past owners ( and a benefit to the next owner ).  No damage history, from the eBay auction:
This is an amazing motorcycle!  The HP2 Sport was the first BMW R motor to used radial positioned valves on the historic engine that helped it produce more HP and Torque than any previous R-motor BMW.  Additionally, at the time it was the most expensive BMW motorcycle ever sold and I believe that to still be true.  The bodywork is all carbon fiber, half was painted white and the dark sections remain exposed carbon fiber so you and everyone else will know what it is made of.  The valve covers are even carbon fiber!

There are higher horsepower motorcycles out there but this has as much torque as they do.  And, it comes in low in the rev range and pulls strong all the way to red line.  it is smoother and more comfortable than any other top tier superbike on the market and is a great collector piece.  I believe there were only 235 imported into he US in 2008 and 2009.  The option available we ABS and this bike has it.  Long term values on these make it a great place to put your motorcycle money.

The wheels are made specifically for this motorcycle by OZ racing

The suspension is provided by Ohlins

The radial mounted brakes are from Brembo
Centrally located in Austin, a pre-purchase inspection should be easy to arrange.  A lot of BMW's work went into reducing weight, and the HP2 is under 4oo lbs. fueled, quite amazing when you consider its sport-touring ancestry and robust build.  As with the Porsche 911 flat six, there will likely always be a BMW boxer twin, and this is one of the best...
-donn