Few riders could have foreseen the roller coaster ride Harley-Davidson in store for Erik Buell, but a previous owner of this RSS1200 Westwind saw a future classic in the big twin.  With just 1,800 miles this gem is very original and has been protected from life's bumps and bruises.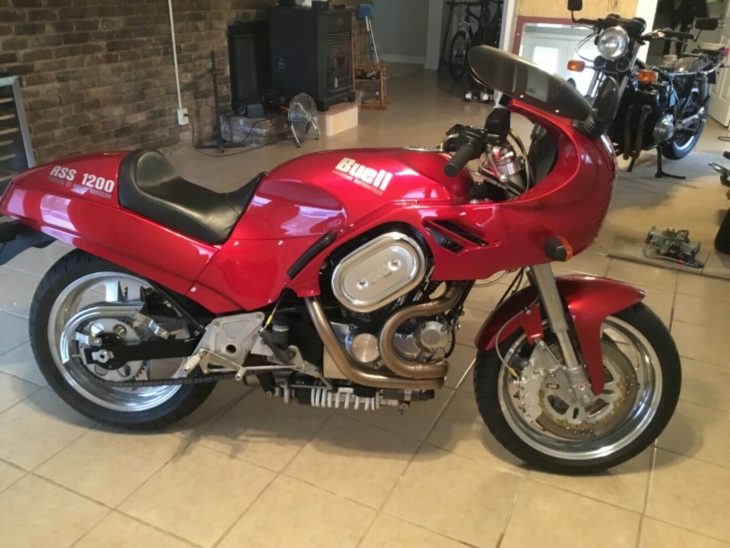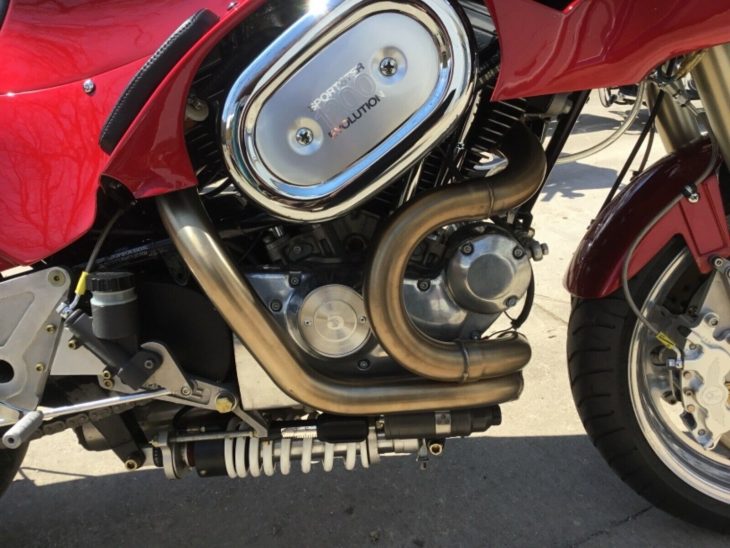 Buell had recently started to specify the 1198cc Sportster powerplant, and used the new isoplanar engine mounts to tame the drumbeat of the 61 hp but very torquey engine.  The mill hung in the factory's own ladder frame, using the engine case to locate the front of the underslung pull shock.  Up front the suspension was more conventional with upside-down WP forks, and the dual front brakes with six-piston calipers pre-date any Zero Torque Load patents.  Sharing space under the engine is a short Supertrapp exhaust, fairly inadequate but at least lightweight and centralized.  The monoposto seat is cleaned up substantially from the previous flip-up dual seat.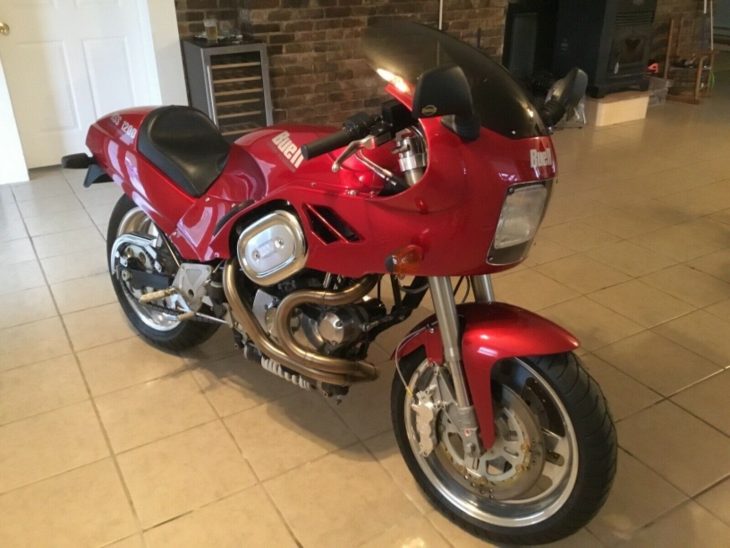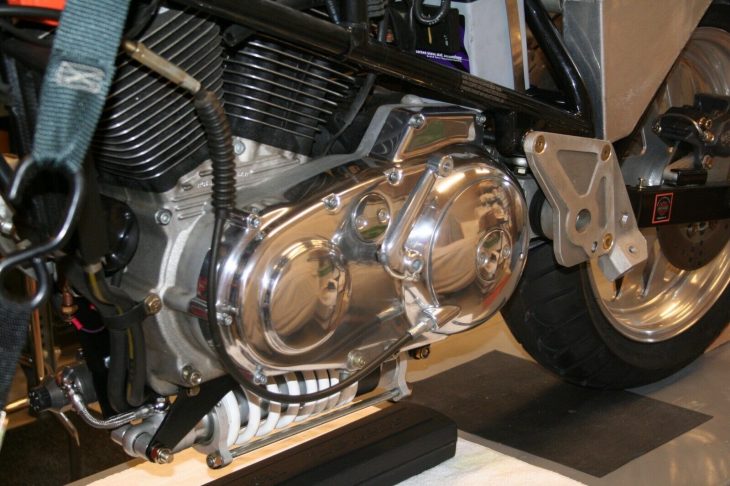 It looks like the second owner ( of three ) was the superfan, going through the comprehensive brake rebuild, fork swap, and fastener-level refinishing.  The seller has owned the RSS for 5 years, and kept the notes from the everything-but restoration:
Finished in Transparent Ruby Red. An original single seat bike, not converted from RS twin seat. This machine has been rebuilt over the last 4 years to original and as delivered condition from a very original low mileage bike. It is not a restoration, though in the interest of mechanical functionality tires, brake and fuel lines, chain, battery, caliper and shock rebuilds have been performed. 

All original decals are on frame, with original paint excepting side stand which was powder coated. All chrome has been redone to show standards, including truss head bodywork screws, and banjo bolts. All Wellnuts have been replaced. Fasteners used in the rebuild are zinc di-chromate where originally used, otherwise plating is bright zinc. This bike had a chrome chain guard which appears to be original and remains in place, though I cannot find any original photos with a chrome guard.

All bodywork is original and shows no signs of damage. The paint was buffed to a high gloss by a professional restoration painter, it was not repainted. Windscreen is the original Gustafsson piece, headlight cover was remade and drilled to fit the fairing in California by Cee Bailey Plastics. The fuel tank was cleaned and recoated inside with modern sealant not reactive to unleaded ethanol fuel. No gas has been put into tank since recoating. Electric solenoid fuel valves were removed, cleaned, new wiring spliced, new gas lines throughout. Napoleon mirror identification decals were made as original, as was the fuel reserve switch decal. 
Buell fans might be out there, looking to complete the pre-Harley section of their collection.  Or maybe this could just be a smashing occasional rider, its exhaust note, big fairing and unusual color certain to grab some eyeballs wherever it goes.  Either way, the mechanical and cosmetic work make it even better than new, and though the starting bid is up there it looks like it'd be worth it.
-donn