Suzuki's GSX-R750 brought endurance racer performance to the masses. It may not have been the first bike to use a full fairing wrapped around lightweight aluminum monoshock frame and a four-cylinder engine, but it was the first bike to make that formula accessible to ordinary mortals, and it popularized the format. Prior to the GSX-R's introduction in 1985, you needed to be looking at something from a boutique manufacturer like Bimota if you wanted that kind of package, and those were far out of financial reach of most enthusiasts.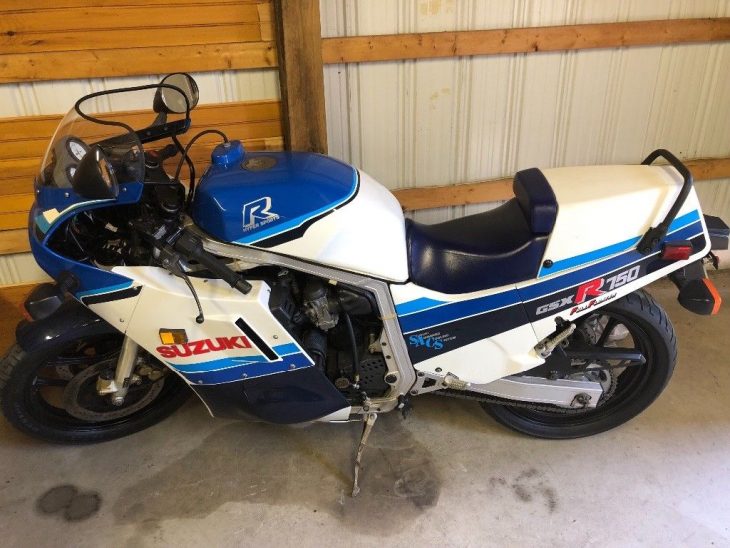 In a step that seems retrograde at first, the GSX-R used oil cooling instead of water. But this actually meant for a lighter, simpler package that was also easier to work on, meaning the potential loss in maximum power was a good trade off. A high-capacity oil pump and a system of oil jets dubbed SACS or "Suzuki Advanced Cooling System" helped keep things cool and that, along with dual overhead cams and four valves per cylinder, helped the bike produce a genuine 100hp.
This 1986 example would have been from the first year the bike was actually imported to the USA. Slim, right-way-up forks [with anti-dive!], 18" wheels and very skinny tires clearly date the bike, but it otherwise appears pretty shockingly modern, considering it is 32 years old. It does have a few minor blemishes and small cracks in the fairing mounts, but is otherwise about as perfect as you're likely to find outside a museum.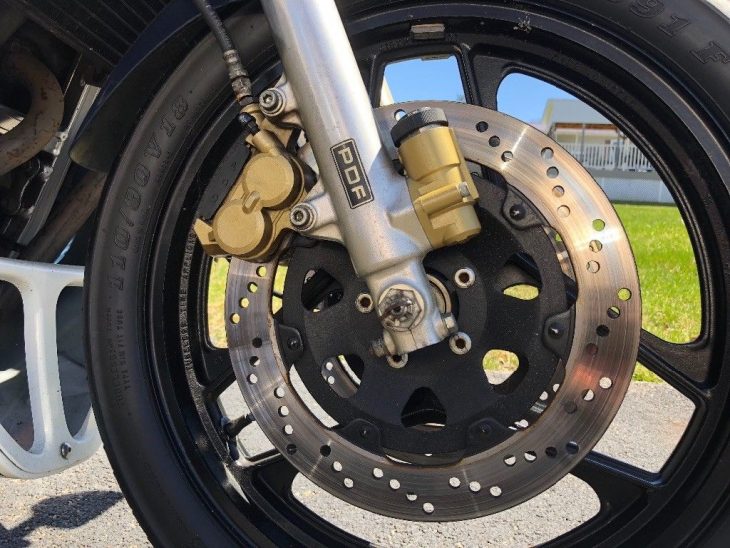 From the original eBay listing: 1986 Suzuki GSX-R750 for Sale
For all those searching for an original, early GSX-R that wasn't beat to hell or "modified" by some 18 yr old, here it is. All original everything in amazing condition. Miles are correct- no replaced speedo or set back to 0 after rebuild. Previous owner said the tires were original. Some scuffs, scratches and your typical stress cracks around the fairing bolts (as typical with these old Slabbies). Tank is beautiful, dent free and unlined. Exhaust/heat shield is perfect- (probably worth 2k in exhaust and tank alone if you can find them in this condition). A surface scratch approx 4-5" long on right side of tank (probably can be buffed out) and a few mm gouge on decal stripe on right tank side. Have a new tank decal kit if you're going for museum quality restoration. Small (approx. 1/8") plastic piece cracked on tail section cover, left side bottom shown in photo 17.  Some clear coat wearing off due to age near headlight cowling decals, photo 13. I tried to show everything, including flaws in the photos. In general, the paint is amazing. I took these photos in bright sunlight so some of the distortion you see is reflection. And I didn't clean the bike and bathe it in armor-all for the photos. What you see is how it is after taking the cover off after several years. Never saw road salt or cinders- was previously a FL bike. 

I purchased this bike nearly 3 years ago, rode it approx 200 feet after it left the shipping truck, and parked it. Battery was removed and bike hasn't been run since then. I just noticed some crusty brake fluid buildup that weeped from the front reservoir when taking these photos (4/23/18). Brakes should be bled, fluid replaced. I should have drained the carbs (but didn't), so they may have to be cleaned.  

I bought a new GSX-R750 in '86, sold it when the military had me for 4 years, and purchased this one for more $ than what I paid new in 86'. If you want one of the nicest examples of the first true street -legal production race bike, and something that will hold its value, here's your chance. More fun than a 401k too. I'm selling because after hitting the big Five-O mark, I'm more into dirt riding and the race replica style ergonomics don't agree with my back and neck any more. Sold my Kawi triple, my GS1100, and Yamaha 2 strokes, and this is the last to go. PA antique title in my name. (Last owner was also older,  so bike was never abused).

Photos are part of the description ( **and no, the Shelby Cobra and KTM in the pictures aren't included). I tried to include all the good and bad. If there's any questions about things I may have missed, feel free to email and I'll gladly answer. No outside CONUS shipping unless discussed prior to sale. I won't crate and ship but I will work with your shipper. Bike located near Wilkes-Barre/Scranton, PA. Have your finances in order: if your bid wins, it's yours. Non-refundable Pay Pal deposit due after auction. Bike and title won't be released until all payments clear. Less than 10 positive transactions contact me first before bidding. In person examination can be arranged if desired. No low-ball offers please. Don't waste my time or yours. I don't need the cash, so if I can't get what I'm asking, I'll just keep it. If you can find one nicer and all original, go for it.  Thanks for looking.

Relisted because I ended it early due to not wanting to sell it the first time. My wife promptly changed my mind.
The asking price? $7,500 which is obviously on the high-side for a Slabbie right now, but not really out of line, considering the condition and originality. It wouldn't be all that hard to find a cheaper one, but minor blemishes aside, this one's in pretty exceptional shape.
-tad