Suzuki developed the RG500 in the mid-1970's as their Moto GP weapon, and the updated Gamma was offered in road trim only from 1985-87.  Here is a Canadian import that is in special condition and ready to ride.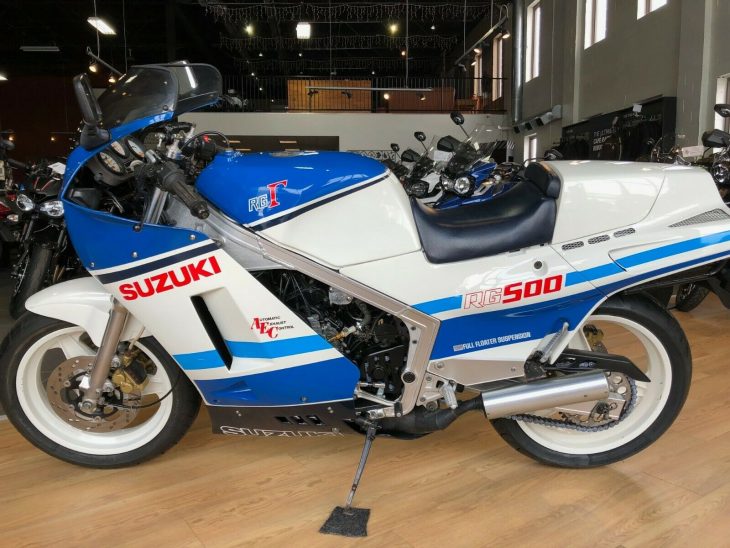 Based on the square four two-stroke first raced by British rider Barry Sheene, the RG500 Gamma has two crankshafts, with a gear driven clutch between them.  Except for a shock damper to protect the cranks from transient loads, the engine is very similar to the race machine, making 95 hp  at 9,000 rpm.  Looking between the fairing and the engine, you'll see four low-profile 28mm flat slide carburetors, each connecting directly to the disk valve on the cylinder.  Suzuki's SAEC automatic exhaust control tailors the header volume depending on engine speed and throttle setting, widening the 500's torque band from 5,000 to its peak at 9,000 rpm.
The alloy chassis looks ahead with its massive triangulated steering head, though brakes seem smallish at 260mm, and the wheel sizes are the de facto -80's standard 16 and 17 inches.  Single adjustable 38mm forks work in concert with the Full Floater monoshock.  The pillion is hidden under a faux-mono cover, and the rear exhausts sail out under the seat console.
Coming from a suburban Philadelphia independent, this RG has been stateside since 2000, and has just under 20,000 miles.  No more history in the comments but it has been re-commissioned after some downtime and has new tires.  From the eBay auction:
Cosmetic condition as you can see in the pics is excellent. There are some very minor nicks but on the whole the paint and decals are glossy and unmarred. While not quite concours ready, it is in exceptional rider condition. We've included a owner's manual, service manual and set up manual – all in good shape. There are 2 original factory keys, as well.

We've had our resident two-stroke tech go through the bike after a prolonged storage. Air cleaner was renewed, fluids freshened, tank drained, carbs cleaned, etc. Bike started easily and runs well with no clutch slippage. Slight rotor chatter was felt on braking but otherwise rides and handles fine. Tires are brand new Avons mounted on what appears to be Dymag wheels. The anti-dive valves have been blocked off.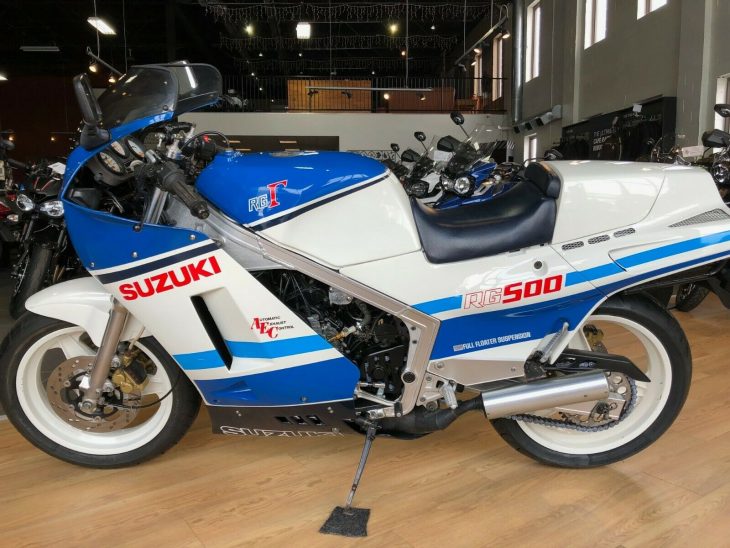 Suzuki campaigned the RG from 1974 to '85, and then as a more modern RGV from '86-2001.  But the short run of the road machine has honed its legend.  Reviews praised the quick steering, good suspension, and of course the power, which would happily take the engine right through 10,000 rpm.  This one is not an unused collector, and the starting bid reflects the very nice rider condition.  Going to be watching this one !
-donn