Makers were working hard to stand out in the post-recessionary 1980's, and Suzuki evolved their GS1150 into a GT that could pull a 10-1/2 second quarter mile.  Today's GS looks excellent and has had some recent tune-up work.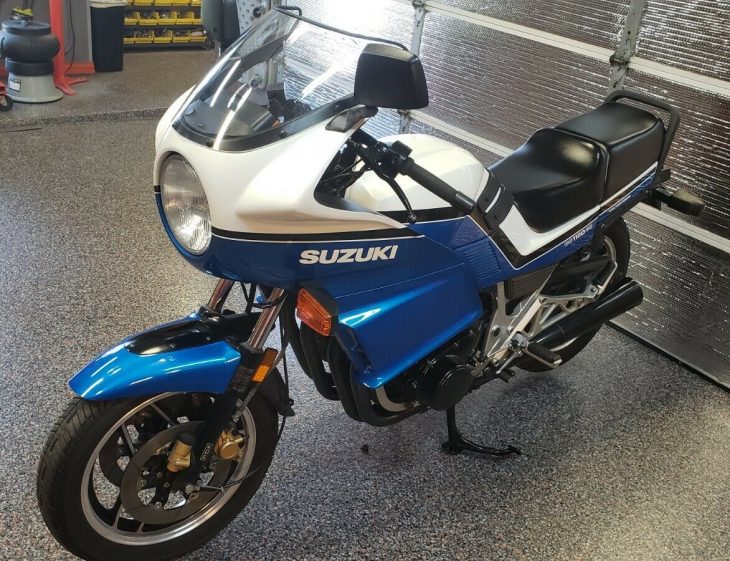 Suzuki's 1135cc mill was an incremental update from the 1100, air cooled with two cams and four valves.  114 hp were readily available, thanks to four 36mm Mikuni carbs.  A new square-tube chassis was commissioned, with air-adjustable Kayaba forks and a Full Floater monoshock.  Suzuki's Positive Damping Force anti-dive system combines with a 16-inch front wheel to help in the twistier bits.  The distinctive fairing makes a generous hole in the windrush, helping win the 200-yard roll on contest with a 50-to-90 mph run.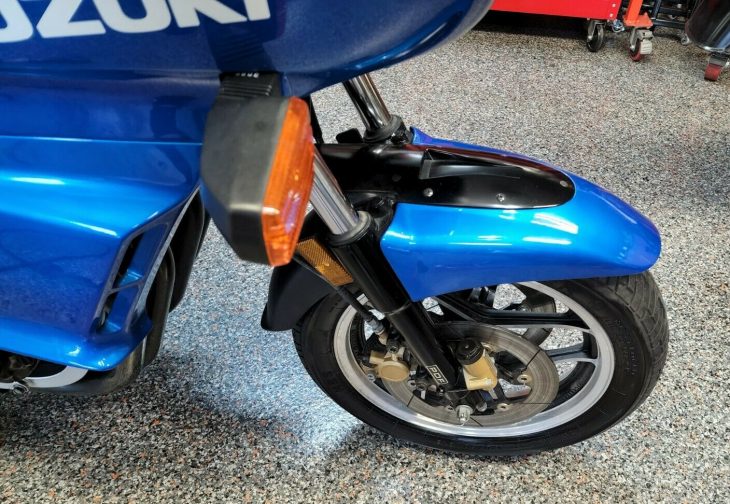 Offered by a dealer that seems to pay the rent with a line of pressure-washing trailers, this GS shows under 8,000 miles and had me thinking re-paint, but the overall condition makes that more of a question.  Maybe the plastics had a rather liberal splash of protectant, but the metal finishes look like they haven't spent much time in the hot Texas sun.  Love the black chrome mufflers.  The seller states they can broker the shipping and has a few comments in the eBay auction-
If you are old enough to remember the debut of the Suzuki GS1150 ES, you remember they were the King of the Hill.

These days these bikes are rare to find – especially in this condition!

This bike is an incredible, unmolested survivor with only 7,600 miles!

Complete recent service including ultrasonic carb cleaning. oil/filter change, new plugs and valve lash check.

Starts/run and stops like it should – everything works!
Beside external GPz/V65/FZR pressures, Suzuki had their own Katana and GSX-R1100 ready, and the GS1150ES was retired after 1986. Reviewers set the PDF forks on their lowest setting ( or disabled them entirely ), and squawked a mid-range vibration in the bars and pegs.  Drag racing success meant relatively few survived the long term in anything like the condition seen here.  Looking forward to seeing where the reserve is set !
-donn