Though each of the big four produced an -80's turbocharged middleweight, Suzuki's was focused on sport and is still the rarest.  This example has been on display in Sweden since 1987 and is ready for a marquis spot.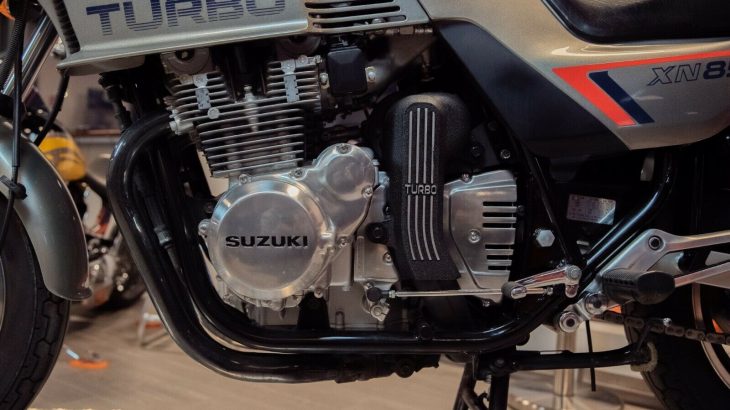 Each of the turbos were a technology showcase and showroom failure, but as ever, Suzuki jammed a helping of sportbike technique into their design.  In spite of the excess heat brought by a turbo system, Suzuki stuck with air-oil cooling and used an early version of their SACS piston squirters to keep temps under control.  The 673cc four used 12 pounds of boost to make 85 hp, helped by electronic fuel injection which was tuneable and didn't require carburetor float bowls next to a hot turbocharger.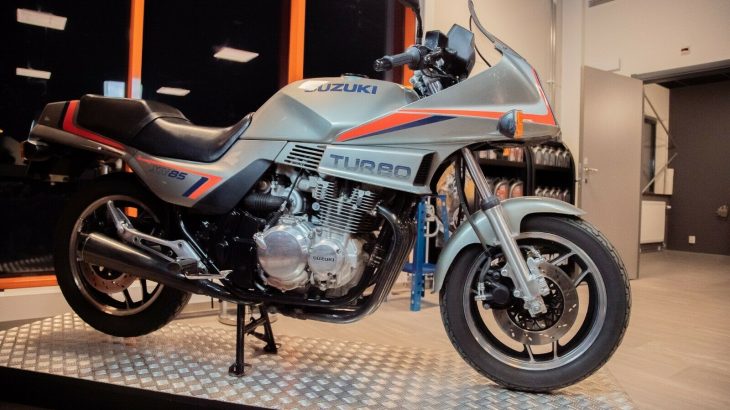 The chassis got a healthy dose of attention, with the first road application of a smaller 16″ front wheel and anti-dive forks.  The Full Floater alloy monoshock made for a sweet handling powerhouse.  Fans will see references to the 1981 Katana in the supersport fairing which flows right to the tailcone.  Brakes are big for the time at 290mm, an acknowledgement of the 550 lbs. wet weight.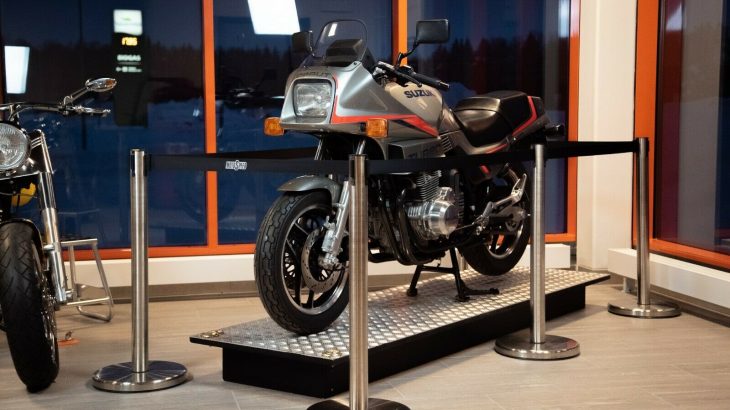 I was thinking this Suzuki might be related to the Christensson MC Collection we saw at the Mecum auction in January, but it must be another collector from that mad hotbed of sportbikes, Sweden.  Though not perfect, the condition is close to museum quality, with just 2,300 miles.  There are nick here and there, and some peculiar almost-scratches on the right engine case.  Unlikely though it is, a quick look and lubrication of any rotating part would be in order before a ride.  From the eBay auction:
SUPER RARE ONLY MADE 1 YEAR (1983)

Bike has only 3697 km / 2297 miles on it and has been parked away since 1987.

Minor scratches as per documentation.

Bike is located in central Sweden (Västerås)
With just rudimentary electronics, this Suzuki turbo could be diverted from the collection back to rideability with just some seals and oils.  More likely it will get a thorough buffing and resume its spot in a collection, but RSBFS readers and writers would love to hear if anyone inspects or bids on this XN85 !
-donn