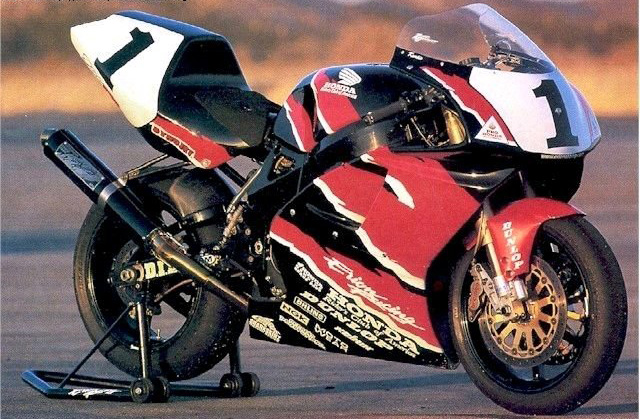 Here's an opportunity to own an amazing racebike that once was once piloted by MotoGP rider Nicky Hayden early in his career. The intent of Formula Xtreme was to allow as many types of motorcycles to compete, anything from inline-fours to air-cooled V-twins. Formula Xtreme racing was one of the more competitive and entertaining races of an AMA weekend. The seller has a contact number for Kevin Erion which should help with the specifics on this bike.
dc
from the seller:
This is one of the Erion Racing CBR900RR that Nicky Hayden rode during his 1999 AMA Formula Extreme class series for Erion Racing while he was under contract with Honda. This is not a replica, this is the REAL DEAL. I have two of them and will be selling one. This is a once in a lifetime chance for you to own such a rare motorcycle ridden by one of greatest American racers to have gone up to the level of Moto GP and won a world title.

The buyer of the bike will be provided Kevin Erion's direct contact information, where Kevin will provide you with direct confirmation/certification of this bike. You will be able to do this prior to taking delivery.

The bike has no VIN as the frame is a direct Factory supplied frame to Erion Racing for the sole purpose of track/Racing use only.