Here's a chance to jumpstart your vintage sportbike collection with not one, but two VERY clean first generation Honda CBR600s.  The CBR600F1 debuted in 1987 and was Honda's first fully faired inline 4 cylinder sportbike so there's definitely some historical significance here.  Dubbed the "Hurricane," these CBRs featured a 598cc engine pushing out approximately 85hp.  Honda certainly sold plenty of Hurricanes, so they weren't really rare, but finding a pair in this condition certainly is.  Considering that they both appear to be completely stock, down to the exhausts and even rear mudguards, they would make a nice addition to any collection.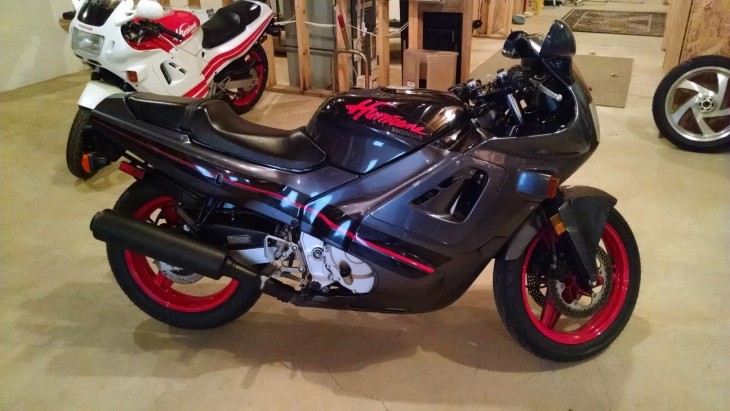 The seller gives some good details on the condition of both bikes, in his eBay auction seen here: two CBR600F1s on eBay
I am cleaning out the shop and have decided to part with my two Honda Hurricane 600 CBRF1 bikes.  I have a 1987 and a 1988 model.  Both are in excellent running condition.  The white ('87) has a little rash on the right side from a standing still drop but the black ('88) in absolutely MINT condition.  Both are all original stock bikes, and I just had both carbs totally rebuilt with OEM Honda parts by Opie Caylor of CaylorMade Motorsports.  Would prefer to sell both together but would consider splitting up the pair.  These are both very nice classic bikes and are in perfect running condition.  Non-ethanol gas used since carb rebuild so no problems at all.  Clean clear Georgia titles in my name.
These weren't garage queens, with almost 50k miles combined showing on the odometers, but from the looks of them (and the seller's garage) they would appear to have been very well maintained.  Collectable classics that you don't have to feel guilty about riding on sunny days are always a good thing in my book!