Forty some-odd years into Aprilia's history they added road racing to their off-road program, with remarkable results – ten 125cc championships and nine in the 250cc class.  Bold names from this year's Moto GP grids like Valentino Rossi, Marco Melandri, and Jorge Lorenzo all were 250cc champions for Aprilia.  Built from 1995 through 2002, the RS250 uses the Suzuki RGV250 engine, with Aprilia's own intake, ECU, and exhaust.  This low-mile RS250 Cup is set up for the racetrack, though it's too nice to have spent much time there.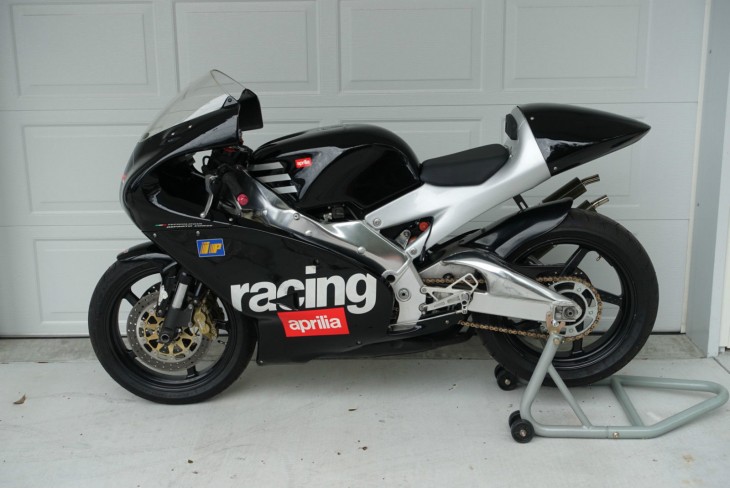 The massive aluminum box frame appears to belong to a much larger cycle, though the RS250 Cup weighs only a bit over 350 lbs.  A sculpted alloy "banana" swingarm allows the expansion chambers to inhabit the underside of the bike.  The 300mm front disks could also brake a larger machine, but on the track, you're either wide open or hard on the brakes.  Fully adjustable suspension will allow you to tailor the ride to your style.  Multi-function digital dash has a built-in lap timer.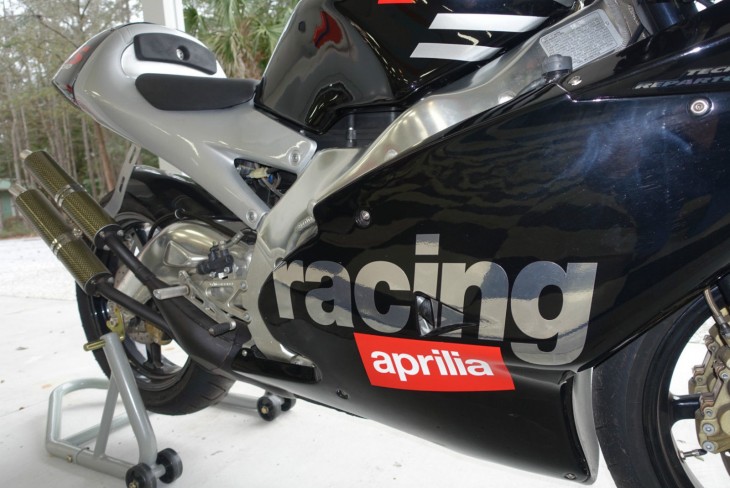 Nothing like the sound and smell of a 2-stroke! This is a great, low maintenance track bike. Well cared for and at around 60 – 65 bhp it's easy to ride. This bike is in exceptional condition and has been ridden conservatively by an older rider. A couple of small nicks and blemishes, but nothing obvious. Note: As a track bike this is sold without a title and on a Bill of Sale only.
Ready for track days, the RS250 Cup is large enough for an adult rider.  The 70hp supplied by the Suzuki is more lively between 9,000 and 12,000 rpm, so the neighbors will know you're testing.  With 56 watchers, the auction has a lot of interest and a buy-it-now of $6,700.  Someone could have one hell of a father's day !
Please see the eBay auction here or contact the seller via email.
-donn