The Honda CBR400RR was designed to appeal to buyers in certain countries that were limited to bikes of smaller displacement because of tiered licensing requirements or heavy taxes on larger machines. Racing classes in those markets also existed to campaign 400cc motorcycles, and were hotly contested by the usual suspects: Yamaha, Suzuki, and Kawasaki also had smaller versions of their popular sportbikes. Honda even went a step further, and offered a second 400cc sportbike in their V4-powered VFR400R. Unlike today's smaller-displacement offerings, these were grown-up sportbikes in miniature: instead of a simple single-cylinder engine or an economical parallel-twin, the CBR400 used a 399cc inline four with sixteen valves, gear-driven twin overhead cams, backed by a six-speed gearbox, and suspended in a stiff aluminum frame. Straight-line performance was modest by today's standards, but bikes in the class had handling that was often better than their more powerful, but generally heavier siblings.
Americans saw a variation of this bike in the short-lived CB-1 that used a slightly detuned version of the CBR's inline four, including the sexy gear-driven cams, but wrapped in a steel frame instead of the CBR's lighter aluminum beam design. A lack of bodywork on the CB-1 kept the weight reasonable compared to the sportier CBR and the bike was a good handler, but Americans just weren't ready for a pricey, naked machine like that in the late 1980s. Would the CBR have sold any better, had it been brought over? America had a pretty binary motorcycling culture through the 80s and 90s: people bought sportbikes or cruisers, with little interest in more practical machines. The CBR would have been similar to Yamaha's offerings, whose little FZR400 was actually more sophisticated than the bigger-engined, but heavier, steel-framed FZR600. FZR400 is certainly a cult bike now, but its relative rarity suggests the CBR wouldn't have been much of a success at the time, although I expect it might have sold better than the CB-1.
At the end of the day, without the laws and taxes that conjured the 400cc class into being, there isn't much to recommend the bike over the CBR600 or CBR900, aside from superlative handling. The main appeal here is rarity, agility, and the fun of a motorcycle you can cane the hell out of without needing the skills of a professional racer, or a helicopter airlift ride to the nearest trauma center.
From the original eBay listing: 1992 Honda CBR400RR for Sale
Very rare 1992 Honda CBR400 (baby Fireblade) NC29 legally imported from Japan and currently titled, insured and registered here in NJ. Bike has 13220 miles, fresh Motul (brake fluid, engine oil and coolant) fluids, TSR slip on, new NGK plugs, Continental Attack tires, carbs were cleaned and fuel tank drained/cleaned. This bike is very clean and in excellent condition. Please feel free to message if you have any questions.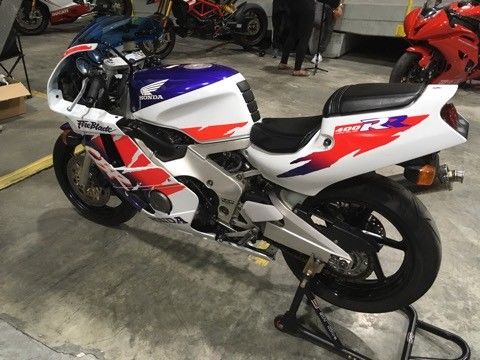 From the relatively low-resolution photos, this appears to be a very nice example of a cool, grey-market CBR400RR, but unfortunately the Buy It Now price is an eye-watering $9,500. New Jersey's DMV may not be as draconian as California's in terms of emissions requirements, but they're even more strict in other ways, so the NJ title and registration suggests that the seller hasn't cut any corners making this legal although, as always, caveat emptor.
-tad