By the early 1980s, inline four engines went from being exotic and relatively rare to being widely available, even ubiquitous, at least among the Japanese manufacturers. Inline fours have more moving parts and that adds weight and complexity, big no-nos for motorcycles that historically relied on simplicity to keep weight down and minimize parts that could fail. But Honda's original CB750 forever shattered that paradigm and started the superbike arms race that led to the Honda CB900F2B Bol d'Or seen here.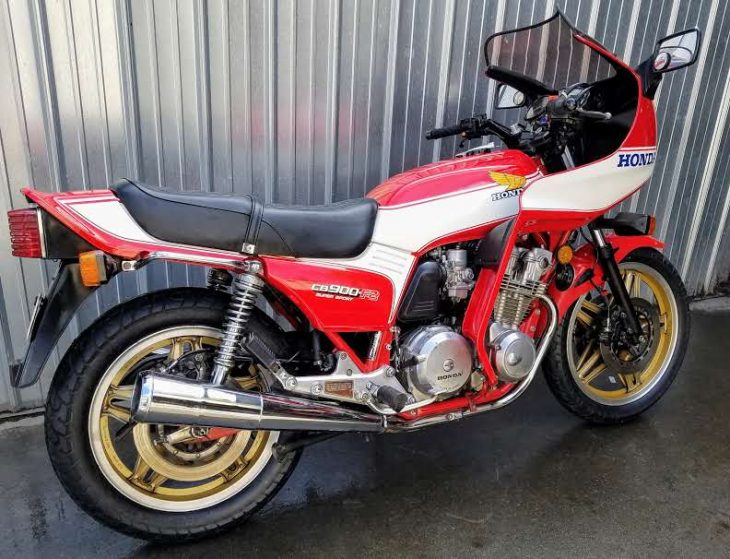 If you're not familiar with the Bol d'Or, it's a 24-hour endurance race held in France. The name translates to "golden bowl," and Honda was obviously trying to add a bit of a sporty image by associating it with endurance racing. The CB900F2B is a bit of an odd duck, in that it lives in between the classic and modern sportbike eras, as I'm arbitrarily defining them anyway. Early 1980s bikes in general were the last hurrah for dual-shock frames and air-cooled engines, right before the stylistic and performance upheaval heralded by machines like the Suzuki GSX-R750 that set the template for sportbikes moving forward.
Built between 79-83, the CB900 was an improvement over the earlier four-valve, air-cooled DOHC CB750F, with an updgraded frame, larger diameter air forks, and triple disc brakes with dual-piston calipers up front. The updated inline four used an "undersquare" 64.5 x 69mm bore and stroke that gave 95hp, enough the push the 530lb wet machine to a claimed 135mph, although period tests saw 125-130. All of that is pretty underwhelming by today's standards, but the bike was known for excellent handling at the time and it was enough to go head-to-head against bikes with more displacement and the long-stroke engine's torque gave it a muscular midrange.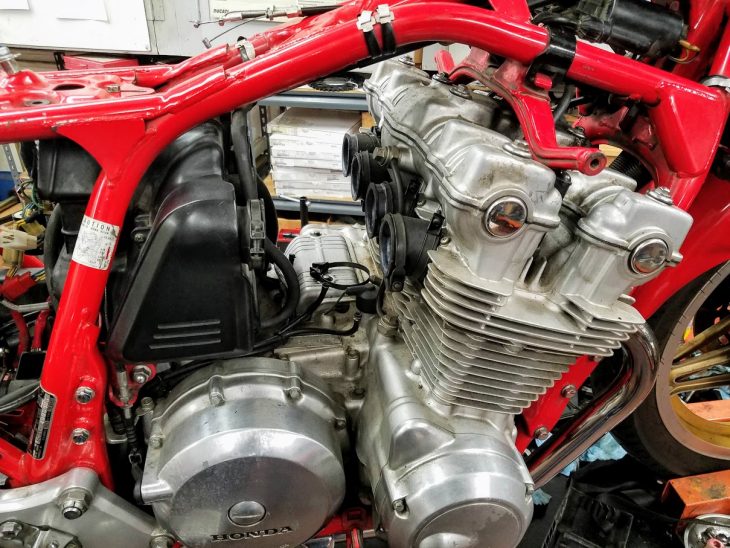 The F2B or Bol d'Or version of the bike had an even shorter run than the regular CB900F, and was made between 1981 and 1982. With its angular, multi-piece fairing, I get the feeling it was really a way to pump a bit of new life into an old model, since it's basically the CB900F with some extra plastic. But the old saying "if it ain't broke, don't fix it" applies here, and reviews of the bike at the time were very positive.
Call me a pedant [just make sure you look it up before you do], but I'm way more comfortable buying a car or motorcycle from a seller who can at the very least spell the name correctly, and the seller of this rare Bol d'Or even gets the lowercase "d" and apostrophe correct, so we're off on the right foot!
From the Seller: 1981 Honda CB900F2B Bol d'Or for Sale
45,454 mi – $6999.00


Check out this rare 80's Honda Supersport This was a Europe and Australian market only model referred to as a Bol d'Or model. This one originated out of England, its original owner brought it here to Seattle when he relocated in early 80's. The current owner purchased it in February 1986 with about 17K miles on it. It has a good paper trail of services performed over the past 30 years along with the $2100 work order we just completed bring it out of a 10 year hibernation.

The bike is not perfect but it is in very good condition and running order for a 38 year old machine. The current owner told us that when he purchased it there was a round 2 inch dent on the top of the tank, it bugged the heck out of him, something must of been dropped on the top by original owner. He decided to have a local restoration center do the repair and also clean up the tail piece from previous boot scuffs. In our eye it looks like the white stripe angle is a bit out of alignment with the fairing stripes. We understand that for some this may be a deal breaker, so we have not priced it as if it was a 9 or a 10 collectible Honda.

Here is what we took care of to prepare for sale

Replaced tires and valve stems
Replaced fork and dust seals with OEM parts
Rebuilt carburetors, properly cleaned all OEM jets and internals, replaced all rubber bits.
Rebuilt front & rear brake master cylinder, new cup and lid on front and full system flush
Checked compression (145 across the board), inspected valve clearance, replaced valve cover gasket and rubber bolt cushions
Completed minor service to take care of the basics

This is from a Honda enthusiast website which also verifies this bikes credentials

Honda CB 900 F2B

Period: February '81 – February '82
Engine number: SC01E-2206870 – 2225154
Frame number: SC01-4000342 – 4011049
Power: 95 PK/70 kW

Here is some more information on this model we found:

For many, however, the CB900F was the perfect 'Universal Japanese Motorcycle' (UJM), the ubiquitous, Japanese, across-the-frame four. Although blighted by the perennial Honda cam chain problem, these were steady, undistinguished motorcycles that improved gradually every year. Updates for 1980 saw needle roller swingarm bearings and an air-assisted front fork. Further improvements for the 1981 CB900FB (pictured here) included a larger-diameter fork (37mm) and dual-piston brake calipers from the racing CB1100R.

Among the other 31 improvements for '81 were a stronger cam chain tensioner and different valves. Also available was the CB900F2B with a 16-piece, three-quarter fairing and leg shields, housing a clock and voltmeter. Although the CB900F lasted until 1983, by then it had been overtaken by the CB1100F. Where the CB900F excelled was as an everyday riding machine. Motorcycles were less specialized in the early 1980s and the Bol d'Or was forgiving, working well as a high-speed sportster, yet delivering the goods in the city or as a tourer.

The suspension and riding position provided a perfect compromise between sports riding and comfort. Factor in exceptional finish and reliability, all for around three grand, and you can see why the Bol d'Or was a success. It may have been bland but, as a representative of the era of the universal motorcycle, the Bol d'Or was one of the best.

Credits cards accepted, up to $150 documentation charge may be added.


Seattle Used Bikes
4905 Aurora Ave N.
Seattle, WA 98103
dave @ seattleusedbikes.com
Closed Sun/Mon Find us on Facebook, Instagram and the Web
1980s superbikes have long been extremely affordable, but that's not the case so much anymore, as you can see from the $6,999.00 asking price for this CB900F2B. But that makes sense, since the original CB750s haven't been cheap for years, and now these later 80s icons are starting to appreciate. This Bol d'Or is certainly one of the rarest, and I was unfamiliar with the model before this one popped up. Miles aren't particularly low, but this appears to be in excellent condition, and the seller seems very knowledgeable as well, which always a good sign! Classy and reliable, with real-world performance and comfort, this would make an excellent practical classic.
-tad