Warning!
This post is in our archives. Links in this post have been updated to point to similar bikes available to bid on eBay.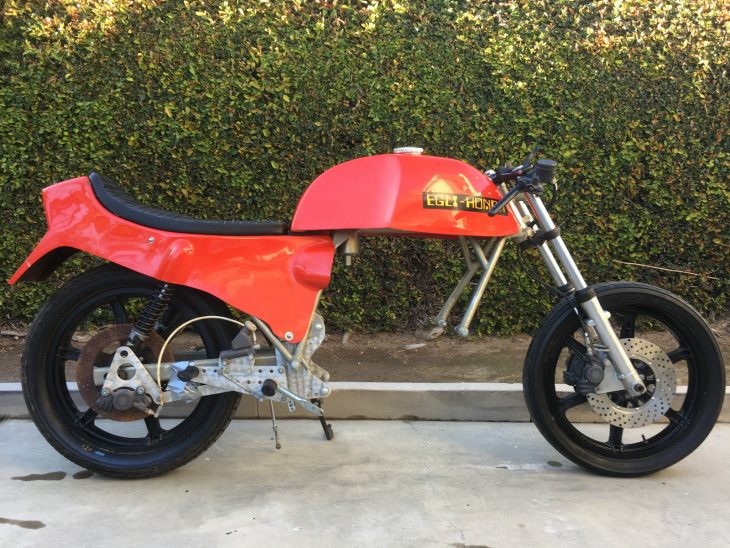 I KNOW what you are thinking… since when did RSBFS start pimping push bikes??! Yes, I can see that this bike is missing a few bits that would make it a full motorcycle. But the bits that are there are truly worthy of notice. Pay attention – this is an opportunity that you will not likely see again.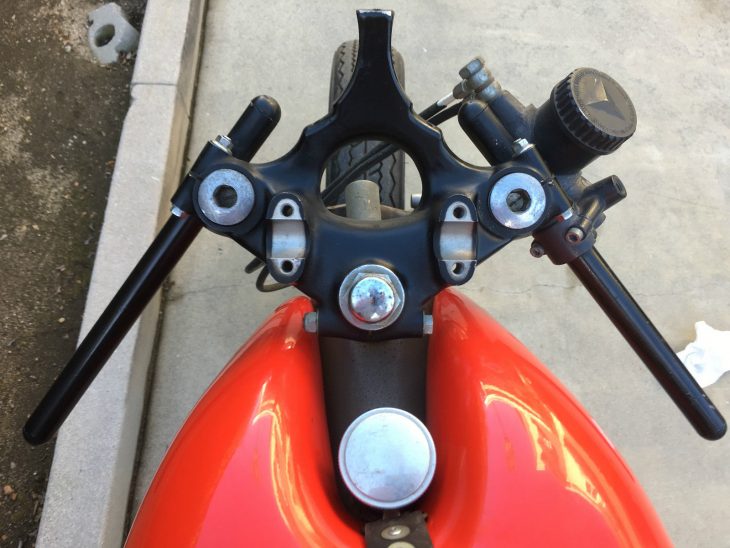 Egli was founded by Swiss motorcycle racer Fritz Egli in the mid 1960s. Initially, Fritz modified existing motorcycles for competition. As Fritz got deeper into racing, his modifications became more sophisticated. Soon he was racing on a chassis of his own making. When Egli frames started winning hill climb events, people took notice. The original Egli frame was based on a Vincent Black Shadow. Today, Egli is much better known for work encasing Japanese engines in strange and functional steel creations. Consider Egli the Swiss cousin to Bimota – offering frame and bodywork kits with some assembly required.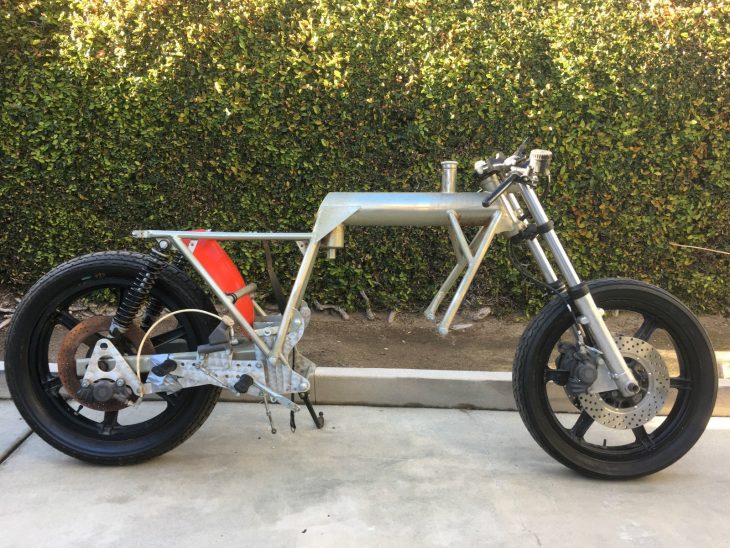 We don't see very many Egli machines on RSBFS – these are very rare productions. In fact, the last Egli we posted was in 2014, was located in Switzerland, and had an opening bid of $55,000 USD. Given the kit bike nature, each machine is slightly different and could be considered a one-off, custom build. That is, if you can find one for sale. But never before have we witnessed an un-assembled roller chassis. This is a first. And check out that "backbone spine as oil tank" feature built right into the frame – how cool is that?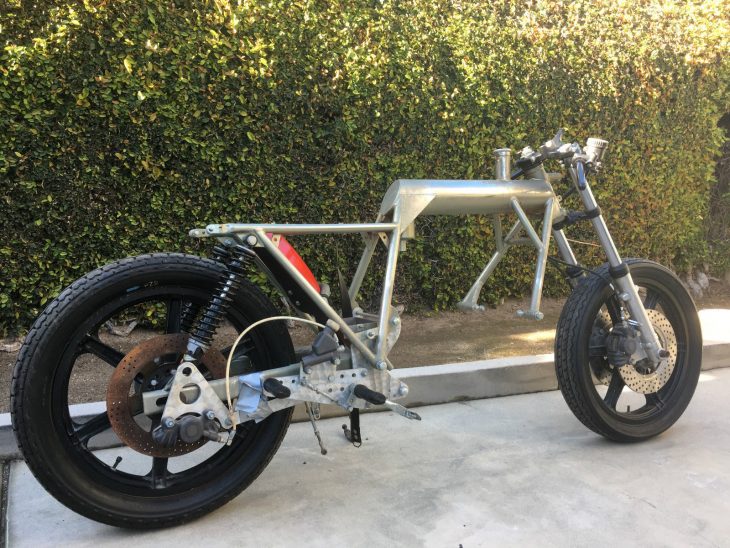 From the seller:
For your consideration is a very rare, original 1976 Egli-Honda CB750 chassis! From what I can see the frame and its components have NEVER BEEN USED! Original Michelin tires made in France with full tread, all brake pads are brand new, no marks or scoring on the frame or any bolts showing a motor was ever mounted to the frame, and no scoring whatsoever on the disc rotors! Both front and rear Brembo masters are completely dry. This gem has Marzocchi front suspension, Koni rear shocks, Lockheed calipers, Swiss made EGLI-VINCENT wheels, Brembo masters, Verlicchi clip-ons, billet aluminum rear set mounts and rear engine mounts, Rhino triple clamp, and a nickel plated frame that WEIGHS 17.5 LBS!! This roller is light! The original rear fender appears new and the underside is extremely clean…zero dirt or nicks. The gas tank and seat are in very good condition. They show some age. There is a small crack…approx 1″.. in the fiberglass rear section (see pics) The seat has one very small tear on the underside about 1/2 inch long, otherwise the seat padding is in fantastic condition for its age! I have some extra unpainted fairings that may fit on the 750, but I'm not certain.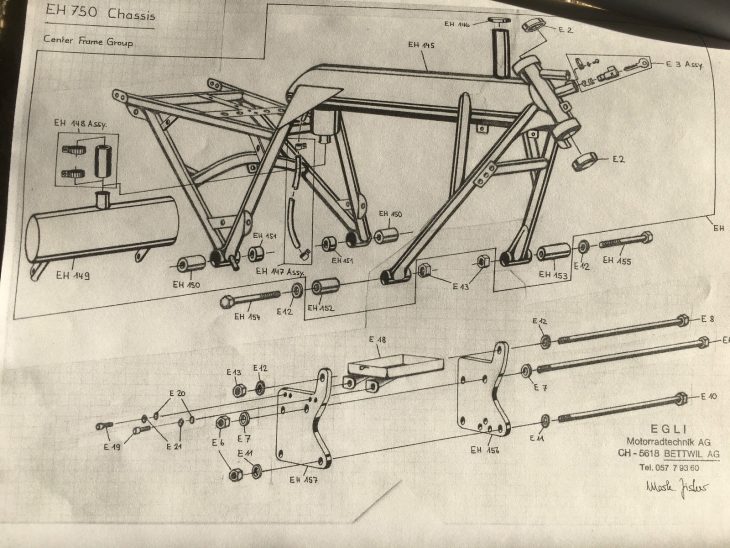 More from the seller:
This is truly an amazing find. It has been sitting for quite some time and the frame has oxidation on it. The whole bike could use a good cleaning..I only cleaned the fiberglass, nothing else. There is surface rust in some areas. PLEASE ZOOM IN AND CHECK OUT ALL PICTURES CLOSELY. The aluminum gas cap wont turn, and I don't want to force it. I believe it is stuck on the steel ring on the tank. Inside the oil tank there is some surface rust, but nothing metal rescue couldn't handle. I'm trying to devulge everything I know. I don't want the buyer to have any surprises,. Please ask questions. I spoke to Egli Motorrad and they confirmed that this kit was sold to a buyer in the United States on 11-15-1976. I have a letter of authenticity signed by the man himself, FRITZ EGLI, which will be included in the sale. (see pic) Also included is a parts list packet with exploded views. There is no choice for Bill of Sale so I marked CLEAR. ****I DO NOT HAVE A TITLE SINCE THESE WERE USED FOR RACING…BILL OF SALE ONLY. ****
So what might this beauty look like when completed? This is not a picture of the actual bike, but another Egli Honda CB750 build I found on the internet looked like this:
So do I still need to detail how rare an opportunity this might be? Sure, there is some work involved (actually, a ton of work). But the end result is both artwork and performance; a truly custom sport bike that makes a mockery of modern day "customs." It will take a special buyer to take this and create a what-could-have-been type of bike, but I have no doubt it will be worth the effort. Others think so as well, given that the current bidding sits just under $5k with a reserve still in place. There are only a few days to go on this unicorn, so check it out here before it's gone; you're not likely to see another like it again.
MI