Trying to start a motorcycle business is one thing, but setting the corporate sights on a liter V-twin ups the ante somewhat.  Voxan pulled this off in the late 1990's, at least for a while, and gave the imports some competition.  This very unusual example looks excellent and located in Britain.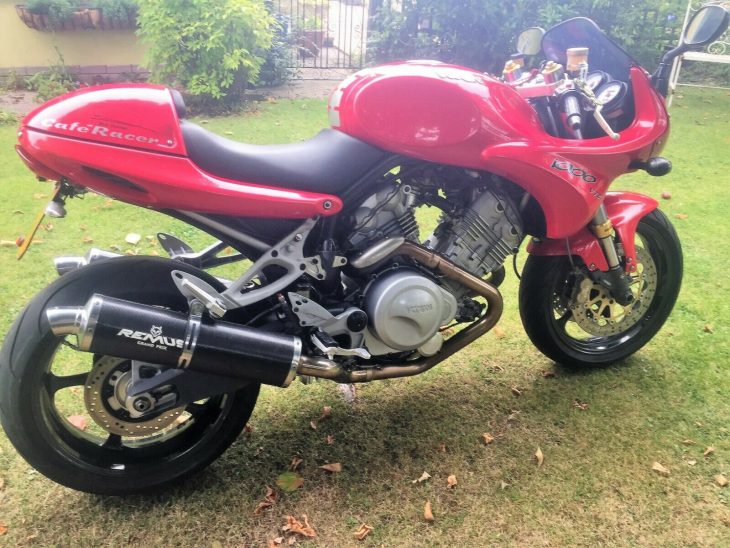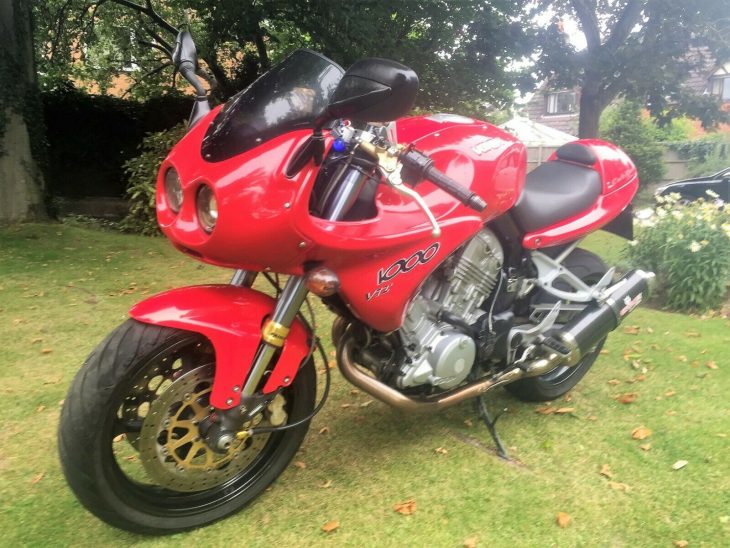 An all-French design, the Voxan had a tubular backbone chassis, into which a 72-degree V-twin was hung.  The engine was largely Rotax-inspired, executed by the race engine builder Sodemo, and though a four valve 996, could only generate the legislated limit of 100 hp.  Appointments were first class, with Paoli forks, WP monoshock, and 320mm Brembo brakes.  Innovations had a Buell-ian air with engine oil in the frame tube, and under-mounted rear shock.  The supersport fairing was very sculptural, and housed the radiator up high to show off the powerplant.
Evidently a previous owner was planning to be the brand's U.K. dealer, and retained a sample Racer though Voxan's plans changed.  Looking excellent for its reported 16,000 miles, the tailcone is endorsed by three hall-of-fame racers.  Comments from the eBay auction:
Beautiful, very rare French exotica .
Very good condition with all original fittings such as standard cans and original tail unit included. 
Getting very rare as no longer manufactured . 
Lovingly cared for and owned and maintained by motorcycle mechanic
and only top quality Motul oil used.
3 keys, service history, owners manual. Third owner.
Dynojet power commander fitted and remapped. Private plate.
Tailpiece signed by two World champions,
Mick Doohan and Nicky Hayden along with Cal Crutchlow .
Photographic evidence to prove. 
Brembo calipers, Paioli suspension.
This was bike number 23 off the production line and sold to the owner of Three Cross motorcycles as they were going to be the official UK stockists. The deal never went through in the end and so is believed to be the only one in the U.K. 
A piece of motorcycling history as Voxan are no more. Collector's item. All running.
This would be one for a well-equipped hobbyist, though the chain-driven cams should be low maintenance and some long distance support might be available from Sodemo.  Voxan's assets were purchased by electric car specialist Venturi, and they have since concentrated on electric cycles.  GP and WSBK Champion Max Biaggi set a host of electric bike speed records aboard the Wattman in Oct. 2020.  This might be the only French superbike in your neighborhood, or maybe even on the continent.  
-donn