Guess it is true, good things do come in pairs…especially when we are talking about Italian exotics such as these. In this case, they are rare as well – limited to 300.
with a buy it now of $16,500.
with a buy it now of $22,950.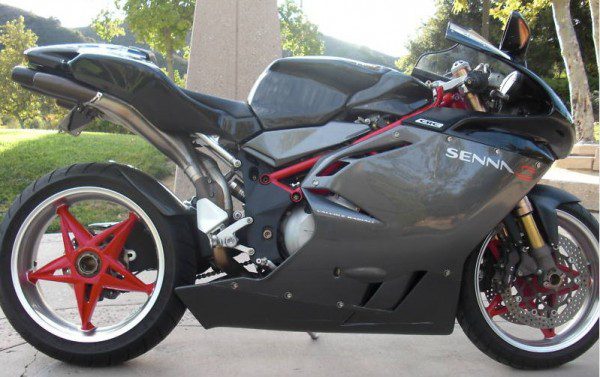 These motorcycles are a tribute to the late Formula One driver Ayrton Senna who was tragically killed in 1994.
From Wikipedia:
Ayrton Senna da Silva, São Paulo, March 21, 1960, – Bologna Italy May 1, 1994) was a Brazilian racing driver and three-time Formula One world champion. He was killed in a crash while leading the 1994 San Marino Grand Prix, and remains the most recent Grand Prix driver to die at the wheel of a Formula One car.

Senna began his motorsport career in karting and moved up the ranks to win the British Formula 3 championship in 1983. Making his Formula One debut with Toleman in 1984, he moved to Lotus-Renault the following year, and won six Grands Prix over the next three seasons. In 1988 he joined Frenchman Alain Prost at McLaren-Honda. Between them, Senna and Prost won fifteen out of the sixteen Grands Prix which took place that season, with Senna winning his first World Championship, a title he would go on to win again in 1990 and 1991. McLaren's performance declined in 1992, as the Williams-Renault combination began to dominate the sport, although Senna won five races to finish as runner-up in 1993. He moved to Williams in 1994, but suffered a fatal accident at the third race of the season at the Autodromo Enzo e Dino Ferrari in Italy.

Senna is regarded as one of the greatest drivers in the history of Formula One. He was recognized for his qualifying speed over one lap and from 1989 until 2006 held the record for most pole positions. He was among the most talented drivers in extremely rain-affected conditions, as shown by his performances in the 1984 Monaco Grand Prix, the 1985 Portuguese Grand Prix, and the 1993 European Grand Prix. He also holds the record for most victories at the prestigious Monaco Grand Prix (6) and is the third most successful driver of all time in terms of race wins. However, Senna courted controversy throughout his career, particularly during his turbulent rivalry with Alain Prost, which was marked by two championship-deciding collisions at the 1989 and 1990 Japanese Grands Prix.
What else makes this bike so special? The ebay description of bike #212 states:
These are champions who have shattered records, pulverized pole positions and fast laps and faced all kinds of challenges. They live in our memories, remembered by the races they ran and the cars they drove. However, there are exceptions: when we think of Ayrton Senna, we do not remember him by the symbols of his success; we see the portrait of a man. We see the image of a champion in a league of his own, who not only won three world titles (1988, 1990, 1991) and 41 Grand Prix, but who was also able to carry us on the wave of his emotions like no-one else. This is because Ayrton defied speed -not just his opponents. He was attracted by the beauty of velocity and challenged it with unswerving faith. Close to the less fortunate, fair to his adversaries, Senna always drove with his heart, always allowing the man to cross the finish line before the champion.

More sensuality, more high tech, more intuition. For every new model must outshine the previous one. This goes for all MV Agusta innovations. The Senna has graced the F41000 with new and exclusive characteristics: a state of the art engine reaching 174 horsepower, a new injection system, the Weber Marelli 5SM, for better power control, the most advanced Brembo four-caliper radial brakes available. This is the excellence of MV Agusta, in honor of Ayrton Senna: the legend.
Which one would I have? Both are great but I would go for #212 as it is barely broken in and has a lot of upgrades including a tinted windscreen, Fast by Ferracci slip on carbon fiber exhaust and BST carbon fiber wheels with new tires.
SG