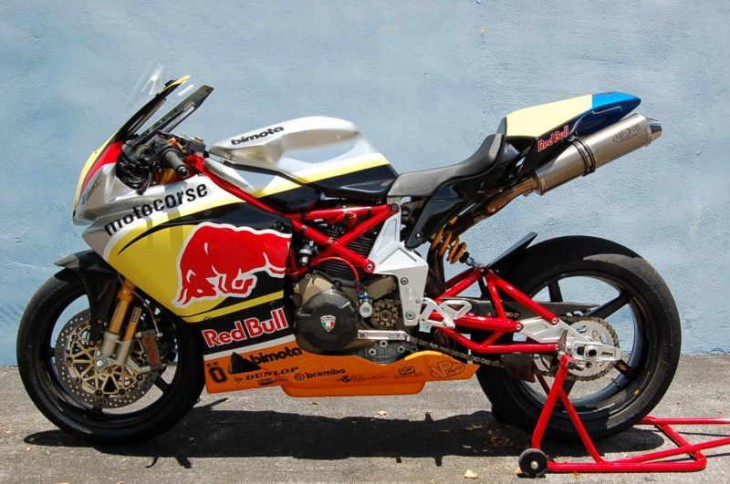 For those who participate in the occasional track day, a little masking tape and the removal of mirrors is enough. For others, a dedicated track day bike – usually an inexpensive or well-used model with track-specific changes – is in order. Take that one step further and consider a full blown race bike. If money were no object, would this be your track day weapon of choice?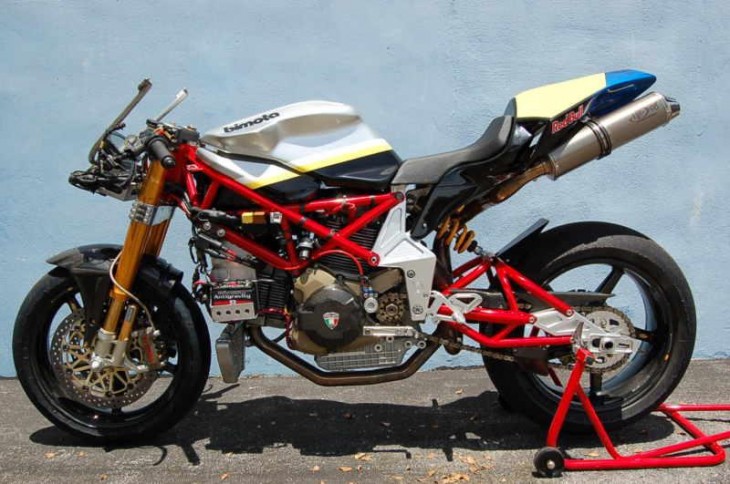 Starting life out as a DB5R – considered one of the best handling of the air-cooled Ducati chasis available – and fitted with a hi-po, 1178 cc Hypermotard engine built to the hilt, this particular bike is a "cost is no object" excercise for racing. And race it did, purportedly winning several championships. And what better way to ease this mount into retirement than as a spirited track-day ride worthy of envious stares and buckets of drool?
From the seller:
2004 Bimota DB5 powered by Ducati. World class race bike, built for CCS lightwheight classes, this machine has won multiple national championships at Daytona and dominated the Florida championship. Now retired from racing looking to sale or trade $55000 obo would consider trades for something interesting ( car's, others bikes, small plane, boat, land) for more info Call or text. Whoever buys it at asking price, I will include Brand New set of rims with water race tires + Tire Warmers (Chicken Hawk / Ducati) + Arlen Ness $3000 Matching Race Suit used once. WOW !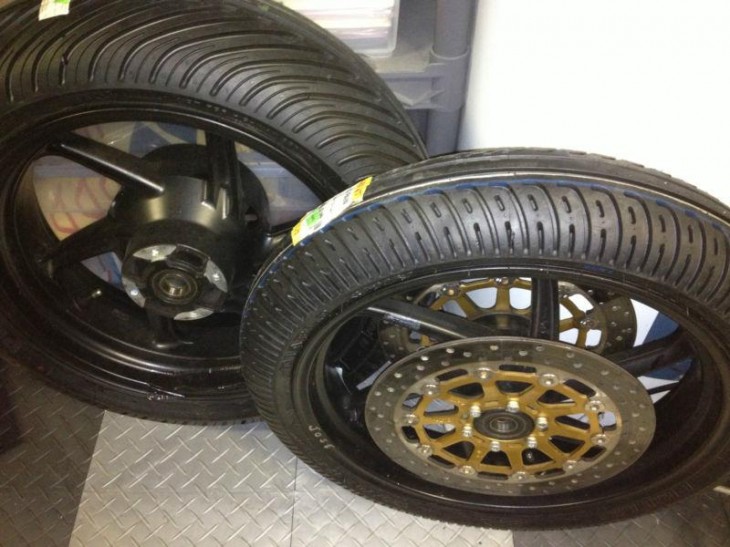 WOW is right. Check out some of the specs on this big dollar bad boy: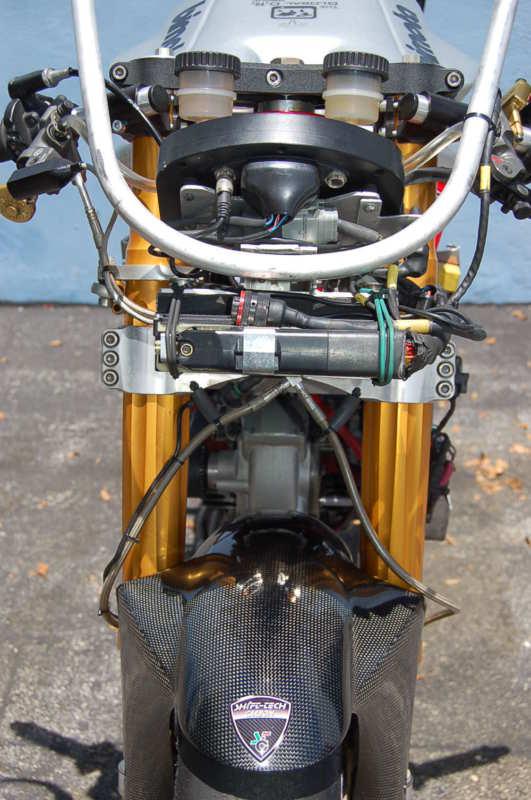 Electronics:
Pectel SQ6 ecu with a custom fabricated wiring warness $10000
AIm racing digital dash with lap timer $2200
Sp electronic quick shifter ( clutchless upshift) $450
Lightweight Lithium battery $200
Suspension:
Ohlins Fg 670 gas forks $12000
Ohlins rear shock
Ohlins gp steering damper $700
Attack racing triple clamps with adjustable offset $1000
titanium front axle $400
Wheels and brakes:
BST Blackstone carbon fiber wheels $4400
Brembo monoblock calipers (With titanium bolts) $7200 plus $800 brake pads
Brembo full floating brake rotors $600
Brembo 19×18 gp master cylinder with $300
Acossato racing electronic adjuster $400
Brembo billet clutch master cylinder $400
Steel braided brake lines $200
Brembo racing reservoirs $50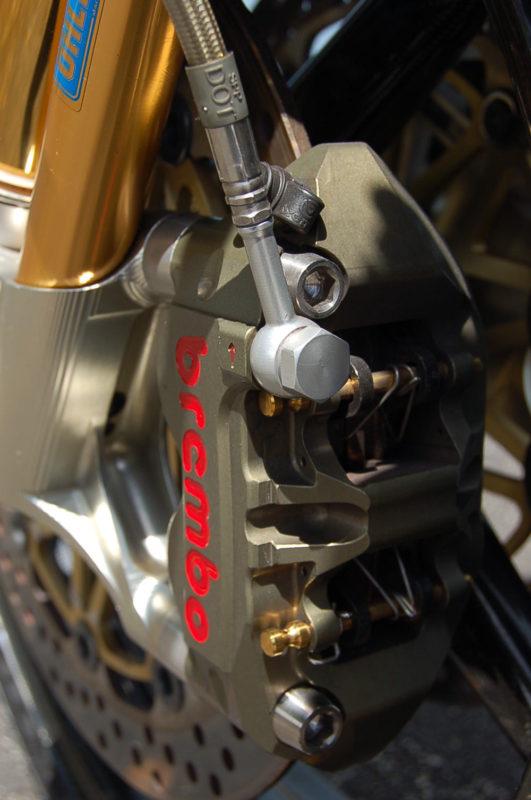 Hypermotard engine, bored to 102 mm makes it 1178 cc, puts up 117 hp at the rear wheel $22000
2 mm oversize titanium valves
ported heads
NCR cams
Balanced crankshaft
Fresh crankshaft bearings
Yoyodyne slipper clutch
HPE full Exhaust $3500
High performance fuel pressure regulator $500
Carbon fiber case cover $200
Woodcraft clutch cover $150
Custom made aluminium breather box (under subframe) $8000
Carbon fiber front fender $300
Custom fabricated front bracket $600
lightweight battery box $250
Woodcraft clipons $150
Fuelcell carbon kevlar gas tank $3600
windshield $300
race bodywork $1500
paint job $1000
titanium front axle 400
stock 2004 Bimota DB5 $35000
Here is a video of the bike in action:

The seller claims to have spent upwards of $100k on this racer, which just goes to prove the adage: If you want to make a small fortune in racing, start with a large one. Fortunately for you buyers out there, nothing depreciates like last year's (or last decade's) racer. This bike is on the block for a cool $55,000, or best offer. If you want what looks to be the best of everything, this might be a good place to look. Check it out and let us know what you think! Good Luck!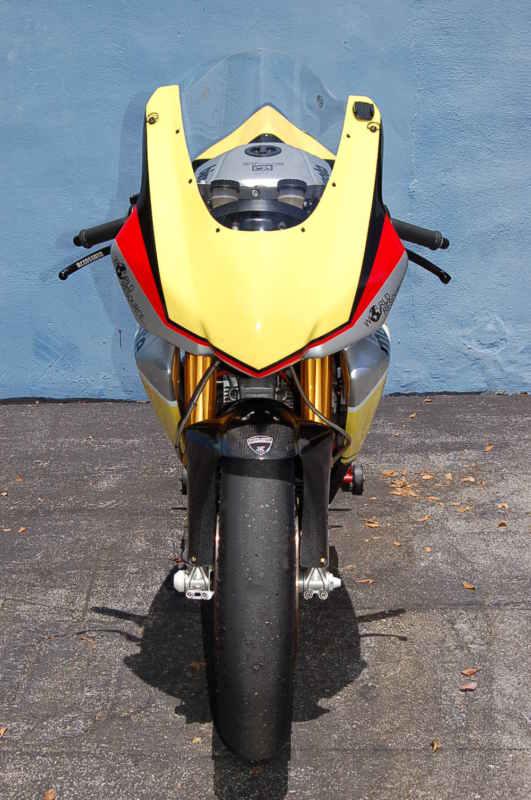 MI