More than ten years since the last one was made, the R1200S was only recently bumped off BMW's air/oil-cooled throne by the R1250RS.  This stealthy example has been nicely updated by the East L.A. owner.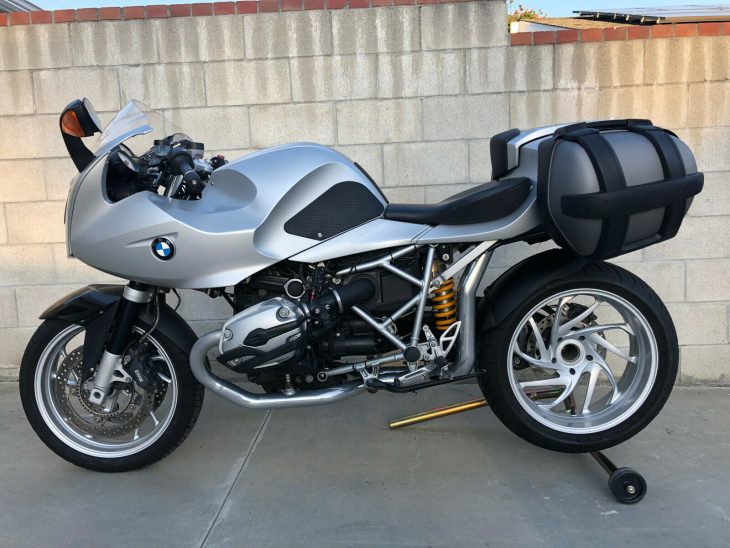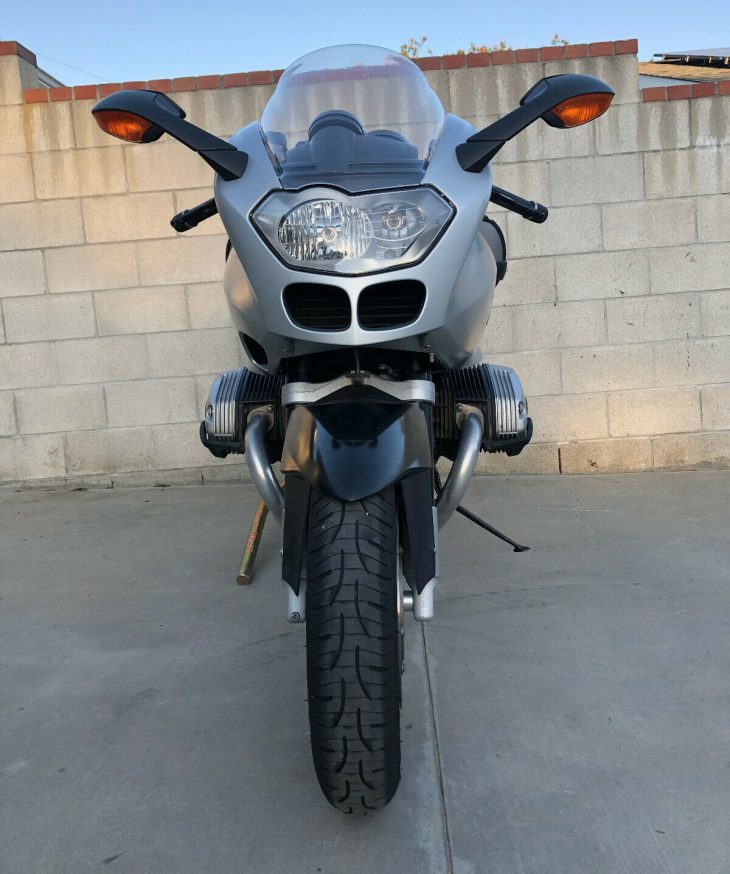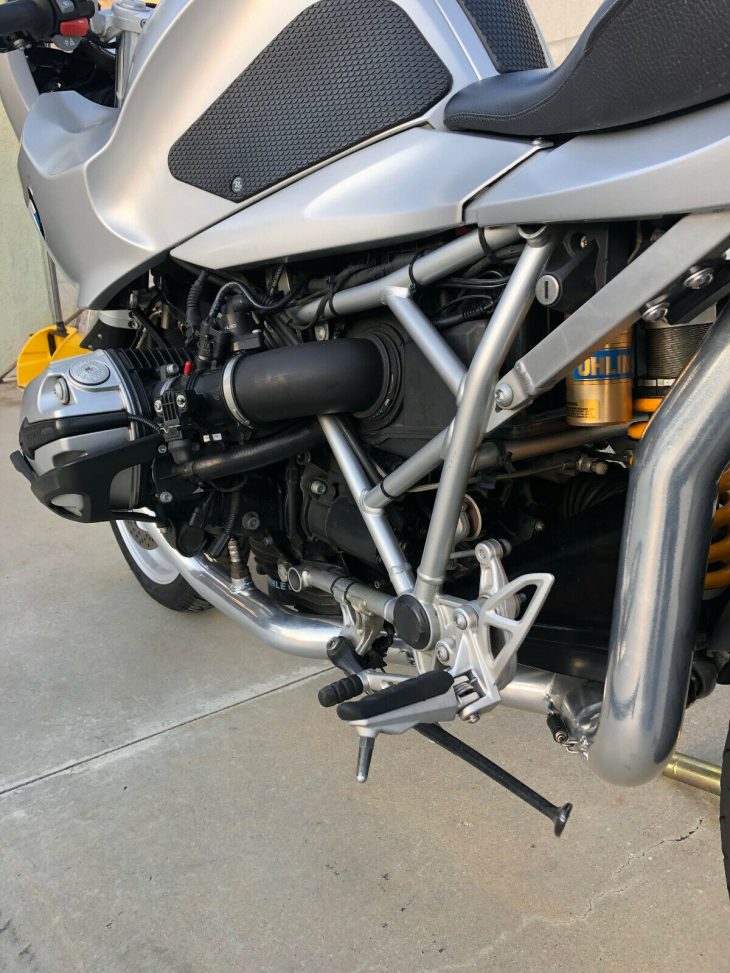 Beside the 100cc additional displacement on board the hex-head R1200S, the compression ratio was increased to 12.5-to-1.  Thanks to electronic knock sensors and the ECU's control of ignition timing, premium gas will get you 122 hp.  The chassis was lightened and is more of a trellis affair than the R1100S, though the tele-lever and paralever suspension will be familiar to any BMW fan.  320mm brakes are complemented by factory braided lines, and the dual exhausts feed a common catalyst and underseat muffler.  There's a big step up to the pillion, which is a nice backstop for the solo rider, but it's hidden by a body-color cover.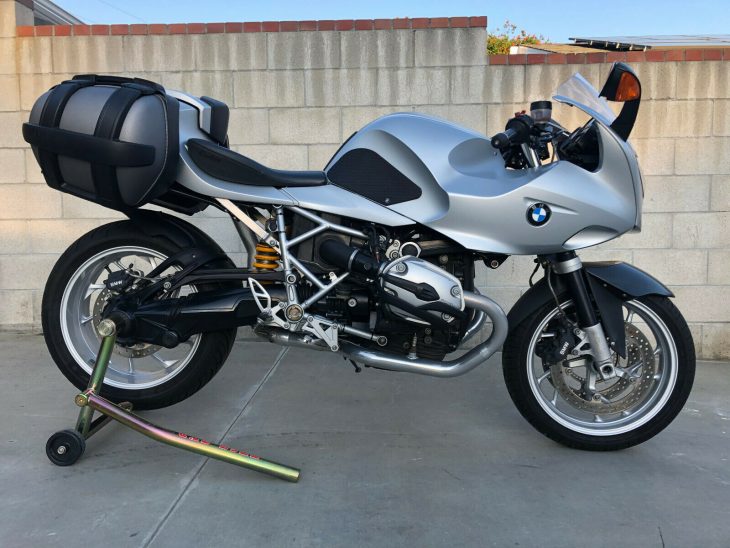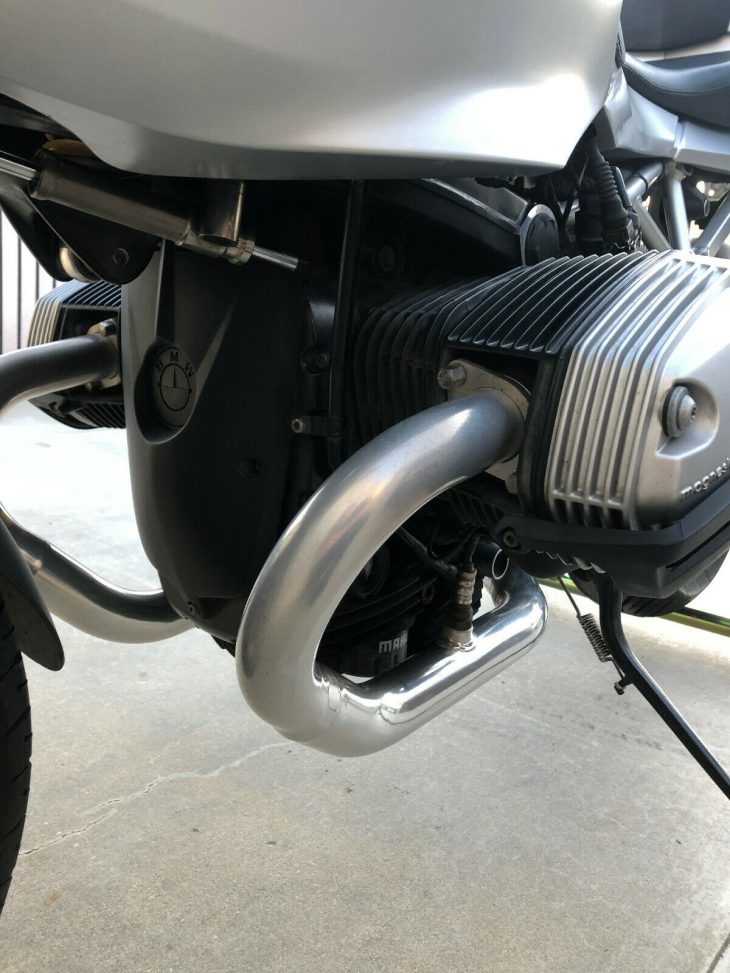 Almost broken in at 22,430 miles, this R1200S presents nicely in its silver and black monochrome.  Though they were available as factory options, this one got the 5.5-inch rear wheel and Öhlins front and rear shock after the fact.  The R1200S had a lightweight ABS system available, not sure if this bike has it – though a front sensor ring is there.  The addition of a rear fender is very unusual, and ceramic coated exhaust looks great.  The comprehensive list of updates from the eBay auction:
Upgrades from stock are pretty minor and in my opinion, in very good taste and all take offs included:

– Remus headpipe and factory muffler both removed and ceramic coated so no blueing…ever. Looks amazing. Remus exhaust is no longer available FYI.
– EVAP canister removed
– Upgraded to wider OEM sport rear wheel
– Rear hugger added to keep tail section clean
– Helibars added, 1″ taller. Originals not included.
– Suspension upgraded to factory Ohlins, rebuilt and springs replaced (180 lbs rider) less than a year ago. Original front and rear suspension included
– Seat replaced with leather Corbin. Two originals included, both with cracked covers.
– Tank grippers added. Tech Spec if I remember correctly.
– Passenger pillion seat is MIA and didn't come with the bike. Passenger pegs removed but included. Nobody wants to sit back there anyway.
– Puig double bubble clear windscreen. Original is included, but was painted black.
– Front fender pained black instead of factory silver. Looks much better and stays cleaner looking.
– Odyssey battery freshly installed
– Shorty Pazzo adjustable or like new stock levers, whichever you prefer
– Rear factory bags and racks added. I also keyed the lock cylinders to match the ignition. These are insanely expensive, but really make the bike more usable for long trips.
BMW put the R1200S on a diet, and was moderately successful with a wet weight under 470 lbs., and fans will tell you it feels more stable because so much of the engine weight is down low.  Can't say the same for the factory hardbags, but they can be in the closet until they're really necessary.  The R1200S is knocking on the door of a cult classic, a booming crescendo to the oil-cooled boxer -S variant that started way back in 1998.  This one does it almost at a whisper.
-donn