Most our early 1980's Ducati's tend toward the fully-faired MHR, but the Supersport with bevel driven cams has its own following.  Here's a collector with almost impossibly low miles, and requisite cosmetics for its mid-five figure ask.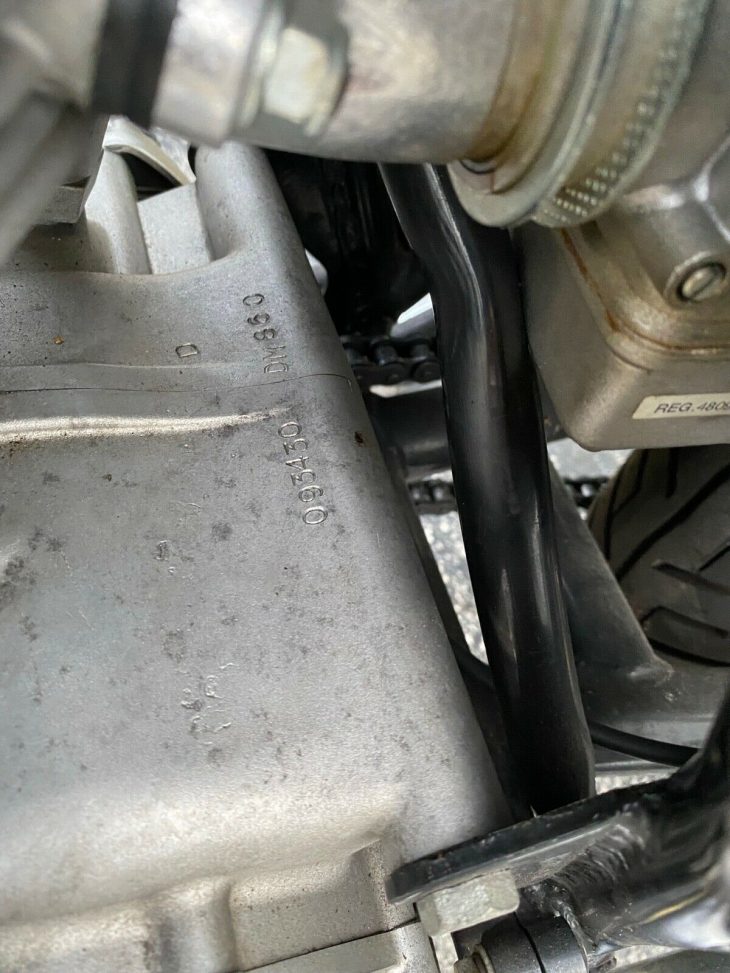 Though a bit more civilized than the mid-1970's Supersports, the last year 900SS had enough gumption and the stable high speed handling that brought its early renown.  32mm Dell'Orto carbs had replaced the 40's, and fairly quiet mufflers were DOT requirements.  But 65 hp was still brought to bear, and could get the semi-adjustable Marzocchi suspension into trouble, and challenge the 280mm brakes, at least temporarily.  Recent cast alloy wheels wore 18-inch skins, and the bullet fairing cut a nice pocket in the windstream, beautifully rounded though the engine cases had the angles of the previous stylist, Giorgetto Guigiaro.
Offered by a recently opened workshop in Miami, the condition of this 900SS is at the higher end of the collector range.  No history provided, but the bevel drive desmo is an all metal affair, so however unlikely, it might be ridden home.  Unrestored condition is downright inspirational.  Short notes from the eBay auction:
Unrestored all original 1982 Ducati 900SS in very nice condition. Was recently recommissioned. Inside of tank is rust free. The bike runs flawlessly as a new bike should.
900SS production numbers started out strong but dwindled to an unsustainable low, with just a few hundred rolling out each year.  Managers took the brand another step away from sport the next year, with the more domestic S2.  Luckily the belt driven cam desmodue, Castiglioni brothers, and revival of the Supersports were just around the corner.  This reference quality example might be more at home in a live arena auction, but hopefully the new owner will be a RSBFS reader and drop us a comment.
-donn