Ducati's original "round-case" v-twin may be one of the most beautiful engines of all time but, while tower shafts and bevel gears may be a very precise way to operate valves, they sure aren't an economical one. Think about the shimming that must be done during assembly; it's a very labor-intensive way to construct an engine, not at all suited for mass-production. The Ducati Pantah that followed showed the way forward, and is the grandfather of all modern Ducatis. Introduced in 1980 in 499cc form as the 500SL, it grew to 593cc in 1981 as the 600SL seen here. The styling is very distinctive, like nothing else being produced at the time, and handling was up to the standards expected of Ducati.
But before the Pantah, there was one of Ducati's most infamous misfires, corporate thinking that led to a failed experiment with parallel twins. It all made so much sense: a parallel twin has similar two-cylinder character and compact dimensions that improve packaging, while a single head saves production and material costs, as well as weight. What could go wrong? Well basically everything. The 500GTL might have looked like a winner on paper, but pretty much rejected everything that fans of the marque loved, and was famously unreliable as well. Luckily, Ducati engineer Fabio Taglioni had continued to develop a new v-twin, just in case…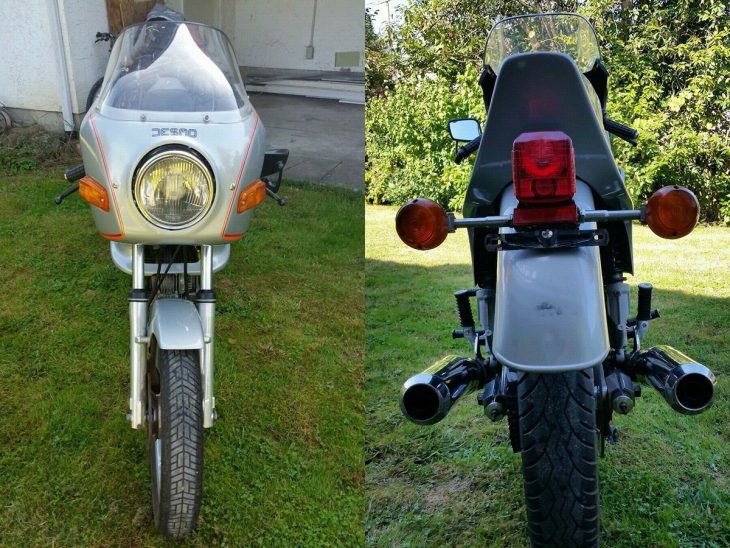 The new engine incorporated toothed rubber belts to drive the overhead cams instead of tower shafts and gears, or the chains that were popular in other high-performance motorcycles of the period. This made assembly and mass production of the new engine a relative snap, but passed the costs on to the owners: regular belt changes are a traditional part of the Ducati ownership experience, although that particular maintenance chore can be handled by a home mechanic, and even the two-valve Desmo valve adjustment isn't all that difficult.
On the plus side: the push towards standardization and mass-production also meant that Ducati's signature Desmodromic positive valve actuation now appeared on all models, and not just their SuperSport machines, giving the 600SL pretty good power for a two-valve v-twin of such small displacement.
From the original eBay listing: 1982 Ducati Pantah 600SL for Sale
If you are a collector of classic and iconic sportbikes – or would like to become one – here is something you might want to investigate. The Ducati 600 SL Desmo "Pantah" was the first of the next generation of Ducatis, powered by an updated L-twin desmo motor with valve actuation done via toothed rubber belts instead of the traditional bevel drive. The belt driven valvetrain was instrumental to production volume for Ducati, as the older bevel drives required a great deal of time-consuming, skilled adjustment during assembly. Belt driven valves made true mass production a reality.

Was in storage for the past 10 years (with no petrol in the tank). Will need tune up/oil change. Carburetor was rebuilt 2 years ago.

Nice original condition motorcycle come with its original no rust Conti pipes. Will need very little work to bring it back to mint show room condition. Comes with spare Desmo Belt.
These used to be very affordable bikes, but the seller is correct: these are now definitely collectible and, considering how many were made, you don't see them up for sale all that often. The $10,000 Buy It Now price is ambitious, but maybe not totally outrageous, considering the general condition. However… this one does have 69,000 miles on the odometer, which means it definitely isn't low-mileage. The Pantah engine is pretty rugged, and parts should be available to maintain or restore, or you could even box up the original engine and build a hot-rod 900 that should bolt right in with just a few modifications…
-tad