BMW has liked to use some of their limited editions as technology showcases, and the HP4 Competition is no exception.  The 2014 special  S1000RR had traction control, dynamic damping control, racing ABS, launch control, and the list goes on.  Forgot to mention the nearly 200 hp  and dry weight well under 400 lbs.  With numbers like that, wheelie control had better be standard.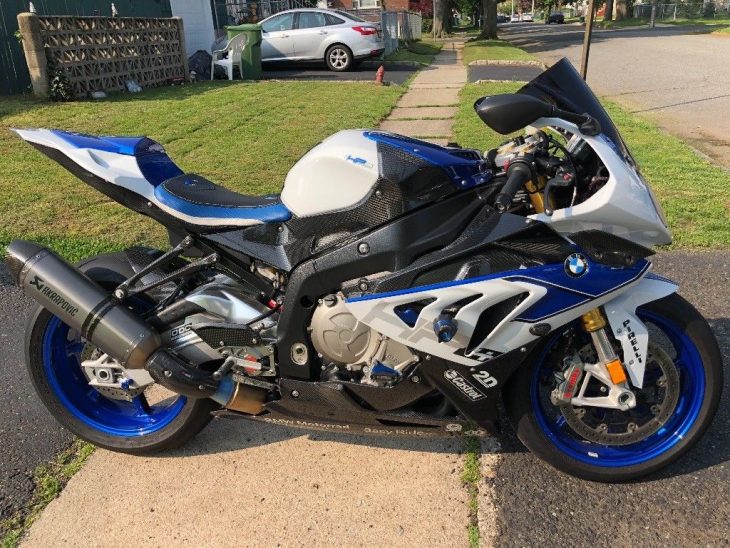 Released in 2009 and meant to put BMW on the WSBK map, the S1000RR has been a significant competition and showroom presence.  The 999 cc four is seriously oversquare and runs quite high compression at 13:1, on its way to 193 hp.  Chassis and swingarm are aluminum, with castings and stampings both used, the swingarm being double-sided for strength.  Excess weight was in the crosshairs with full titanium exhaust and lightweight battery.  The HP4 was introduced in 2012 as a continuation of the HP marketing concept, and capitalizes on racing-derived electronics to improve things for the sport rider.  The ABS, suspension, and traction are all computer controlled and the system has modes for Rain, Sport, Track, and Slick operations.  Additionally, a speed-shifter is standard, a launch control routine makes a smooth start possible, and wheelie control has been improved for 2014.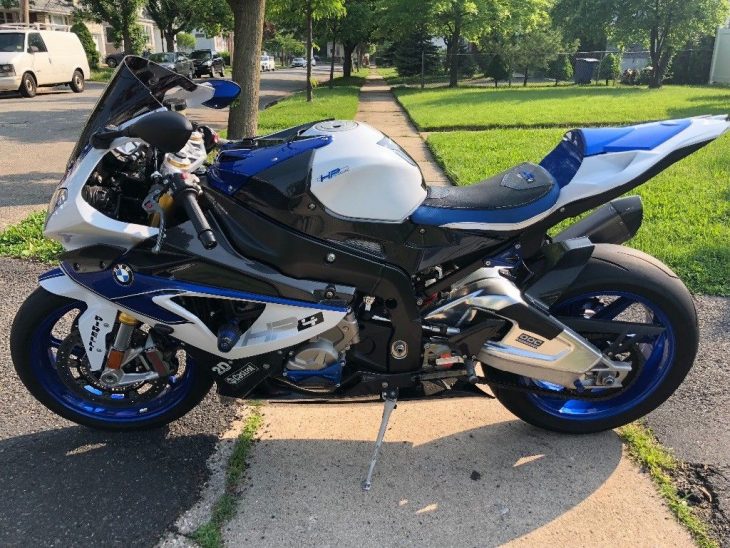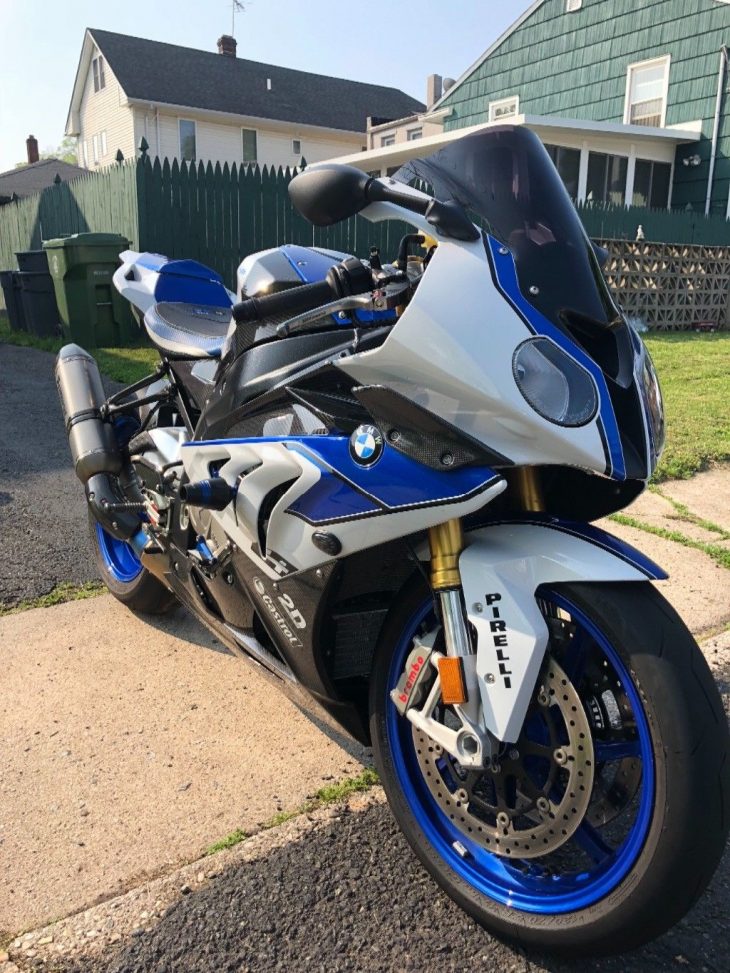 This HP4  shows just under 6,000 miles, and looks damage-free.  Not sure how the HP4's are numbered, but though the triple tree isn't pictured, the sliders are numbered 5322.  Production should be under 1,000 for this model.  The Competition package includes the carbon under-tray and HP levers and rearsets, and also BMW racing blue finish on the wheels.  The N.J. owner keeps it to the point in the eBay auction:
2014 BMW HP4 Competition Edition (#5322) in completely mint condition, garage kept, less than 5500 miles, only one owner, lots of accessories, no falls, no drops, no damage of any kind, complete working order & ready to ride, if you don't know what this is, then it's not the bike for you
BMW fought their way to a string of podium finishes, initially with Troy Corser, but probably the best year being 2012 under Marco Melandri and Leon Haslam.  The effort is currently a top-10 regular, run by Althea Racing who also enters the European Superstock 1000 series.  It's also a staple at the Isle of Man, Michael Dunlop taking the TT win just a few weeks ago.  Certainly the sportbike a lot of people said BMW should have been making much earlier, these days the HP4 is a track only beast, made in very low numbers.  The few HP4's don't change hands often, and the BIN seems like a pretty good value, surprising no one has snapped it up, or at least put a deposit on and have a dealer take a close look...
-donn