Update 5.8.2019: Back on eBay and price dropped again. Good luck to buyers and seller! Links updated. -dc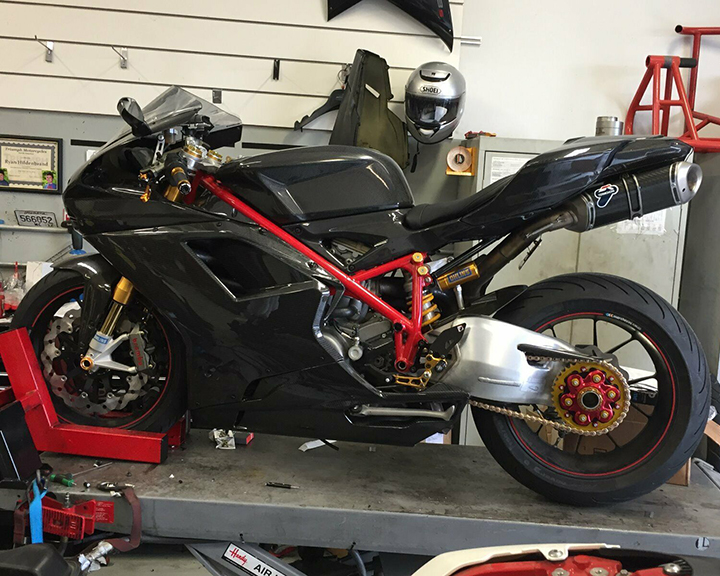 Made for just a couple years between 2007 and 2009, the Ducati 1098 was a more conservative approach to their top-flight superbike after the radically-styled 999 threatened to upset Ducati's apple cart. It's almost like the bikes were released out of order, and that the 1098 should have been the direct successor Tamburini's 916, as it had the same slab-sided bodywork, undertail exhaust, single-sided swingarm, and side-by-side headlights. Today's Featured Listing 1098S is typical of many Ducatis, in that it's been lovingly maintained, has low miles, and has had an entire catalog of aftermarket parts thrown at it.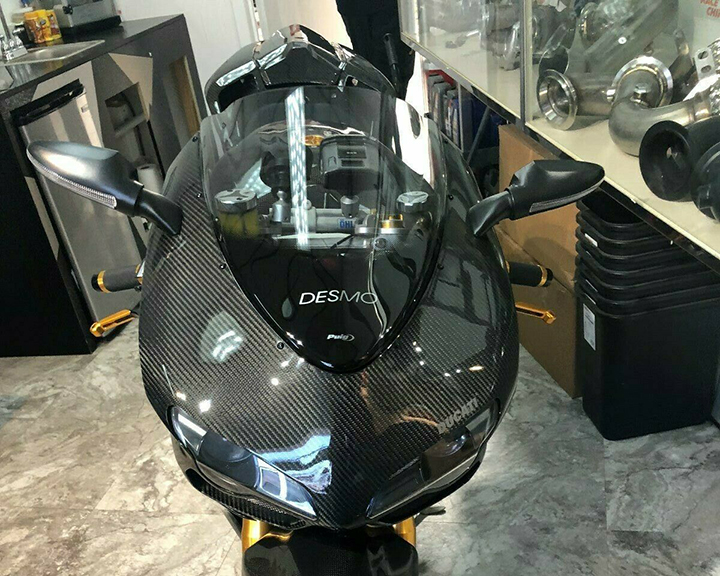 So the 1098 was introduced to reinvigorate Ducati's superbike fortunes and the bike indeed proved very popular and sold well, so why was the bike only made between 2007 and 2009? Well rules changes in WSBK conveniently allowed an increase in displacement to 1200cc and the 1098 was quickly succeeded by the 1198 that displaced… 1198cc. In the early days of World Superbike, v-twins got a decent displacement advantage that kept them approximately equal to the inline fours that had 25% less displacement. But with the inline fours allowed a full 1000cc for the 2007 season, Ducati had to work hard to stay competitive, and there was a noticeable jump in power between the 999 and the 1098, from 138 to 160hp, with the new bike punching out a stout 90 lb-ft of torque.
Ergonomics took a bit of a backward step from the surprisingly user-friendly 999's adjustable seat and pegs, but you do have to suffer for art… This example, as stated earlier, has had a raft of aftermarket parts thrown at it, most notably a set of full carbon-fiber bodywork, including the tank. That's not a wrap, it's actual carbon fiber, thoughtfully lined to prevent damage from modern gas that seems to particularly plague Ducatis of this era. The entire, detailed list can be seen at the end of the seller's listing.
From the Seller: 2008 Ducati 1098S for Sale
Gentlemen's Express: DUCATI 1098S Full Carbon, Low Miles, Perfect Condition!

My Ducati 1098S Show bike is available for sale. It has been a prized part of my collection, but it's time to move on to a new platform. This bike is exceptional in every way.  Stunning full carbon body and tank, Galfer Superbike Racing Brakes, Driven Racing Quick Change Sprockets, and much, much more!

The modifications to this bike were targeted in three areas; weight reduction, aesthetics and performance.

This bike draws a crowd everywhere it goes.  Extremely well cared for with full maintenance performed every winter. An impeccable machine with outstanding performance. It's what all sports bikes should be, and given the extreme weight reduction it went through it still competes with today's current sports bikes! There was a liberal use of titanium bolts (caliper bolts, rotor bolts, fender bolts etc., and the entire rear racing drive is all aluminum. The bike sits on two new brand new Michelin Pilot Tires and has the Ducati Racing ECU.

With less than 7800 miles, its just broken in. Everything works as it should, you will not be disappointed adding this to your collection or as a rider! This bike was over $35,000 to build (pretax), and comes complete with a Bursig Paddock Stand! All maintenance was just completed (as was done every winter) and is shown below along with the build list.  No rock chips, dings dents or scratches. It also has two Tec mounts – one for radar and one for a cell phone. Currently set up for an Escort 360 Radar unit and Smart Phone Blue Tooth Interface. The radar unit is not included. 

This bike has always been adult ridden, never wheelied (but it wants to), never down, has never seen rain never been raced or tracked.

Anyone that knows this generation of Ducati knows how beautifully the body flows. The exhausts sound awesome as does the open dry clutch. And the braking system is literally being used on superbikes across the country today.

The bike is available for inspection and pick up in East Texas (Tyler) or pickup at our performance shop in Dallas. We will also help prepare the bike for your shipper at your expense. We can recommend a great one we use for domestic white glove shipping, door to door.

Please note an immediate deposit of $500 is due upon purchase with full payment made within 5 business days. 

Serious parties only, please. If you want to discuss the bike, or arrange a viewing, send me a note with your phone number and name and I will contact you that day or feel free to call at (214) 585-3354. 

Thank you for looking, and happy eBaying! 

1098S Maintenance Completed Includes:

New Timing Belts $104.64
Changed Oil & Filter $42.00
Changed Filter $19.95
Changed Front Fork Seals $86.53
Changed Front Fork Oil $32.00
Changed Air Filter $58.99
Changed Coolant $28.00
New Front and Rear Tires $462.00
Replaced Rear Axle Hub with NOS $700.00
Changed Brake Fluid [Front and Rear] $24.00
Check Steering Head Bearings $0.00
Check Swingarm Bearings $0.00
Check Wheel Bearings $0.00
New Shift Return Springs $39.00
New Lightweight Battery $119.00
Fresh Dry Clutch Plates and Springs $368.00
Valve Stems $38.00
Shop Labor $821.00
Total $2,943.11

Upgrades Include:

New Galfer Superbike Rotors [Front] $812.00
New Galfer Superbike Rotor [Rear] $119.00
New Ferodo Carbon Ceramic Pads [Front and Rear] $211.00
Replaced Brake Lines with New Spiegler Thin-Wall Stainless $174.95
New Full Carbon Fiber Upper Cowl $599.00
New Carbon Fiber Side Panels $618.00
New Carbon Fiber Lower Cowl $299.00
New Carbon Fiber V Panel $111.00
Carbon Fiber Chain Guard $119.00
Carbon Fiber Rear Fender $106.00
New Carbon Fiber Solo Seat $439.00
New Carbon Fiber Rear Draft Panel $132.00
New Carbon Fiber Front Draft Panel $89.00
Carbon/Kevlar Fuel Tank $2,600.00
New Carbon Fiber Side Panels $185.00
New Carbon Fiber Heat Shields $85.00
Caswell Tank Seal to Protect Tank From Ethanol $54.99
New Puig Smoked Windscreen $92.50
New Puig Aluminum Screen Bolts $22.00
Full Dzus Quick-Release Body Fasteners $105.00
Puig 2.0 Short/Folding/Adjustable Control Levers $237.00
Rizoma Superbike Grips $112.00
Rizoma Frame Plugs $69.00
Ducabike Folding/Fully Adjustable Rearsets $580.00
Carbon Fiber Shift Rod $58.00
CNC Racing Carbon Fiber Racing Gas Cap $218.00
Ducati Corsa/Race ECU Flash $500.00
Termignoni Carbon Fiber Exhaust $854.00
Saddlemen Gel Seat $209.00
Ducabike Hydraulic Reservoir Covers $86.00
520 GP Chain $189.00
New Driven Racing Quick Change Sprocket Carrier $219.00
New Driven Racing Rear Sprocket $89.00
New Rental Front Sprocket $54.00
Changed Gearing to 17/39 $0.00
New Aluminum Flange Race Cover $119.00
Chain Case Saver $39.00
Carbon Sprocket Cover $86.00
Black Billet Clutch Cover $129.00
Sprocket and Carrier Aluminum Nuts $98.00
Aluminum Front Axle Nut $36.00
Rear Aluminum Axle Nuts $89.00
Aluminum Flange Cone $64.00
ProTi 64 Titanium Rotor Bolts [Front and Rear] $119.00
ProTi 64 Banjo Bolts on Calipers $69.00
ProTi 64 Caliper Bolts [Front and Rear] $99.00
ProTi 64 Keyguard Bolts $39.00
Tech Mount Radar Mount $189.00
Tech Mount Cell Phone Mount $139.00
Escort 360 Radar $599.00
Skeletonized Fork Preload Adjusters $39.00
Fender Eliminator/Plate Mount Kit $119.00
Integrated Tail/Turn Light $89.00
Battery Tender Pigtail $6.99
Ducati Performance LED Mirrors $206.00
Bursig Paddock Stand $599.00
Shop Labor $3,500.00
Shop Supplies $72.00
Build Expenditure $16,991.43
Base Bike $18,000.00
Pretax Cost $34,991.43
The asking price for this very well-documented machine is a cool $25,000 $20,000. But if you're looking for something truly one-of-a-kind, this 1098S should be almost as fast and less likely to kill you, with or without traction control.
-tad