If you are that rare individual who woke up this morning wanting to start (or add to) a Ducati collection, and you absolutely HAD to have a 1982 600cc TT2, a 1985 750 F1 AND a modern 2001 996R – then this auction is for you. Of course all RSBFS fans can drool over these sculptures from Bologna, but I would have to think that offering all three in a single auction is really talking to a very specific buyer – or a bargain hunter. Let's check out these NY-based bikes:
---
1982 Ducati 600 TT2
From the seller:
Bike #1 – 1982 TT2 – (1 of 50) Factory Race Bike – 600cc, 78hp, 300lbs

Taglioni's last engine & motorcycle design and the first belt drive race bike. Ducati (and Tony Rutter) won three TT2 championships and in 1982 Walter Cussigh won every round of the Italian TT2 Championship. An incredible success for Ducati's factory race team that had been absent since 1975.

The story that came with this bike is it came from Belgium and was never raced or crashed. Its original owner changed the dash so a pin shaped key could be used and he rode it around the village he lived. If anyone can add to this story, please do. This motorcycle has been shown at TT events between New York and Barber / Alabama in 2011 and those knowing much more than me have confirmed this is an original factory race bike and not a privateer racer. It is a very original (30) year old motorcycle with a wonderful patina. I do not race motorcycles and have not ridden this motorcycle. It has recently been started and it has the sound of a Chevy V8 race car, when warm and revved, the power and sound of the motor can be felt from your feet up. If you plan to race this bike, it will require a full going through. The fiberglass is in very good condition as is the fiberglass fuel tank and ethical under my watch has never touched the tank.
---
1985 Ducati 750 F1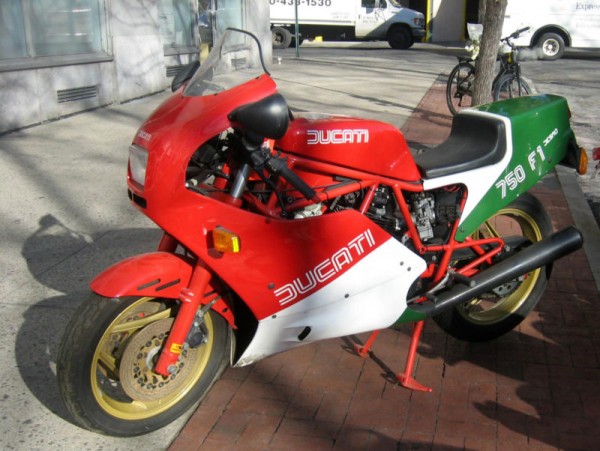 From the seller:
Bike #2 – 1985 750F1A – (1 of 593) – 353 Miles (or 570 Kilometers)

So successful was the TT2 and TT1 on the race track, Ducati made the decision to produce a street legal production replica. The '750F1A' represents the 1985 model designed and put into production prior to Cagiva purchasing the company on May 1st, 1985. This is the very last hand made Ducati model manufactured. In 1986 the 750F1B would be created with the Cagiva Elephant next to the Ducati sticker upon the tank alone with many other 'for production' changes.

Besides the low mileage, what makes this bike special is it comes with it's 'certificate of origin' … its never been titled. This is such a rare piece of documentation, I've never seen another for a older motorcycle, a photo of only a section will be posted (so it is not duplicated). This motorcycle was purchased new in Santa Monica. When the new owner got it home and his mother saw it, she made him swear never to ride it again … and (30) plus years later it arrived to me in New York with its original 1985 gas in its aluminum tank. This motorcycle is a time warp, completely original except for the turn signals that were removed because the plastic on all had dried to the point of breaking. The motor is free and I have not attempted to start it. I truly believe this will become a very collectable model and top dollar example.
---
2001 Ducati 996R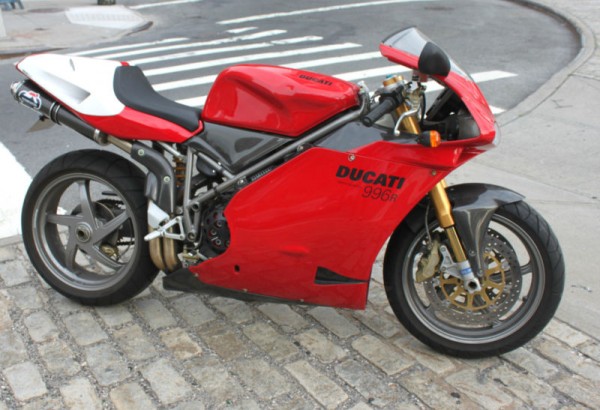 From the seller:
Bike #3 – 2001 996R – (1 or 500) (1 of 100 in USA) – 1,674 miles

The last of the true homoligated bikes, the 996R is in effect a road-legal version of the bike that won the 2001 Superbike World Championship. A factory racer with lights, it came with Ohlins race suspension, race version Brembo's and lightweight Marchesini race wheels, a long with the new short-stroke Testasstretta powerplant, complete with sandcast crankcases as found on the factory race bikes.

Originally delivered in New York, this bike has spent its life pampered and admired. Its carbon fiber body panels are truly incredible. The 135hp of the motor is delivered so smoothly, it builds like no other bike I've ridden. This is a rare example with very low mileage that should be ridden as well as admired. I looked for a 996R for many years and the model is as good as they say.
---
If memory serves, we have seen all three of these bikes previously in individual auctions. The big deal this time around is that they go as a packaged deal; buy one, get the other two for free. Of course that kind of package does not run cheap. This auction is on right now with an opening bid of $50 large; that's right, $50k for starters. There is also a reserve in place, to keep everything on the up and up. The big question is if you can attract a buyer for all three at once (you gotta admit it is very convenient), and if that buyer is willing to pony up that kind of cash on an eBay auction. This one will be great to watch! Click in the link to jump over to the auction and check these beauties out. Good Luck!
MI