Location: Boyne City, Michigan
Mileage: 67 (sixty seven)
Price: Currently $11,075 with reserve in place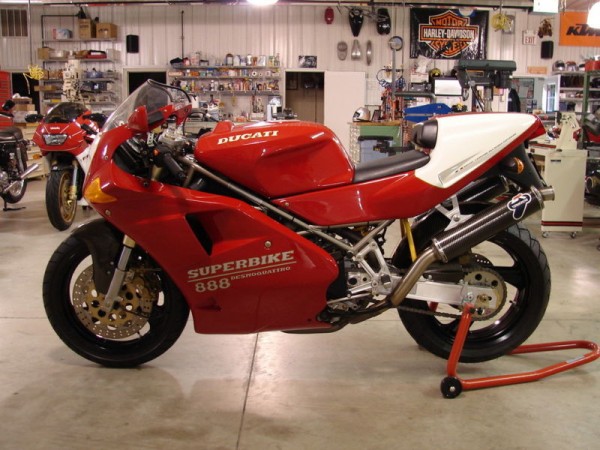 Up for grabs here we have yet another bike from the collection that is currently being sold. You might recognize some other bikes from the collection such as this Bimota DB2 currently for sale and the Ducati 851 SP3 that sold on eBay last week.
The 888SPO has the same size engine as the 851 SP3, but was rated at slightly less power coming in at 104hp. The "SPO" moniker was specific to the US market 888, which was a combination of the high performance SP5 and Strada European models, though the SPO was more closely related to the Strada.
More from the seller:
Up for auction is a 1993 Ducati 888 Superbike SP0. This is a very clean motorcycle that I am selling for my Dad who is selling his collection. This bike only has 67 Miles on the odometer. It has been well maintained and cared for in heated storage.

The condition of the bike is fantastic. The paint on the front nose has been chainged to suit the original owners tastes. It has white instead of red on the nose. It also has the upgraded Termignoni exhaust.

Please take a look at the large pictures to get a better idea of condition and email me if you have any questions.

** Visit this link to see higher resolution larger pictures http://imageevent.com/joejo20/1993ducatisp0 **
Like the rest of this collection, this bike appears to be in exceptional condition. The only thing I can see that wouldn't allow this bike to fetch top-dollar would be the repainted front from red to white, although the paint work does look good and flows nicely with the bike. Did I forget to mention the bike only has 67 miles? Yep, that's it. There is a reserve on the auction still with bidding currently at $11,075. Check out the auction for yet another classic Ducati here!
-JS