Most of us can probably count on one hand the times we've seen small displacement super-sports in the flesh, outside of an auction or show.  Grabbing the most power out of a quarter-liter, two-strokes predominate – but here is an inline four from Suzuki, with 2-inch pistons and a sound like few other boy-racers from the eighties.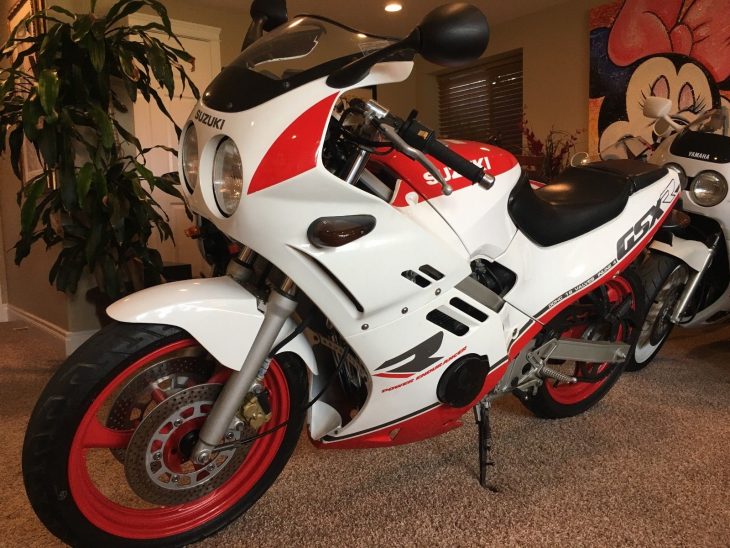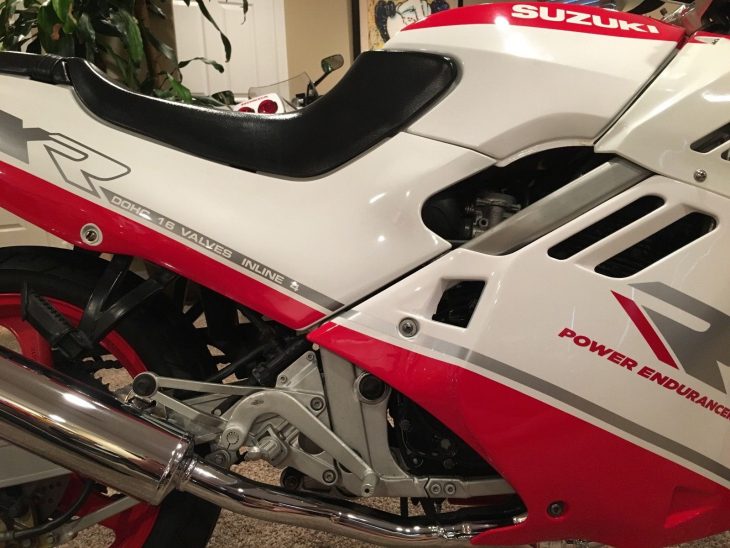 Accompanying the second-generation GSX-R's, the 250 used water cooling, and though specs are hard to come by, some sources show a single carburetor.  Limited to junior-spec 45 hp, peak power comes at 14,000 rpm, and the tach doesn't even register below 3,000.  Elsewhere the build is more like a larger bike, conventional forks and Full Floater rear, as well as 300mm dual front brakes and 17-inch cast wheels.  Dual seat and passenger pegs are there, but probably not for adults.  The dash is full-featured and the fairing also, but the package weighs under 350 lbs. with a full tank.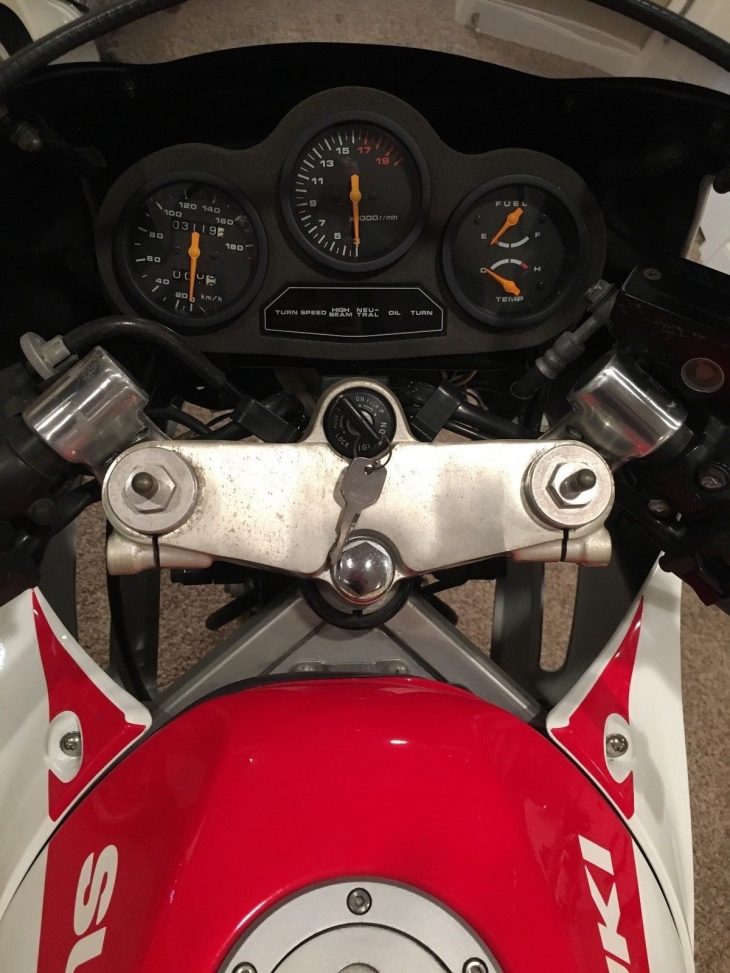 Coming from Gary's surprisingly deep collection, this GSX-R has under 2,000 miles and Utah road title.  Factory fairings are in outstanding shape, and the 4-into-1 exhaust has been chrome plated, which in a Lite beer ( tastes great / less filling ) kind of way, shows well inside the fairing and is easier to keep nice.  Imported earlier rather than later, this GSX-R escaped the outdoor storage and multi-riders almost expected in the gray market.  Comments from the eBay auction:
This baby GSXR is one of my favorites in my collection because it's one of the funnest rides in a tight canyon that you can ever have. 

Up or sale is a RARELY seen 1988 Suzuki GSX-R250 inline four with only 3,119 kilometers (1,938 miles). Engine redlines at 18,000RPM. It's a screamer! Bike is completely stock. Runs like new. Gorgeous cosmetic condition with only a few tiny stress cracks and handling marks. Right side cowling has been repaired. There were some little stress cracks under the right blinker. Bike looks amazing! Ultra hard to find in this condition from Japan. Hardly any corrosion or rust. Very little patina. All fairings are 100% genuine original Suzuki OEM. Bike sits as it came from the factory except for the chromed OEM exhaust. Originally it was black.  This baby Gixxer has been pampered and well taken care of. A true garage queen.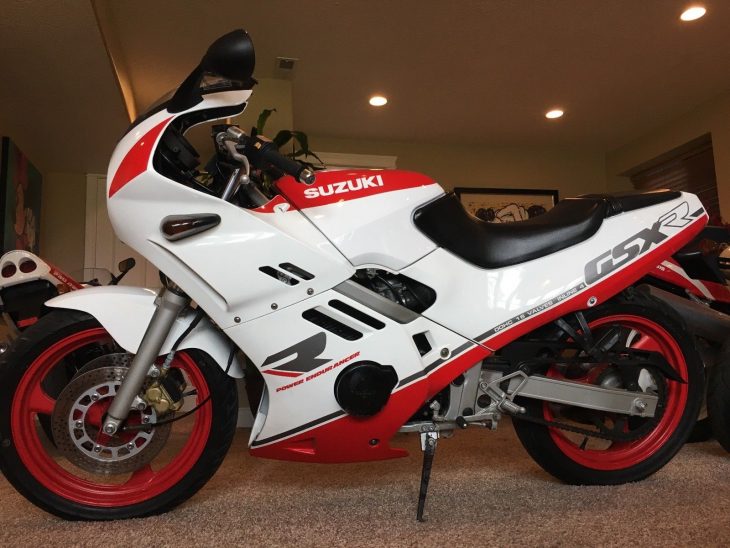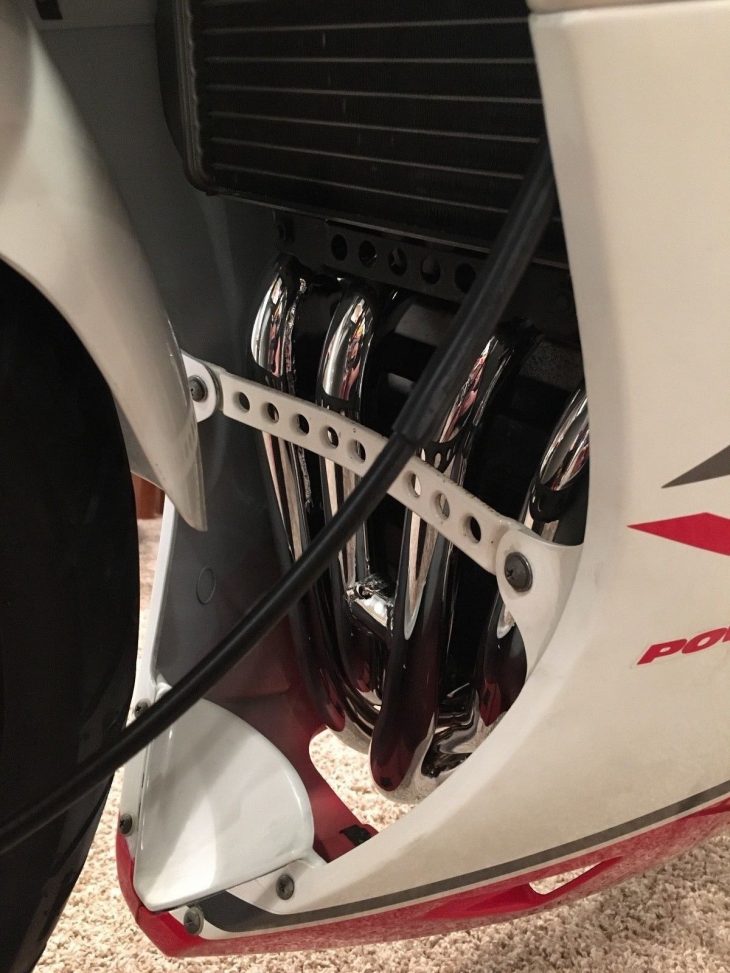 The buy-it-now seems fair for the sporty rarity, though the new owner should cultivate friendships down at the Suzuki dealer since except for a few expendables, parts for the R-250 might take some doing.  But with ultra-low miles this will likely remain a special sunny-day ride or show machine, guaranteed to be the only one at the rally or coffee stop.  For a fan of the marque with a stable of 750's, this could be just the accent…
-donn