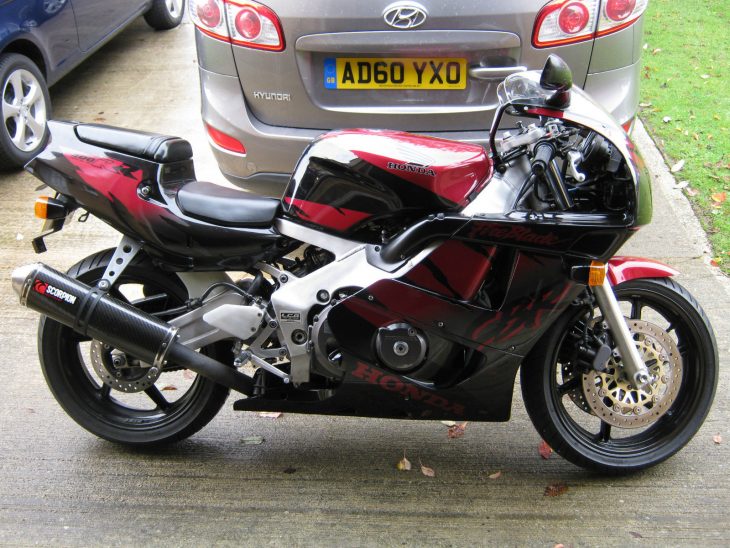 The Honda CBR400 was produced between 1988 and 2000 and was a perfect middle step between the entry-level 250RR and the supersport 600. Don't let that "learner bike" displacement fool you: the CBR400 was in every way a grown-up sportbike: the liquid-cooled inline-four featured gear-driven cams, a six-speed gearbox, triple disc brakes, and a lightweight, aluminum beam frame. All squeezed into a package that looked very much like a CBR900 that had been a bit shrunk in the wash… It was limited to a mere 59hp due to Japanese licensing requirements but, as you'd imagine, more power is readily available if you de-restrict it, and the resulting 70hp is more than enough to play with on the street or on tight circuits that favor handling over outright power.
This does look very similar to a CBR400 posted last month, with identical colors and similar miles, but it seems to be different bike: that one was in Georgia, this one in Canada, and some of the accessories are different as well.
From the original eBay listing: 1994 CBR400RR NC29 Fireblade for Sale
Very Rare Bike in North America. Japanese only model imported to UK, then to Canada. 4 cylinder 4 stroke beauty that makes around 65Hp. 17,300Km mileage. Beautifully engineered and top quality components of the day. 3x previous mature owners. Has large scratch on Right Engine cover from falling over during maintenance. Some other minor dings and scrapes. Never raced or dropped on road. In excellent mechanical condition: Recent full tune up to include all liquids replaced and systems flushed, Carbs cleaned, new battery, new spark plugs, valves timed and adjusted, new brake pads, new front tire, lots of rubber on rear, new chain and sprockets, Runs like new. This is a very fun bike to ride. Handles very well. Its a little bigger than a 250cc machine but has the torque and zip of larger machine thanks to the 400cc engine. Great bike for new rider looking for unique/quality ride or for Collector looking for outstanding example of early 1990's exclusive Japanese machinery. Looks just like 3/4 version of early Honda 929 models. Becoming collector item in Europe and in North America. Comes with front and rear paddock stands, shop manual (in English) and original owners manual in Japanese. Have British and Canadian paperwork. I just don't have time to ride anymore. Asking price of $5900.00 Canadian. Am willing to negotiate. Buyer responsible for pickup/delivery. Plated and registered in Province of Ontario, Canada. Serious Buyers only please, no test pilots.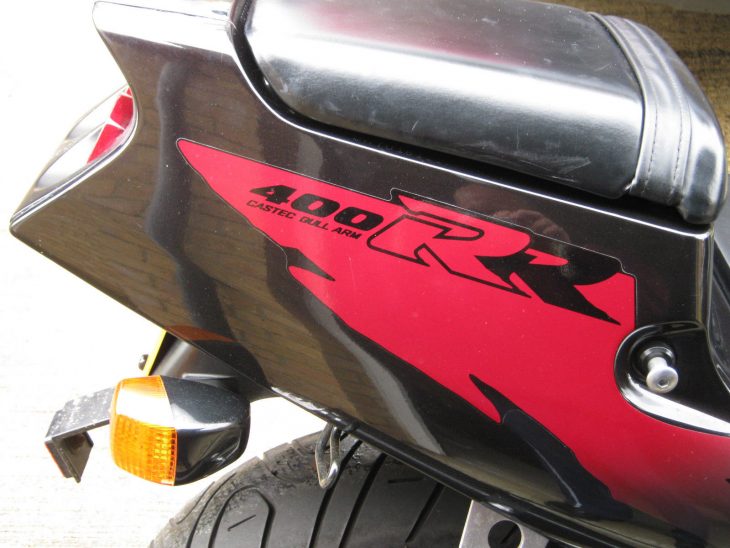 The $5,900 Canadian asking price equates to about $4,476 US, a very decent price for one of these, as recent CBR400s have sold in the $4,000-$5,500 range, depending on year and condition. The seller claims this has been recently serviced, features fresh rubber and is otherwise ready to roll. That black/burgundy paint scheme is pretty subtle, but I wonder if fans of the CBR are actually more interested in garish race-replica colors… In any event, the price is very reasonable, considering where recent examples have ended up. Obviously, US buyers will have to jump through some hoops after purchase, but that price is low enough to justify the effort. It'd make an ideal bike for someone of smaller stature, or someone who just wants to be different. Or someone who enjoys smoking much bigger bikes on tight roads with the throttle pinned to the stop.
-tad