Warning!
This post is in our archives. Links in this post have been updated to point to similar bikes available to bid on eBay.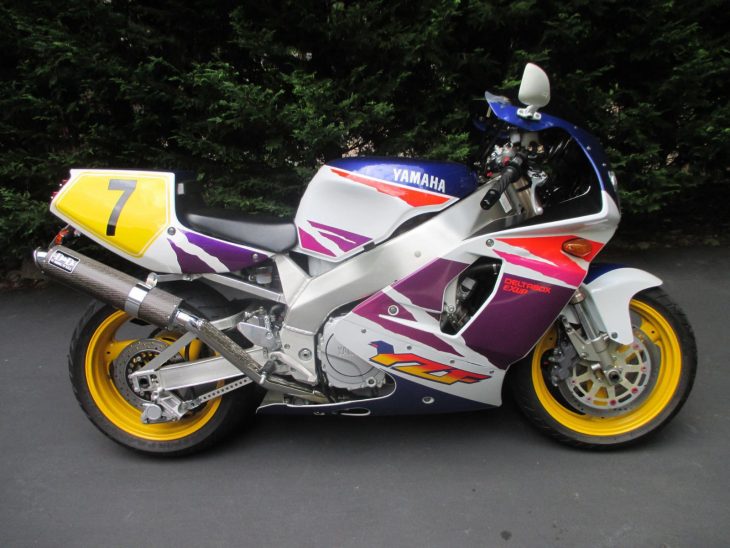 A solo seat on a sportbike is a statement of intent that says, "I'm a very serious sports motorcycle rider, and a passenger will only slow me down when I'm out dragging a knee in the canyons." Or maybe it just says that your significant other has their own motorcycle for canyon-carving… Honestly, considering the utterly impractical nature of modern sportbike design, pillion seats and pegs are, for all intents and purposes, largely decorative. Sure, people can ride back there in a pinch, but it ain't much fun. The comfort situation might have been better back in the 1980s and 1990s, but the message broadcast by a solo tail like the one on this very clean Yamaha YZF750R is the same now as it was then.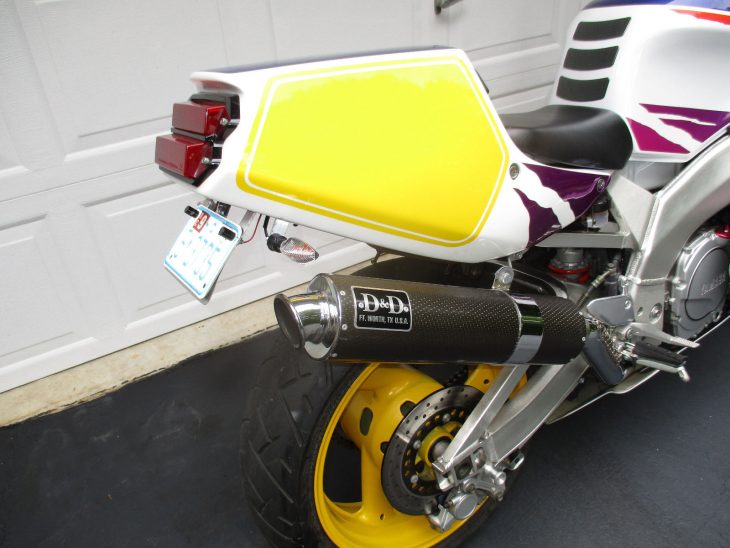 The top-spec YZF750SP was never officially sold here in the USA, and the R lacked that bike's adjustable swingarm pivot, flatslide carbs, and bolt-on rear subframe/solo seat combo. Gearbox ratios were different as well and the bike featured hotter cams and higher-spec suspension. With a claimed 125hp from the 749cc engine and a dry weight of 432lbs, absolute performance is closer to a modern 600 than a genuine superbike, but with some upgrades to the suspension and modern tires, there's plenty of fun to be had.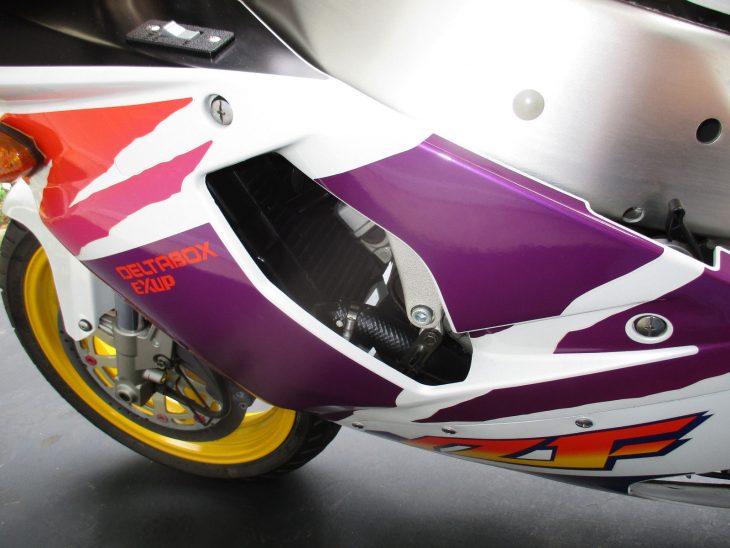 Ironically, the most significant part of the YZF750's story might be three other letters: CBR. The CBR900RR was introduced in 1993 and basically rewrote the rules for the class, offering nearly literbike power in a 750cc package. It ignored established rules that saw roadbike displacements reflecting racing class limits to embody the "win on Sunday, sell on Monday" philosophy: until the introduction of the CBR, the 750cc class was hotly contested on the street as it was in World Superbike, the premier production-based racing class of the era, where it represented the class limit for four-cylinder displacement. But the CBR belonged to no racing class at all and its popularity helped signal the end of the 750 class dominance.
But that certainly doesn't mean the YZF750R is a bad motorcycle. In fact, the 750cc bikes represent the pinnacle of 1990s superbike development. I prefer the earlier round headlamps to these "cat's eye" peepers and the simpler, less garish "speedblock" graphics of the late 1980s, but there's no arguing that, if you want a 90's superbike, you'd be hard-pressed to find one nicer than this YZF750R.
From the original eBay listing: 1994 Yamaha YZF750R for Sale
For sale is my truly superb YZF750R. I was with intention to hold onto it forever but I am seriously short of good garage space following my son's moving here from overseas with his "toys" etc. This may be the best one in the country, no exaggeration!  It looks like it left the showroom this morning.

This model was only imported for about 2 years and most of them were just used for the race track. This bike has NEVER seen a race track!  It starts up instantly, idles smoothly, is very fast and I have never had it close to the red line of 13,000rpm.  It has only done 6,600  miles from new, no noises or smoke or any leaks. When tested by magazines at the time, this model attained a speed of 165mph, a deep sounding after market exhaust system lets a bit more power out! For those not familiar with this machine, it has the 5 valves per cylinder engine.

It will purr along at 40 mph in 6th gear and carburates perfectly. I use full synthetic Mobil motorcycle oil and non ethanol 93 octane gas. I will be 70 years old next year and take it out for a 20 mile ride every few weeks on the local back roads here in NC.   I have had many, many bikes over the years both on the road and on the track, and this one always gives me a grin when I dismount.

I am starting the bidding at $5000 with no reserve. NADA has it valued way above this with a lot more miles for the year. I paid more than this a few years ago.  Ride it home or I will assist with any shipping to be paid for by the high bidder.  Clear NC title.
I'm not sure the seller is correct that "most of them were just used for the race track," as that was the job of the higher-spec YZF750SP. But, since the SP was never officially sold in the USA, you certainly would have started with this bike if you wanted to race a 750cc Yamaha here in the 1990s. That being said, the later YZF750 is a pretty rare machine in any guise here in the USA, especially in such extremely clean, low-mileage condition. Starting bid for this very nice YZF is $5,000 with no takers yet and four days left on the auction. That's definitely on the high end for a YZF but, if you've got an eye towards collectibility, it doesn't seem outrageous, considering this one is so clean you could just about eat off it.
The YZF750R generally came with pillion accommodations but the solo tail seen here, possibly from an SP, should save some weight and allows the aftermarket pipe to tuck in higher and closer for improved cornering clearance. It certainly looks the part. The D&D exhaust and the fake-looking carbon dash, on the other hand, are much more questionable choices but are easily replaced with a bit of careful eBay shopping. I'm not exactly sure what that switch on the left fairing in-fill panel does, though. Last time I saw one of those on a bike, it was a switch to turn off the rear brake light in case you needed to, um… run from the cops.
-tad