Warning!
This post is in our archives. Links in this post have been updated to point to similar bikes available to bid on eBay.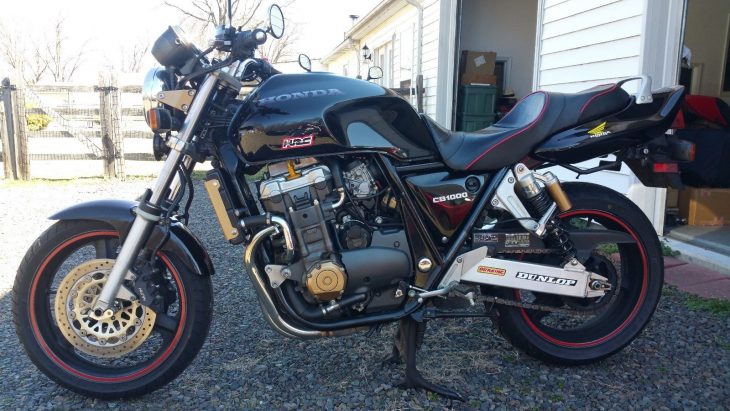 We all love focused, hard-core sporting machines. It's right there in the website's name, so why else would you be here? But there comes a time when past injuries, the debilitating effects of aging, and old war wounds start to make the fully-committed, racer's-crouch position required impossible to maintain for the length of time it takes to get from your garage to the good riding roads. So what then? Load your sportbike into the back of a pickup truck to haul to the canyons? Throw in the towel and buy a Harley? Ride through the pain and get addicted to prescription opioids? Fear not! There's a middle ground option: buy yourself one of the brand new "super nakeds" from KTM or Aprilia. The V4 Tuono and Super Duke are great bikes, but very expensive so, if your money doesn't stretch to one of those impressive, do-everything machines, something like this Honda CB1000 might give you plenty of bang for not too many bucks.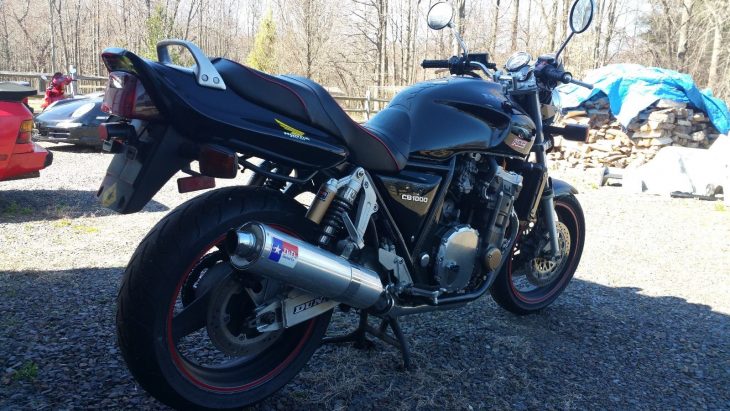 Introduced in 1992 and built through 1996, the CB1000 wasn't actually sold here in the US until 1994. It used an updated version of the 1987 Hurricane's liquid-cooled inline four that displaced 998cc, produced a claimed 97hp, and was backed by a five-speed gearbox. The CB1000 was known as "Project Big One" behind the scenes at Honda while in development and was apparently actually called the "Big One" in Japan. Make no mistake, this is a pretty large  motorcycle: those are actually 18″ wheels front and rear, and the old-tech package weighed in at 542 lbs dry.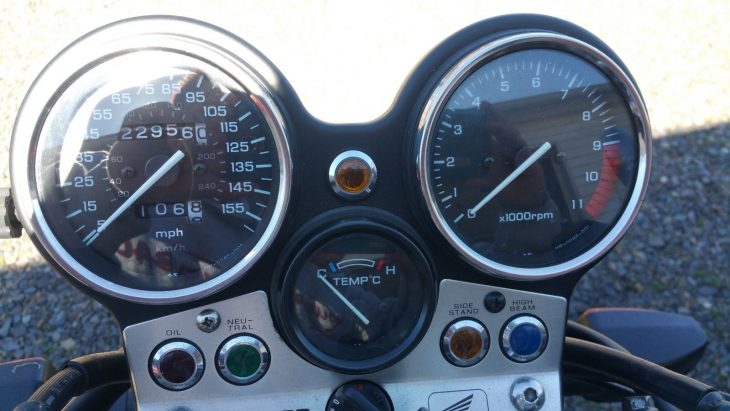 The bike was well reviewed and handled much better than you'd expect, considering the weight and spindly, non-adjustable forks, but Honda's CB1000 was a bit before its time, a big naked before big nakeds were really popular. It's always been a bit of an oddity here: Honda basically priced themselves out of the American market, as there was only a $500 difference between the CB1000 and the CBR1000, a much faster, nimbler, and an all-around more high-performance motorcycle. For buyers here, style won out over practicality, and the CB1000 is a pretty rare sight on our roads, especially in such nice, well-maintained condition.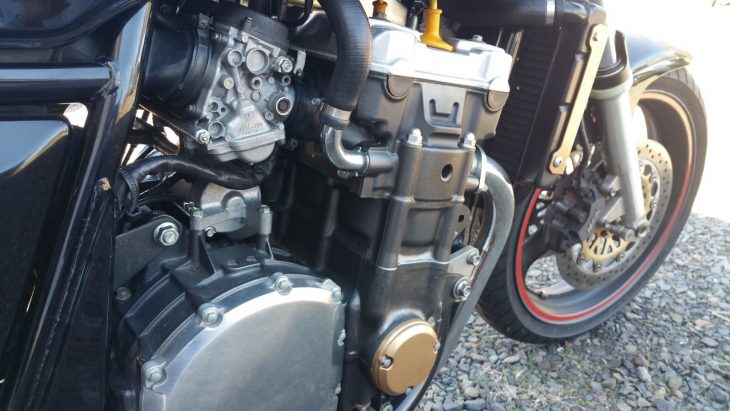 From the original eBay listing: 1994 Honda CB1000 for Sale
Very hard to find conditions like this CB1000, NEW synthetic oil and filter, front fork seals, seal protectors, rear tire, front and rear brake pads, carburetors cleaned, synced, K & N air filter, D & D muffler, Corbin leather seat, no rust, no dent, no scratch, no smoke, never down or crash, start right up, all day comfort with powerful 1000cc engine, no issue everything works. clear title, Honda legendary build quality, you would swear riding a brand new bike with that solid feel.You see it you will buy it, no test ride unless full payment in my hand, Spring time is here, hurry to take this rare and beautiful bike to go for a ride, it will put a smile your face, absolutely no disappointment here.
The seller also includes a short clip of the bike starting and running. Bidding is active, but still well under $3,000. Miles on this one are reasonable, considering how practical these are, and condition appears to be excellent. I'm not sure these have all that much collectible potential in the near future, but throw on a set of modern forks and this might be a great do-it-all sporty bike for a rider with limited funds, a willing spirit and flesh that's weak.
-tad