Update 12.14.15: The seller has accepted a deposit on this bike. Congratulations to buyer and seller! -dc
Located in Chicago, today's Featured Listing is a very clean Ducati 888 SPO Limited, a rare version of Ducati's first really modern superbike, a bike that gave them back their racing mojo and a model that has begun to steadily increase in value in recent years.
Until the advent of the rubber-cambelt Pantah, Ducati was living on borrowed time. And while the new version of their L-twin allowed them to reduce manufacturing costs, something more powerful was definitely needed to keep pace with the sportbikes from Japan, since the Big Four had finally managed to add handling and light weight to their unburstable four-cylinder sportbike formula, basically making everything from Europe look pretty antiquated.
In order to remain relevant in racing and in showrooms, Ducati developed a liquid-cooled, fuel-injected, four-valve version of their rugged L-twin and stuffed it into the brand-new 851 in 1987. The new "Desmoquattro" made 93hp at the rear wheel and gave Ducati a serious weapon for superbike racing. The bored-out 888 that followed displaced, you guessed it: 888cc's.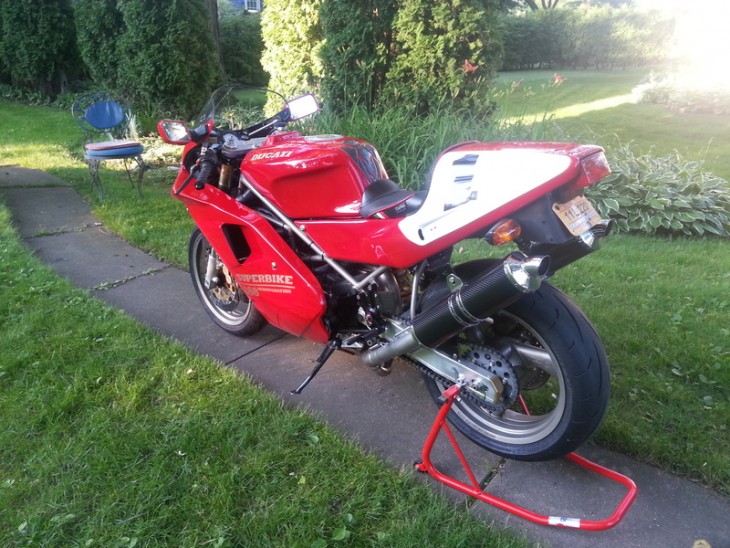 The 888 SPO Limited has a few subtle differences as compared to the SPO including more carbon fiber, frame-colored wheels instead of black, and the suspension hoop wasn't yellow. Intended to homologate the Desmoquattro for AMA Superbike racing it made a stout 104hp at the rear wheel, not too impressive compared to the near-200hp of a modern Panigale. But combined with the wide powerband that used to be the hallmark of big v-twins, these are plenty fast in the hands of a good rider.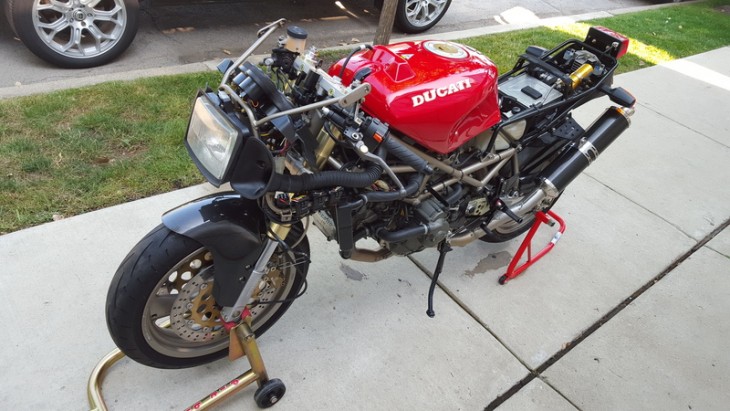 This example appears to have been carefully maintained, although if the seller is saying it could use a set of cam belts, I'd plan to do that immediately. Aside from a couple chips, this thing looks so clean you could practically eat off it, even the bits normally hidden under the fairing, and includes the very desirable GiaCoMoto "spaghetti" style exhaust. Basically, if your Ducati superbike isn't running a spaghetti exhaust, you're just not one of the cool kids. This isn't simply a set of expensive carbon tubes, it's a full 50mm free flow exhaust and should make a serious roar.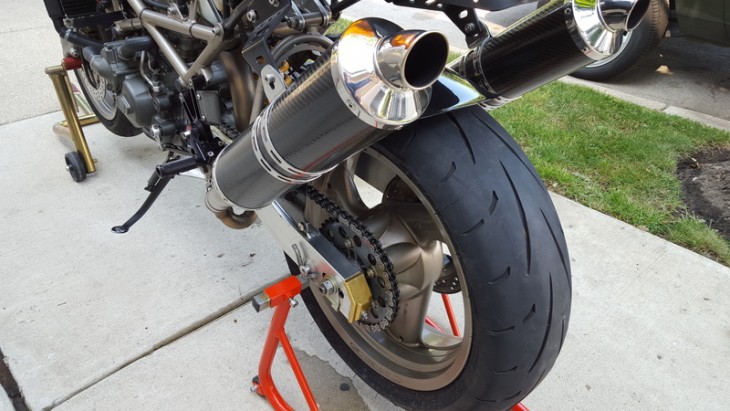 From the seller: 1994 Ducati 888 SPO for Sale
The 1994 888 SPO Limiteds were the very last 888s before the 916 and very few were made. This is #61. While it has had 17,698 miles of enjoyment, the bike is in amazing condition. The last valve adjustment was 3000 miles and 4 years ago. New belts wouldn't hurt, but the bike has been stored inside when not ridden. The original carbon fiber fenders and clutch cover have been impeccably refinished by Artistimo. The stock fasteners were all re-plated with the factory yellow Zinc oxide. It has the original Ohlins shock.

Upgrades include the Corbin seat, Speedymoto adjustable clip-ons, 18ah Shorai battery, and the rare 50mm Thunderball/GiaCaMoto "spaghetti" full exhaust system.

Splitting hairs (pictured);
1. Chip to the left side fairing near where your toe would be.
2. Small ding at the bottom right front corner of the fuel tank (from the throttle tube)
3. Small rock chip to the left of the "D" on the front fairing.
4. Tiny scratch on the right exhaust canister (which I will try to polish out). No burning/discoloring, and look at those nearly spotless headers!
5. Rearsets are OEM, but silver '93 SPO ones instead of the black ones of '94.

No one believes this bike is 20+ years old or has been ridden and enjoyed. Anyone who has seen any of my bikes knows the standards I keep them. The fork adjusters are spotless…even the wheels are outstanding. This bike is clean. $12,500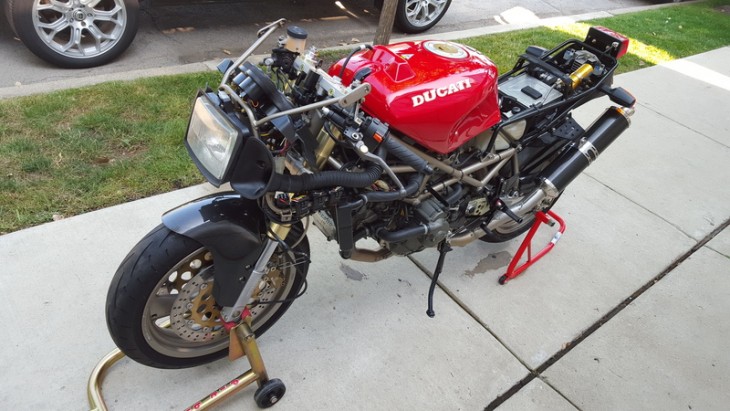 While the 888 isn't as pretty as the iconic 916 that followed, it's far more interesting. A connoisseur's choice, a bike with real history, particularly in SPO form. Also: the more humane ergonomics mean you won't need to visit your chiropractor after a long morning ride.
If you're looking for a bike to enjoy, this seems like an ideal machine: low-ish miles, but it's definitely been ridden and kept in fine-fettle. Well-cared for, but with a couple minor blemishes so you wouldn't be afraid your boots will scuff the rearsets or mark the exhausts. And that GiaCoMoto spaghetti exhaust system is the ultimate safety feature: the cagers will know you're coming for several miles before you come into view!
-tad