With only 1500 ever made, the 1994 Honda NSR250R SP is one of the most desirable and exotic two-stroke sportbikes of the 80s and 90s. It checks all the boxes: snarling two-stroke v-twin with a manic powerband? Carburetors matched to an exotic ignition system that used plastic cards to load different maps? Single-sided PROARM swingarm? Cassette-style six-speed gearbox? Dry weight under 300lbs? Check, check, check and check. The liquid-cooled 249cc v-twin in the NSR250R produced about 45hp stock, nothing to sneeze at considering the bike's weight. But de-restricted, these could pump out 60hp making them pretty formidable for riders who don't mind having to work a little bit.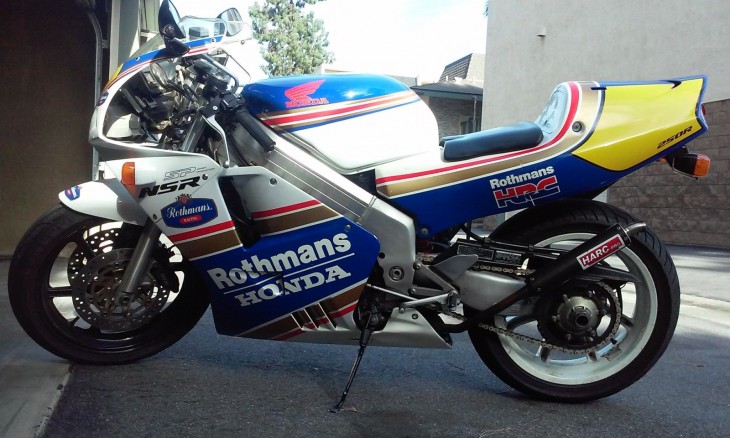 And to top it all off, this example has the very flattering and evocative Rothmans replica paint scheme. The premium tobacco manufacturer sponsored some of Honda's racing efforts in the 80s and 90s and although we all miss the innocent days of motorsports prior to heavy corporate sponsorship, it's hard to complain when those relationships result in machines that look this good.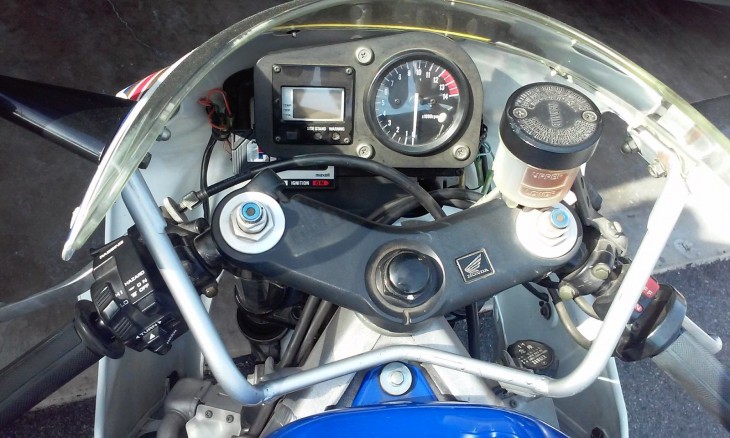 Certainly, many of the 250 two-stroke sport bikes from this era are valuable in the USA because of their forbidden fruit status. Overseas, they're well-loved but not especially valuable. They've been ridden hard and put away wet in many cases, used hard on road and track by young riders before they moved on to something bigger. But here in America, little 250 machines have traditionally been considered learner bikes, and the two-stroke market had dried up by the 90s anyway because of emissions concerns. These 250cc sport bikes offer up genuine performance and an involving nature that requires a rider skillfully exploit the limited powerband to make fast progress on road or track. In an era of stunning on-paper performance backed by an ever more sophisticated electronic safety net, many riders are happy to ride these scalpel-like machines that reward riding skill and offer up performance accessible to mere mortals.
Also, I'm pretty sure there's some sort of addictive quality inherent in two-stroke oil: fans of the breed never seem to shut up about that smoke and the smell…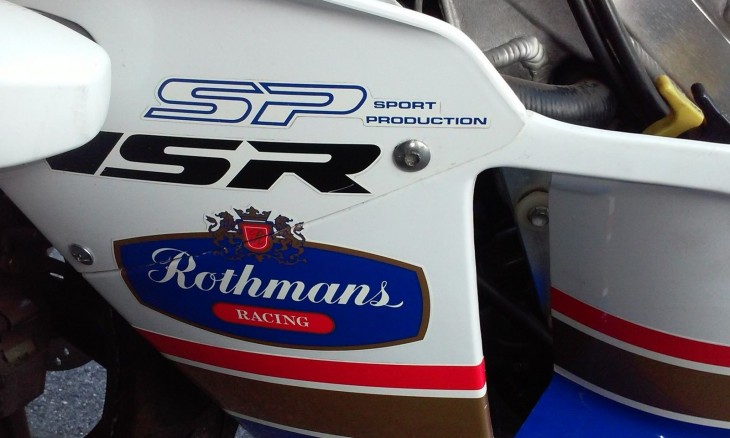 From the original eBay listing: 1994 Honda NSR250R SP Rothmans Replica for Sale
Authentic 1994 Rothmans NSR250R. Fully derestricted to accept HRC card on factory wiring,  has aftermarket HARC Pro exhaust, HRC jet kit has been installed and bike is properly jetted for my area, engine has excellent compression and was rebuilt by previous owner and has about 1800 km since rebuild, there are some chips and cracks on the fairings but plastics  are original and intact,  front rim is not Magtek, bike runs fantastic and everything works the way it should, has 17552 km or about 10906 miles,  will come with two stock key cards and one HRC P10 dry conditions only card, all fluids have been changed, clean California title with correct 11 digit VIN and engine # current registration 'till April 2017.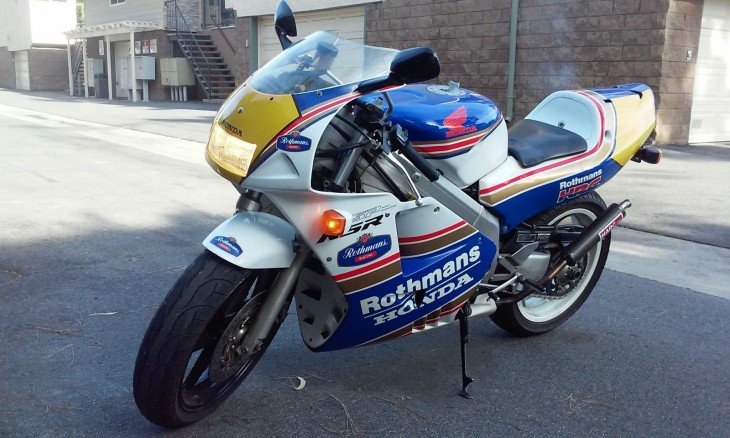 Although there are some cracks in the plastics, it sounds like this NSR250R has been properly maintained, and the fact that it has been de-restricted and includes several different PGM-IV cards is a bonus. The California title? That almost makes the asking price palatable. Almost. I think the $9,000 asking price is a bit high for a bike in this condition: certainly, with perfect plastics you'd be looking at a bike that could easily command that price. But while the bodywork is complete, I think collectors will balk at the wear-and-tear and the non-original front wheel. Magnesium wheels have a reputation for being fragile, so I wonder if it simply failed, or was the bike involved in a crash of some kind? Track day riders and two-stroke fans looking for their next fix might not mind the middling cosmetic condition, but I'm expecting collectors and our readers to give this one a pass considering that Buy It Now price…
-tad