Warning!
This post is in our archives. Links in this post have been updated to point to similar bikes available to bid on eBay.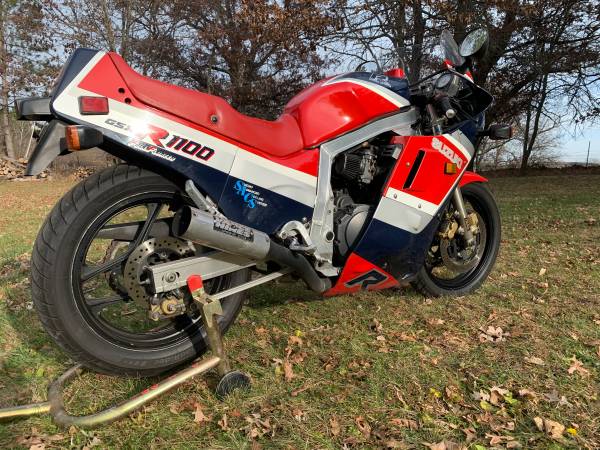 I have owned it for several years and it starts, runs, idles, rides and stops well.
It wears the uncommon Union Jack livery and it is good cosmetic and mechanical shape. It is largely original with the following minor exceptions, VH pipe, filter pods, windshield, bar ends and fuel tank breather hose. It does not leak oil or anything else.
500#'s of 1986 in your face!
130hp, 5 speeds and 18″ shoes at both ends of this period correct GSX-R 1100. You don't see these floating around too often- This one averaged 800 miles per year and wears 35 pretty darn well.
---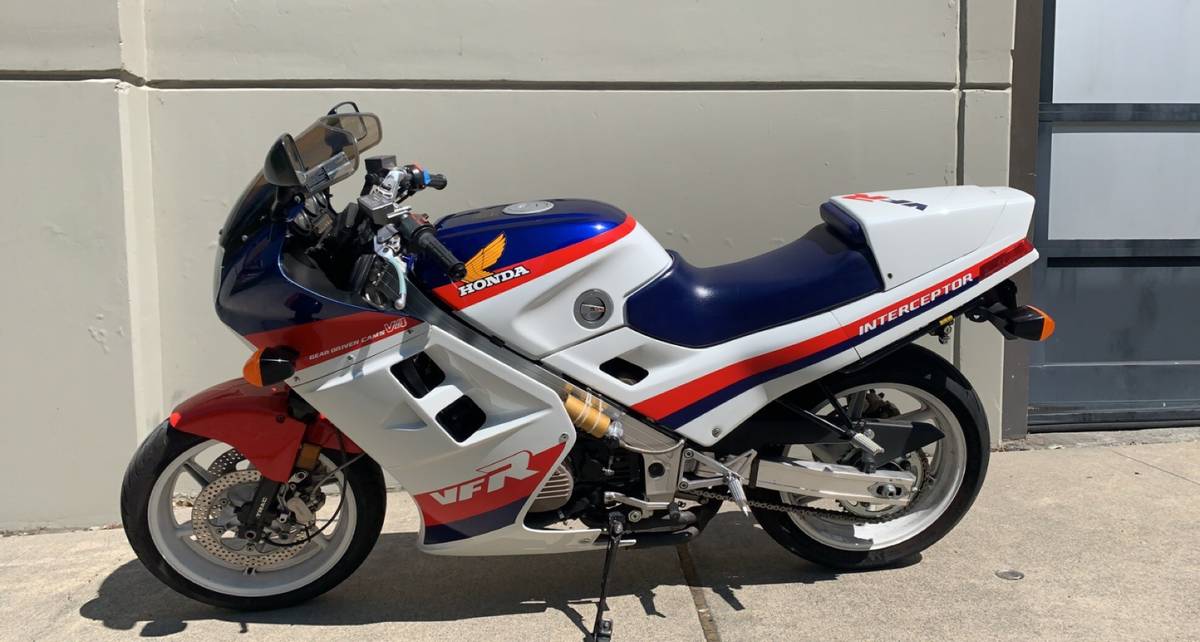 Comes with original wheels, box of new parts (previous owner went into a Honda shop that was closing and bought out their vfr inventory of parts)
This VFR has only covered 24,000 miles or 685 miles per year over it's life and it presents very well. Honda's Red, White and Blue paint has always been my favorite VFR offering. This one won't last long priced at $4,500.
---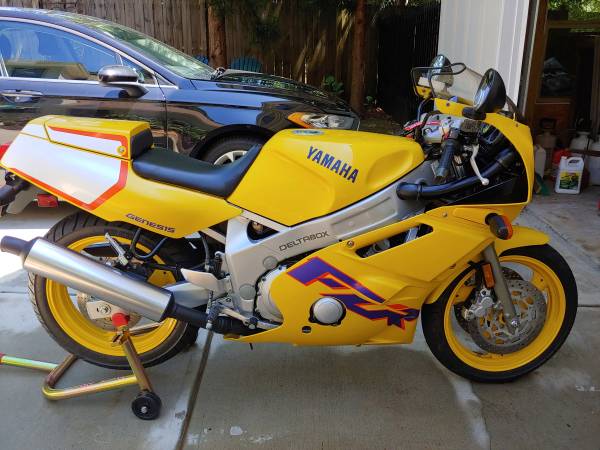 A perfect OEM 1994 Yamaha FZR600 for sale. BONE STOCK! No pipes, no carb kit, nothing aftermarket. The condition of this bike is almost perfect.
I know some of you won't believe me when I say this, but . . . This one is a bit LOUD even for me! There's no denying it's in great shape, all original and super low miles for a 26 year old machine. I'm not sure on the $5,250 price tag though- What are your thoughts?
---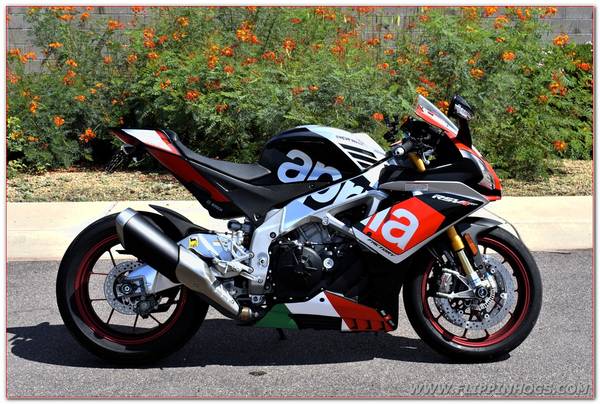 #143 came stock wtih Ohilns, Brembo, traction and wheelie control to help keep this 200hp rocket under control. This one is priced at $15,995 and has covered 3,300 miles. I'm down with this one- #ApeNation
---
Super low miles on this GTS! These were heavily marketed as long distance sport touring machines, but apparently, this one didn't get the message. There's no price listed in the ad which leads me to believe it must be really cheap :rolleyes: If you call on this one please let us know the price.
---
First year of the highly collectible Honda GB500. This beautiful and rare bike was purchased from the original owner and has 5000 original miles on it.
I know- "Another Cafe Racer!"
I thought it was pretty cool and I have the keys to my posts 🙂
---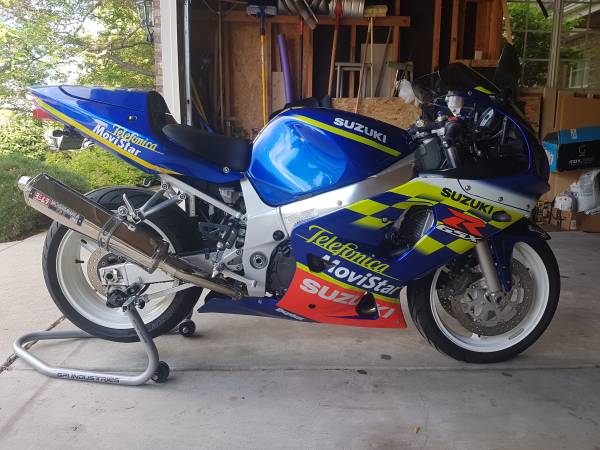 This is a very rare bike, and the only downside I found to owning one of these is that it did tend to draw way too much attention whenever and wherever I parked it, so I always covered it!
Buyer beware! 🙂
---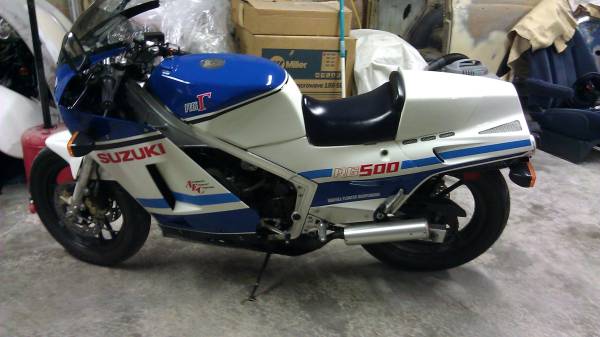 1986 Suzuki RG-500 "Gamma" 4 cylinder 500cc two stroke!! Street legal MOTO GP/GP 500 style bike from the 2 stroke good old days!! They only made thees bikes for 2 years 86-87 and they were NEVER imported to the US, only brought in through the gray market!! So having one here on the west cost that is legally registered here in Washington is quite RARE!! (fashioned after Barry Sheene's GP-500 bike from the early to mid 80's) Legally registered in the state of Washington, (now with collector plate) and was registered in Oregon. I am the second owner of this bike, it was imported from South Africa from the original owner, a South African gentlemen that now lives in Oregon. BONE STOCK with just less than 19,500 kilometers on the speed-o (12,116) Miles. This is a insane 250 lbs HTFO-Rocket!! That I just can't seem to open up in my area of Wa. (to meany cops) So my baby just sits in a heated garage/shop. Bike has ALWAYS been in a garage, and never used in bad weather!! My loss your gain First $35,000 gets it…..!!
Why it is that whenever you blog about a rare bike it seems like 5 more pop out of nowhere? Case and point- Last weeks B-O-B's had a low mileage RG in it and this one popped up this week. Just as the seller states- these were never imported to the states, but as any long time viewer knows, there are a few of them floating around. This one looks to be in great shape!
Cheers!
dd