Warning!
This post is in our archives. Links in this post have been updated to point to similar bikes available to bid on eBay.
There were a lot of things that led to the Bimota V-Due's inauspicious fall from grace, mostly related to costs and hype that would ultimately spell disappointment when the bike finally broke cover. But by far the bike's worst flaw was its positively heinous fuel injection system, which was designed to keep the bike in compliance with emissions regulations while keeping a two-stroke's characteristic light weight and simplicity.
The fuel delivery system was so poor that many of the bikes were retrofitted with carburetors at Bimota's expense, which not only sank the company, it rendered the bikes offroad-only toys for the well-heeled, and not the stylish, fancy street racers the factory had envisioned. Added to the injection problems were oiling issues that seized pistons, electrical gremlins and poor crankcase sealing as the result of badly-cast engine cases.
The 1998 Bimota V-Due shown here is one of the few that runs well, with both its fuel injection and street legality intact. The seller says this bike was one of a handful that were purchased out of the company's unsold stock by Piero Caronni, who set about fixing the promising-but-terrible machines. It has 417 kilometers on the clock from new, though the 500cc v-twin has zero miles on a rebuild that apparently fixed its original gremlins.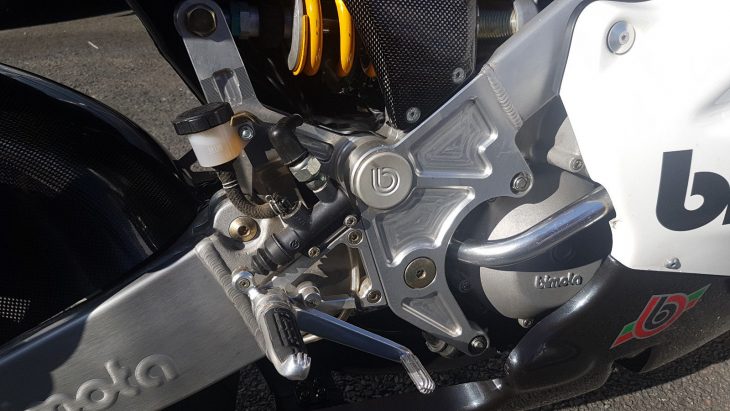 From the eBay listing:
Please see video (link below) and if you need more pics or information just let me know.

For most reading this you know all about the Bimota V-Due for those that don't a quick google will tell you all you need to know. There were less than 500 Bimota V-Due's built.

I've had this V-Due for 18 months and bought it from a UK V-Due collector with the intention of preparing it for trackday use. The reality is that its far too good to be used on track hence the reason for selling it.

What makes this bike rare, and the one to have, is that not only does it run, and run well but its one of what is believed to be less that 100 injection V-Due's left in the world. On another point most of the V-Due's seem to end up in private collections and never used and I'm hoping that this bike will find an owner wanting to take it on and develop it further. Obviously it's not my concern once it's sold.

When I bought the bike I knew it had electrical problems preventing the bike running for more than a few seconds. I've spent the past year diagnosing the problems and a combination of improving earth connections and other wiring, changing HT leads and fuel line connectors have solved the problem and the bike runs well and now just needs run in. The engine has Zero miles…..

This V-due would have a been an unsold stock bike when the Bimota business failed in 2001. Piero Caronni the then technical director for the V-Due at Bimota bought all the V Due stock when the Bimota factory closed. It was then first "sold" by him to Mr Sascha in 2005 in Germany. The German owner then sold it to the previous UK owner before me in 2016. In 2014 the previous owner sent the engine back to Piero to have it rebuilt. All the mechanical issues relating to the original engine was sorted and left perfect, Piero's words, not mine. The previous owner then purchased new twin ECU's, again a problem area in the original bike, bought new coils, and rather than refurbishing the original fuel injectors bought new improved ones from Piero.

The bike has a total of 417kms from new, with zero miles on the engine and it is in original condition and specification other than the rear indicators having been changed to something less obtrusive. Original indicators are still available new from Classic Bimota Parts in Italy. Also included in the sale are the original coils, HT leads, and twin ECU's. I've also got the original owners handbook – with wiring diagram intact. The German transport documentation (from Mr Sascha) to allow a new V5 to be applied for in the UK. Also comes with a rare Bimota V-Due brochure and magazine pull out. Bike also has both keys.

The next owner may want to consider what to do next? Thankfully there is a keen and growing following of developers and riders and just recently released from promap-europe.com is a new improved "piggy back" ECU along with revised injectors that further improves ride-ability. Check out their Facebook page https://www.facebook.com/BIMOTA500/?ref=br_rs this is the way to go if you want to ride this bike regularly.

There is a small pin head chip to at the front of the tank that could be dabbed in, personally i'd leave it. The right hand side of the fairing mid section has had a repair to a stress crack (known issue) that could be improved on at some stage. Other than that and a very few light scratches associated with being 20 years old the overall condition can only be described as "as new" certainly the bike with a little detailing could be presented as concours.

In summary this is a serious collectors bike that can be used and enjoyed, one of the last remaining fuel injected bikes, an appreciating asset. Only a change in my needs for a trackway bike mean this bike is for sale.

The bike is located in Lisburn just outside Belfast, Northern Ireland, just 10-20mins from all airports or ferry terminals. I can arrange transport to anywhere in the UK at cost if required. Viewing recommended.

While I have make an offer really the price is what I'm prepared to sell for, if you want to offer me your RC30 and a bucket of cash, well yes then i'd have to rethink. If you have something special then let me know.
Armed with new ECUs, wiring and fuel injectors, the bike should (emphasis on should) be ready to enjoy. For those in the EU or Britain, registration should be a relative breeze. The story will be different on this side of the pond, though that will change once the bike meets the 25-year mark.
To further make his point, the seller has included a video of the bike starting, idling and revving:
Even as a track or display-only machine, the Bimota V-Due is odd and interesting enough to warrant serious collector consideration.