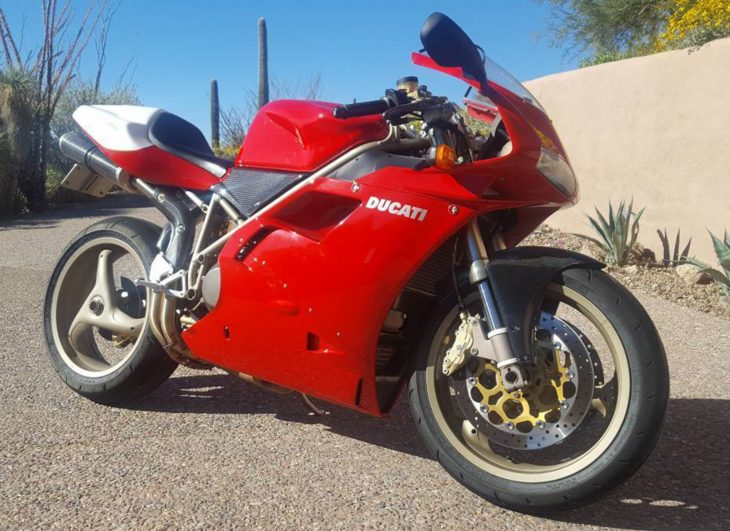 Looking at the history of the 916/996/998, it'd be easy to think that you were just looking at regular bumps in displacement as allowed by homologation requirements, especially considering that the bike itself appeared mostly unchanged throughout its development, minor changes in graphics aside. Even this very exclusive Ducati 916 SPS really looks like a 996 with a solo seat and white numberplates on the tail section.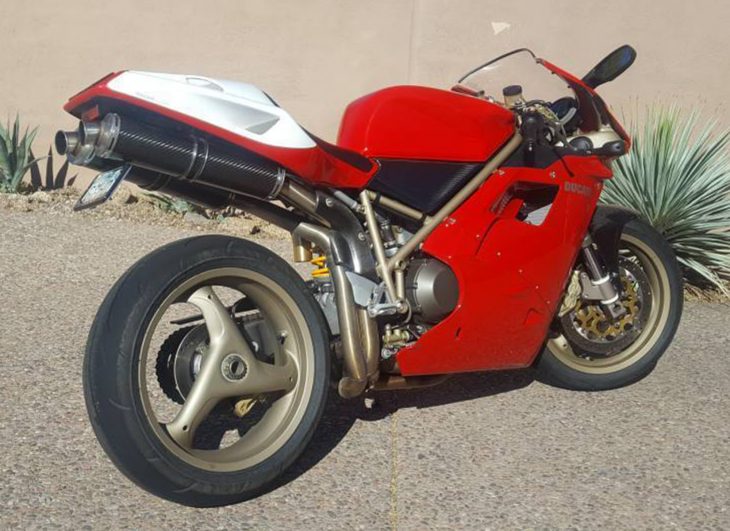 But while all three models of Ducati's 90s icon are similar, and do share some parts interchangeability, they represent a continual development of the model. It made little sense to "throw the baby out with the bathwater" when the original 916 was such an impressive piece to begin with, and Ducati couldn't really afford to start from scratch anyway, so evolution made more sense than revolution.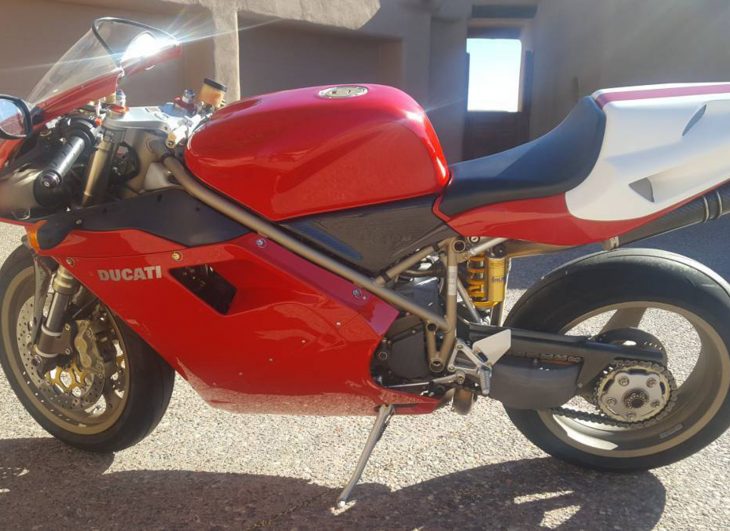 Given that every ounce counts on a motorcycle, especially one intended to be raced, each component is designed with a minimum of excess material, and Ducati's original liquid-cooled, four-valve v-twin was limited to 955cc before the cases started cracking under the extreme pressures of racing, and the engine needed a significant redesign in order to safely allow additional displacement increases. The regular production 996 that followed used the updated cases and the larger displacement, but didn't get all the other goodies included in the homologation model.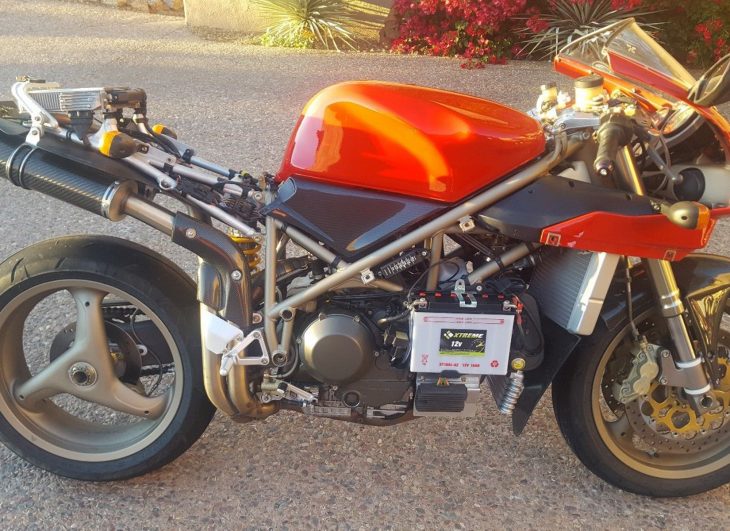 This 916 SPS in fact displaced 996cc, and was Ducati's first use of their new reinforced engine cases and other changes that allowed the bike to continue growing in response to rules changes that increased displacement limits for Superbike racing. Externally, it looked pretty similar but internally, there were new heads, barrels, pistons, injectors, and a lighter crank. It was mated to a close-ratio gearbox from the 748. Up front was a Showa fork and an Öhlins shock helps keep the rear wheel in contact with terra firma. This 1998 year model also had a lighter frame and titanium connecting rods.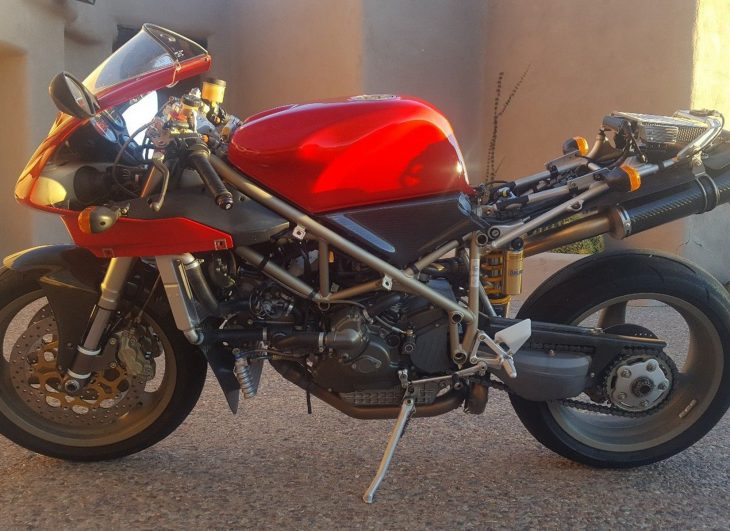 Originally, the SPS wasn't technically road-legal in the US, but you could buy them here, and there wasn't really much stopping you from buying a "for off road use only" bike and then registering it, since it had a VIN, lights, and mirrors. And of course Ducati damn well knew people would do just that. Thank goodness.
From the original eBay listing: 1998 Ducati 916 SPS for Sale
For sale, 1998 Ducati 916 SPS Superbike. Like new condition. Second owner. Extremely rare bike. Number 401 of 1058 total manufactured, for both US and Europe. Homologated for racing, only 50 were officially imported into the US. This is a true collector bike. New timing belt and battery. Tires are in excellent shape. Meticulously maintained, this bike is ready to ride!

Introduced for 1994, the Massimo Tamburini-styled 916 superbike and its subsequent evolutions captured the motorcycle world's imagination and finally established Ducati as a brand of note. Within a short time the original 916 Strada was superseded by the Biposto (two-seat) and the higher-specification SP. The engine remained at 916cc for both models but the SP came with twin fuel injectors and bigger valves for more performance, together with a single white panel seat and an Ohlins rear shock. Next came the ultra-exclusive homologation-special 916SPS or Sport Production Special for 1997 and 1998. The SPS enjoyed a 996cc engine – complete with reinforced crankcases, new heads and barrels with both bigger combustion chambers and valves, high lift cams, a 11.5:1 compression ratio, close-ratio gearbox and various lightweight parts – delivering a mighty rear wheel 132 horsepower.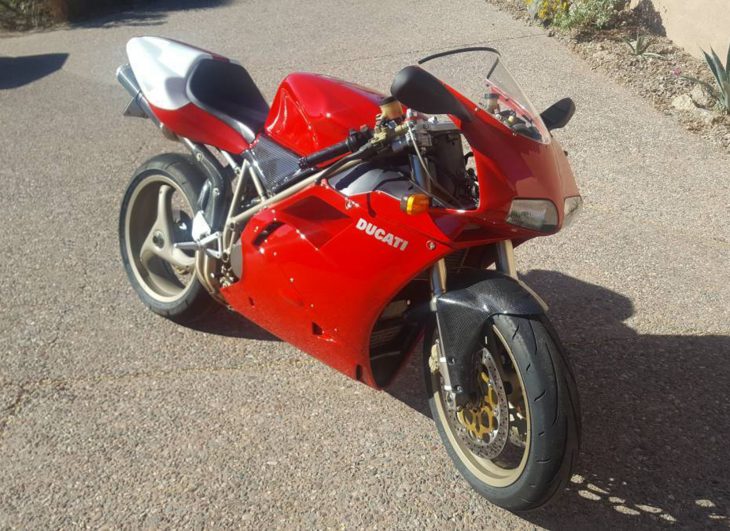 Ducati made 1,058 SPS models for 1998, so it's less rare than earlier SPS and SP bikes, but still very much a collectible. This example has just 2,150 miles on the odometer, and bidding is up to $11,000 with the reserve not met and very little time left on the auction. The 916 was always going to be collectible, and even the most ordinary models are beginning to appreciate in value. But for collectors, this one's at the top of the list with serious exclusivity for a "production" bike and historical significance, with serious racing links. It also helps that it has a reputation for being a pretty ferocious bike to ride, and feels far faster than the claimed power would suggest.
-tad